FOX CAMPUS BIKE & SPRITE

WOW! Take a look at this. I saw this on Ebay auctions. This is an original Campus bike and over a 30 year period it's as close as being perfect.This minibike has a 3 hp motor with a jackshaft. Motor is original except for different side cover rope pull. Still has oil bath air cleaner on it. Somebody modified it a little to put different foot pegs on it. It has dual suspension. A collector mentioned this was made 4 years prior to Fox beginning mass production of minibikes. Let your mouth water over this one. Check out the brochure page for more information.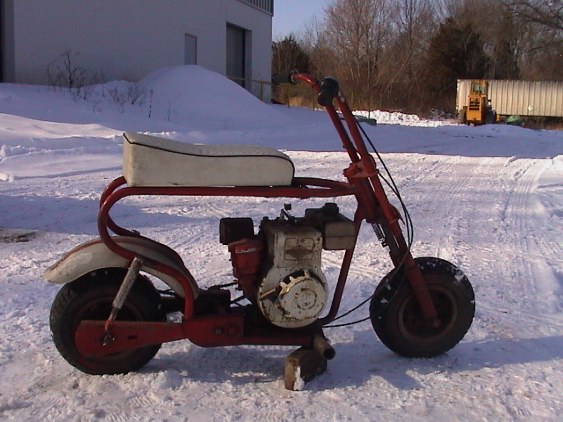 Below is another picture of a Campus bike in original condition. Courtesy of Richie Richardson.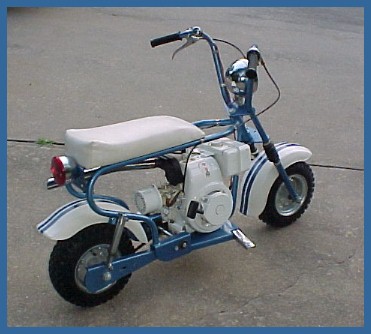 Below is another 1964 Fox Campus bike in original condition sent to me from John Thomas of Illinois. Now this is an interesting story of how he got this bike. Read on.
This FOX Minibike is mostly original except for newer throttle and hand grips and a new naugahyde seat cover. The paint is original. The original seat cover was red in color and deteriorated. Its cable-driven FOX odometer registers 660-miles. The engine, the original 3.5 HP Briggs and Stratton has new piston rings and was resealed with new gaskets. It has a single rear drum brake set up.
I have the state title for this bike and it is titled in the state of Illinois. I have the license plate that was on the bike from 1970.
The bike belonged to a friend of my father-in-law. One of my, soon to be, sister-in-laws had a slight accident with it and my father-in-law became its next owner sometime in the late '60's. It was in a storeroom in his basement for well over ten years. I saw it shortly before I married his daughter and told him I wanted it. I had to wait about three years before he decided to give it to me.
When I got it it did not run. It was dusty and really only needed some cleaning up. The wheel bearings, and jackshaft bearings were rusted but useable. I completely dis-assembled the bike, cleaned it up, replaced what was necessary, and got it running for under $40.00.
I take it out once and a while for fun. It gets a lotta looks and good reviews from the 40+ year old crowd I encounter. I live in Chicago, Illinois, so I still have to keep an eye out for the cops. Some of the older cops just smile, shake their heads, and tell me to get it home.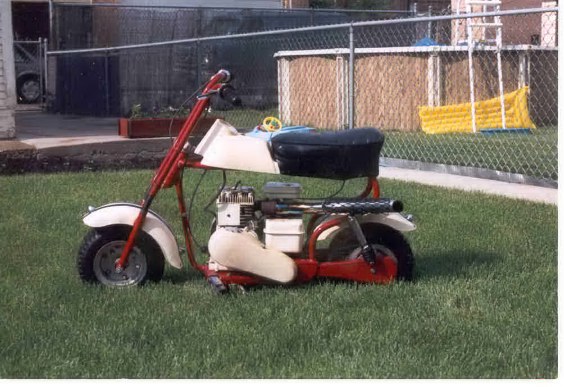 Below is a picture of a Fox Sprite minibike from the early 1960's. It is equiped with a 2 1/2 hp.Briggs and Stratton engine. The minibike has been restored 4-years ago. This is a very rare original minibike made by Fox. Take a minute an click on the picture ad. These pictures were sent to me by George Byrge. This is just one of his minibikes from his collection.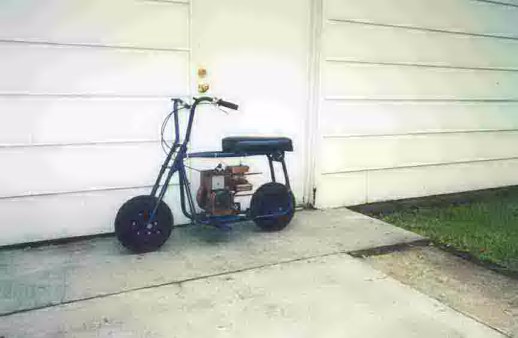 Now here is a really old Fox Campus bike made by Fox Carts also known as Fox Corporation that Mike Farrell got hold of. This is a very rare old Campus bike, probablly made in the mid 60's. I would like to see this restored, and indeed a collectors item. This would be worth big $$$. Now this is history. Look on the brochure page under minibike guide, here you will see some information on it.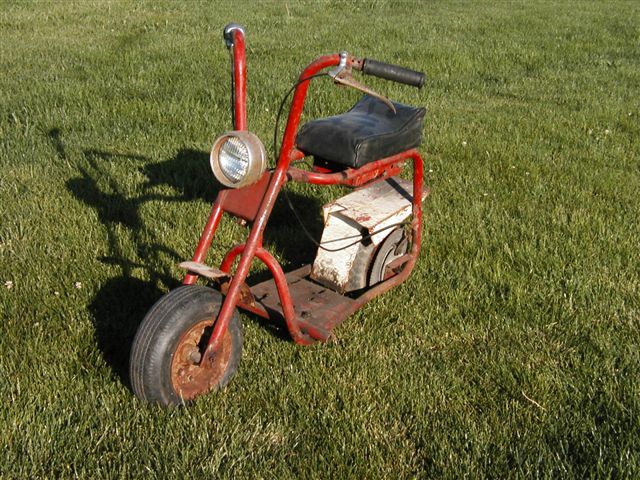 Now below is a retored 1962 Campus bike like the one above by Joe Carino. This is just an amazing restoration. Thumbs up on this one. Here is his story.
I JUST WANTED TO UPDATE YOU ON MY EARLY 60S CAMPUS PROJECT, ITS ALL DONE
I GOT IT IN THE SPRING AS A ROLLER FROM A BARN IN SKANEATELES NEW YORK FOR 15 BUCKS-----IT WAS COVERED IN DIRT AND THE MOTOR WAS GONE-------THE GUY TOLD ME IT WAS HIS IN THE 60S
I DIDNT KNOW WHAT IT WAS TILL I LOOKED ON MINIDOODLE AND SAW THAT PICTURE OF THE COVER ON THAT MANUAL YOU HAD POSTED--------I CERTAINLY DIDNT WANT OR NEED ANOTHER BIKE BUT MY KID SAID PLEASE AND SINCE IT HAD A 2 STROKE CHAINSAW MOTOR I DECIDED TO GO EBAY HUNTING WHERE I FOUND ALL THE PARTS INCLUDING THE MOTOR WITH A CLUTCH ON IT-----I SENT IT TO MAXTORQUE FOR A REBUILD--------THOSE FOLKS ARE SAINTS AND A PLEASURE TO DEAL WITH------JIM IS A GEM
THE SEAT IS CUSTOM BY AN EBAYER
POWDERCOATED FRAME LOCALLY
HEADER CUSTOM MADE BY MY LOCAL TAYLOR RENTAL---AS WELL AS THE CHAINGUARD
THROTTLE------GRIPS-----BRAKE HANDLE-----FOOTPEG RUBBERS WERE ALL EBAY ITEMS----THE WHEELS WERE BEAD BLASTED AND CLEAR COATED--------
THE ORIGINAL BIKE HAD NO CHAIN GUARD BUT I HAD ONE MADE CAUSE MY 7 YEAR OLD MIGHT TOOL THIS AROUND-----HE RIDES A YAMAHA TTR90 SO HE PROBABLY WONT RIDE THIS MUCH-----BUT I JUST WANTED TO SHARE THIS COOL LITTLE BIKE.
THIS LITTLE CAMPUS RUNS GREAT------I THINK ABOUT 25-30 MPH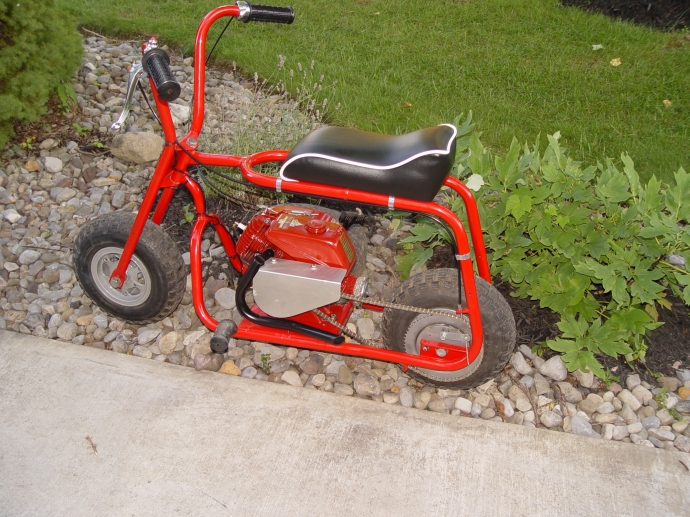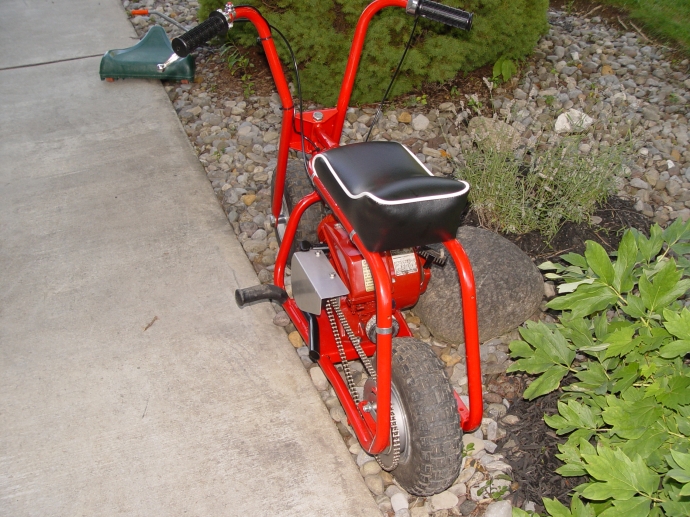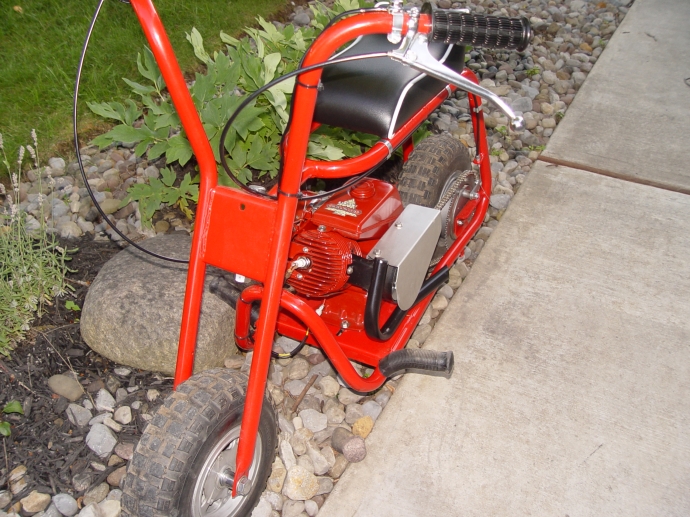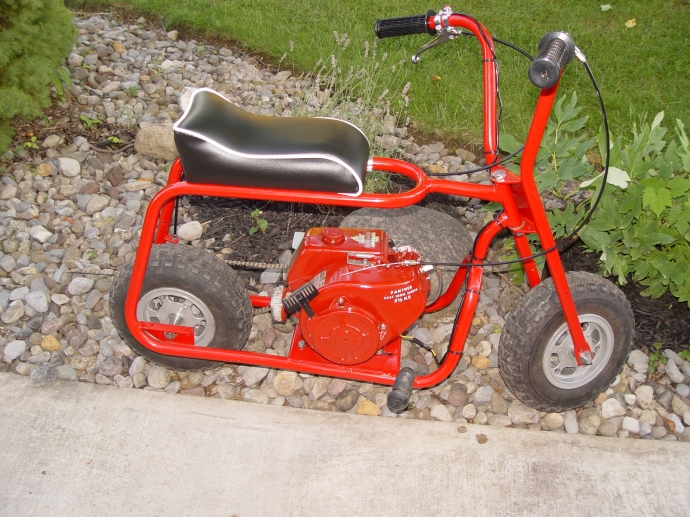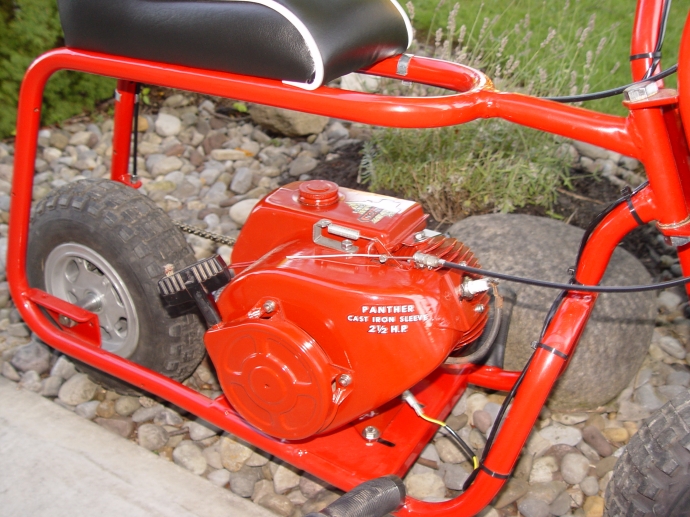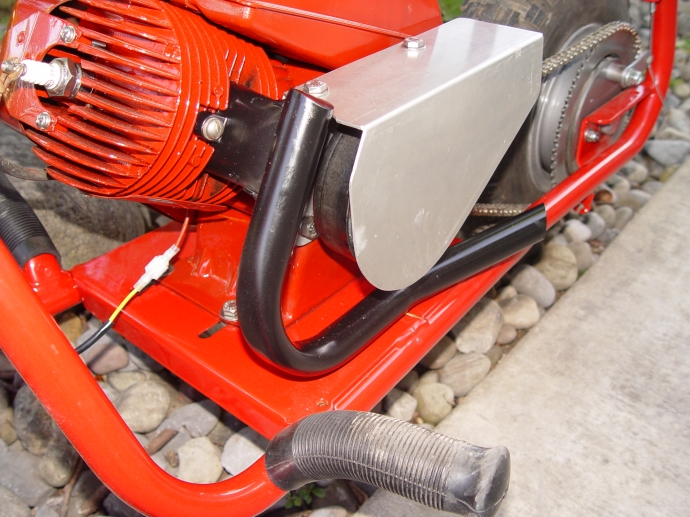 Below is a restored Fox Sprite minibike sent to me from E. Wegner. Here is his story.
"My great uncle bought it new as a kid back in the 60's (1965 to be exact) and it got handed to my dad and now it was handed down to me.A couple years ago I decided to resto/mod it. Everything is original to the bike exept for the engine which I still have.The Bike got repainted with a basecoat clearcoat Dodge Viper Red Metallic with a white pearl put in. The fenders are also repainted base/clear in silver. The seat was customly recovered. The engine is now a13HP highly modified Briggs Raptor 3 that goes really fast.The bike still has the original jackshaft to it (also had one machined). There is also a gas tank that is supposed to be on the back but its taken off because of the Raptor 3 tank.(still have it and its in the same color) Its always been taken care of. I also have the title for it that was issued in 1970."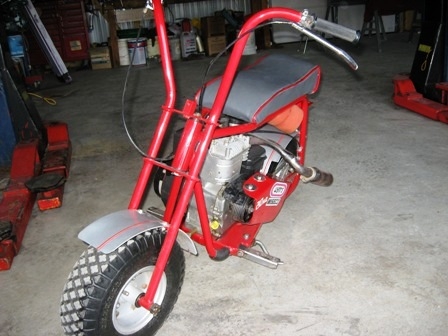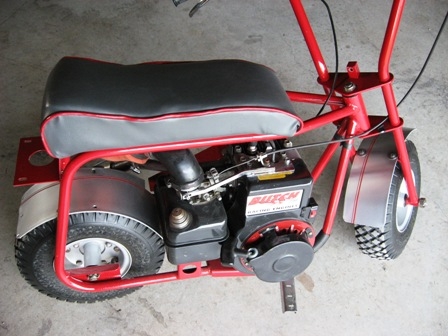 Here is another nice Fox Sprite restoration from Dylan Bevilacqua. Here is what he has to say.
"Here are the pics and the bike is a 1970 Fox Sprite that i just rebuilt about 2 weeks ago. It has red metalic paint was clear coated, upgraded to a nice N.O.S 5hp briggs and has a recovered seat done in leather. I got the bike off my dad and he got it off the original owners that bought it new in 70. The whole bike is completely rebuilt, every nut and bolt has been refurbished or is new. It is also fast! if you need to know anything else please let me know. oh and the bottom pic is before.
Before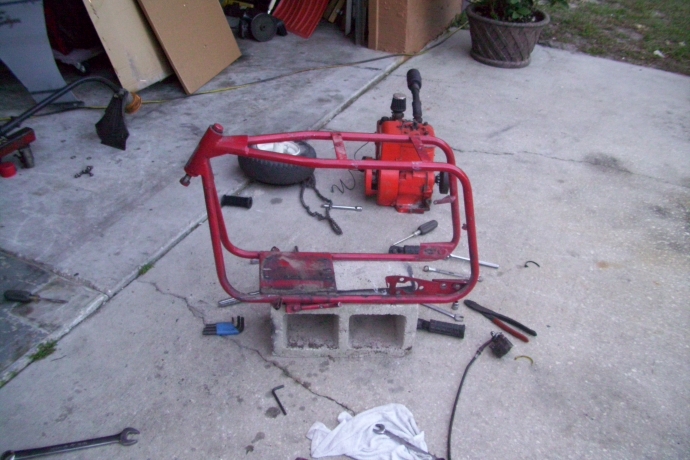 AFTER