MINIBIKES WITH SIDE CAR

Here is Mike Farrells latest minibike project with a side care. It all started when his daughter was small enough to fit inside....now she's too big, so she drives and gives the dog a ride. He believes it's an old Big Bear mini and the side car he built out of an old Farmall "H" gas tank that he stole off the neighbors tractor while he was passed out from fixing his "still" Anyway he has 5 that run and the end one "Gemini" goes away this weekend in exchage for a more conventional mini.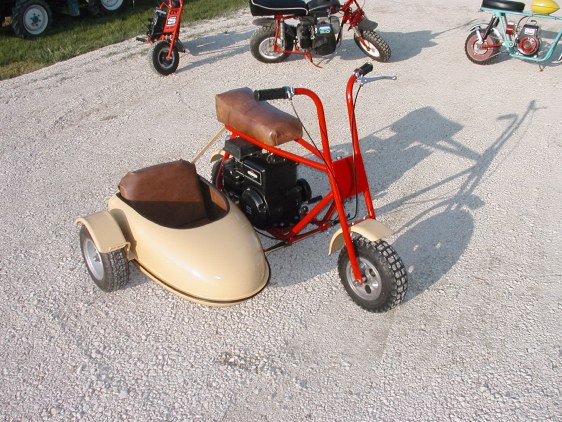 That Gas Tank Sure Does Not Look Like One. Great Job!!!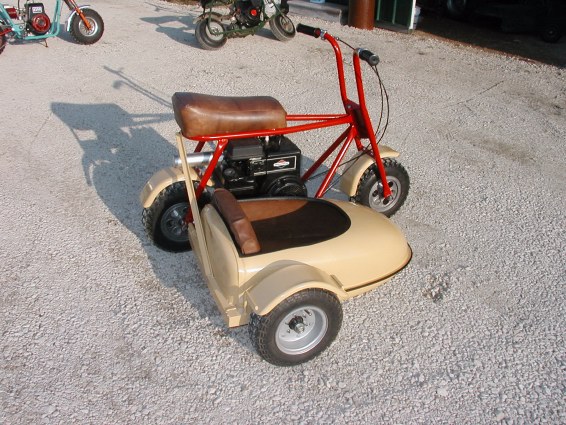 Nice Collection Below
Another great idea!
Below is a minibike that Stephen built it for main use in the pits whilst racing, we do both Land Speed Records (under the Cooked Goose Racing name) and hold a lot of records in the 1,000cc & 1,500cc two cylinder production pushrod class, plus 2-Wheels is a vintage motorcycle racing team using Moto Guzzi's. The deck is aluminum diamond plate with four eyebolts for tie-downs and is exactly the right size to fit two motorcycle wheels/tires, typically if we need to get the tires replace at a race, the tire guys are the other end of the pits, so it saves us having to carry them over and back.
Also, the deck will fit a plastic Rubbermaid Tote, which my kids love to kneel in whilst I take em for a ride + a cooler fits nicely on it for camping and swap meet use.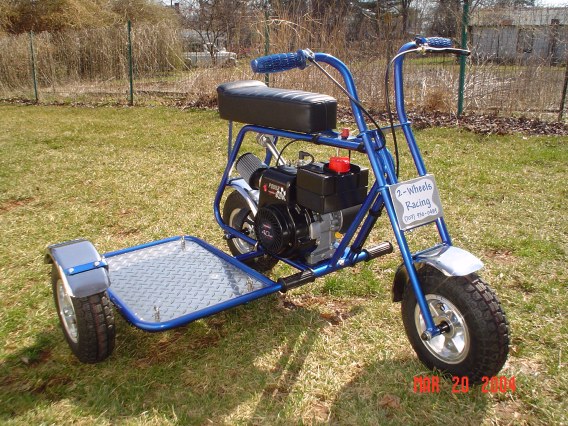 Here is another addition to minibikes with sidecars. The picture below was sent to me from Jack Swartz. Here is his story.
"I came across your site while searching for info on my winter project ( Honda Aero 125 scooter.) I was amazed to see pix of minibikes with sidecars. The attached is a picture of the mini that I built many years ago. It started out with a lawnmower engine and ran OK but I found a discarded Honda 90 in the junk and installed it. The engine is from a 1964 C-200 and has a 4 speed gearbox w/clutch. It also has an alternator to power the headlight and tail light. I also grafted on the front suspension from the same junk bike. I had a Preston Petty headlight and a Yamaha tail light in my parts bin and they slipped right on. The handlebar perch from the junk bike also bolted right down after sawing off the "ape hanger" bars from the original minibike front end.
My daughters were once small enough to fit inside the sidecar but we had to build a seat on top as they grew up. Even now, with two adults aboard, it will do about 35 MPH. I was going to put a higher ratio sprocket on the back and make it go faster, but cooler heads (my wife) prevailed."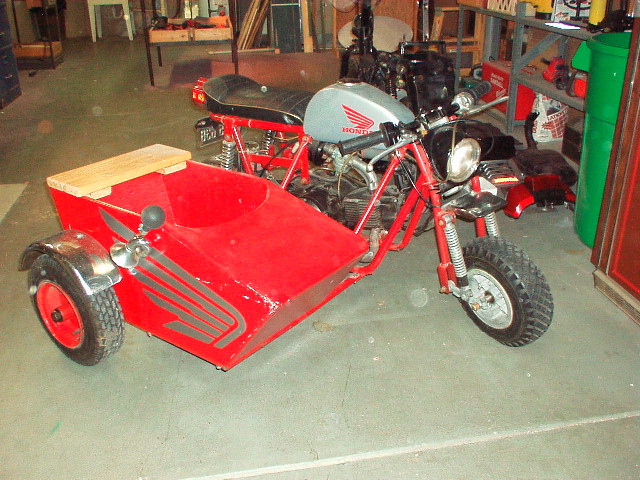 Now here is something a little different from Rob Rosson of his first restoration but with a cool trailer. He is not sure what this frame is from but to me it looks like a Speedway. If anyone knows, please let me know.
Below is another really nice minibike and side car project just completed by K.C. Myers from Saint Martins MO. This is something I believe he would like to use in parades. I am sure it will turn a lot of heads. I can also see a lot of work in building this and skill to design. Excellent project if I say so myself.
Thumbs up.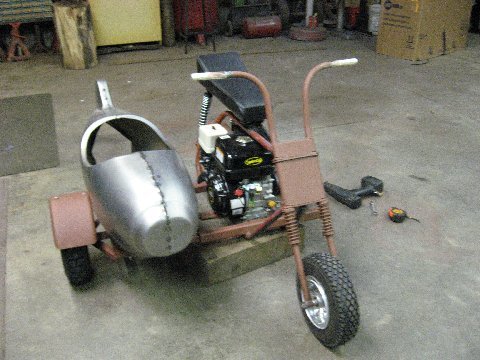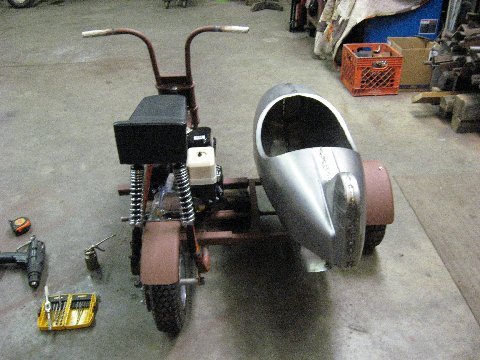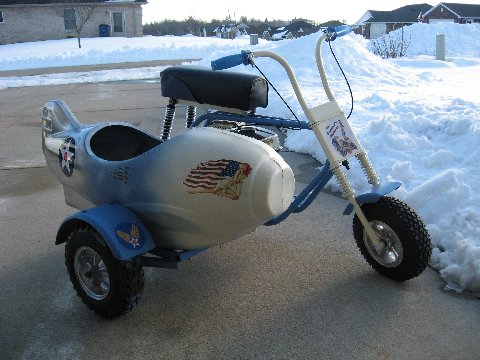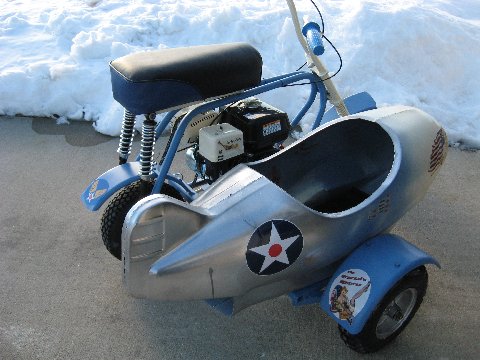 Below is a sidecar for the Doodlebug minibike built by Richard Spence. It is a really nice custom design and smartly done. He has a video on Youtube demonstrating what and how he built thi side car. So if you are interested, click on this link to view.
https://www.youtube.com/watch?v=CSqVXbJ8Hsg