BIRD MINICYCLE

Below is a picture of a Bird. This looks in near original condition. This bike belongs to George Byrge. He calls this his Hotrod.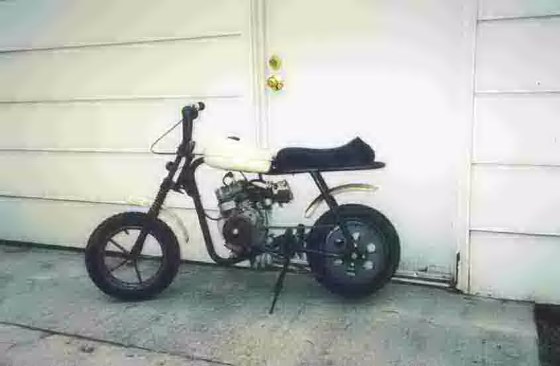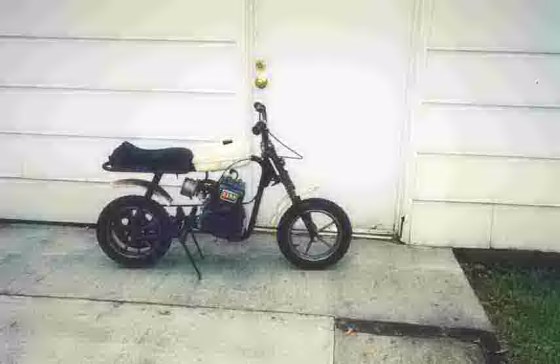 Here is another picture sent to me from Louis A Milone of his Bird mincycle.So this is what he has done to completely restore the minicycle. He restored the original scrub brake and welded it back into place. it looks great and works great too, I also designed and fabricated a delrin chain roller adjuster, it is an easy way to adjust the chain tension, and guarantees that the chain will never come off. I made a few other small mods to the rear hub, and the drum brake mounting. I also added the fenders back on and painted them. Well done.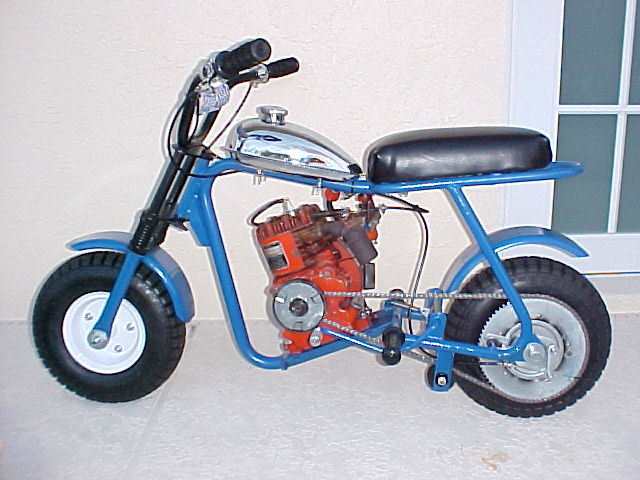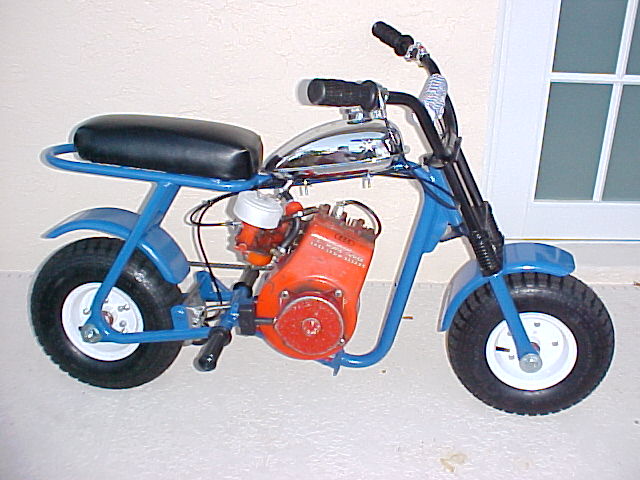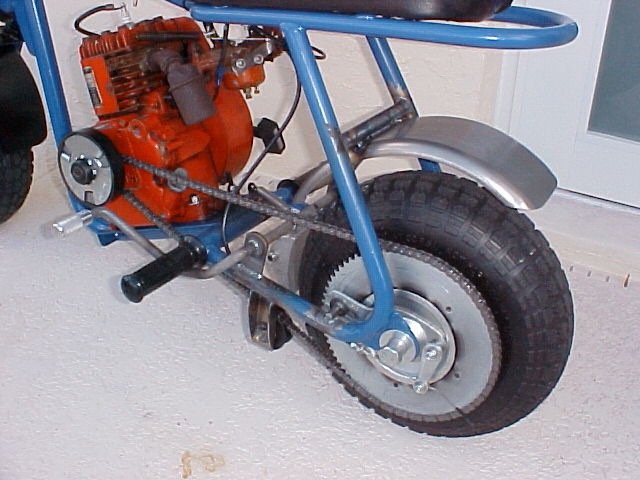 Below are pictures of a restoration project from Kevin Welch. I have to say from what he stated with, this is a nice job. Below is his story.
"I sent along some before and after pictures of it. From your web site I determined that I had a Bird Minicycle. As you can see from the "before" pictures, it was in pretty sad shape. What I got was a frame with unusable wheels and a disassembled engine. After close inspection of the frame and forks, I found that the telescoping part of forks were rusted and the frame was bent. I took an angle grinder to the forks and removed the top and bottom plates from the tubes and replaced the them with like tubing. They work perfectly now. Next I turned my attention to the tweaked frame. A little friendly persuasion from a few well places 2x4's and me and the misses standing on them twisted the frame to it's correct shape. I then started a parts ordering frenzy. Believe me when I tell you that restoring a minibike piece by piece is not cheap. I had to get wheels, tires, axles, brakes, brake lever, seat, gas tank, fenders, throttle handle, chain, chain guard, assorted cables, nuts and bolts, and just about everything else. I had to fabricate a chain idler because I didn't have any idea what the original looked like. I think it turned out very well. I made it spring tensioned to automatically adjust as the chain moves. My restoration then started with a complete sand blasting of the forks and frame, and repainting with a etching type of primer. I then sprayed 4 coats of a light blue metallic car paint (my nephew choose the color) followed up with 5 coats of clear. I then assembled the entire mess and low and behold I had a pretty cool looking minibike. I gave it to my nephew on his 11th birthday, and needless to say he road it for the remainder of the day. And he is still riding."
Before Pictures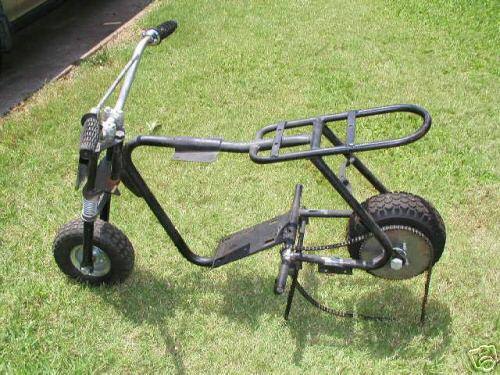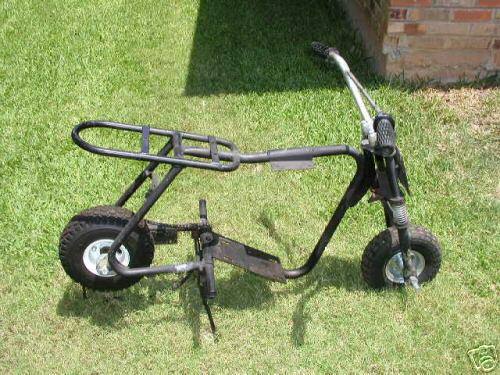 After Pictures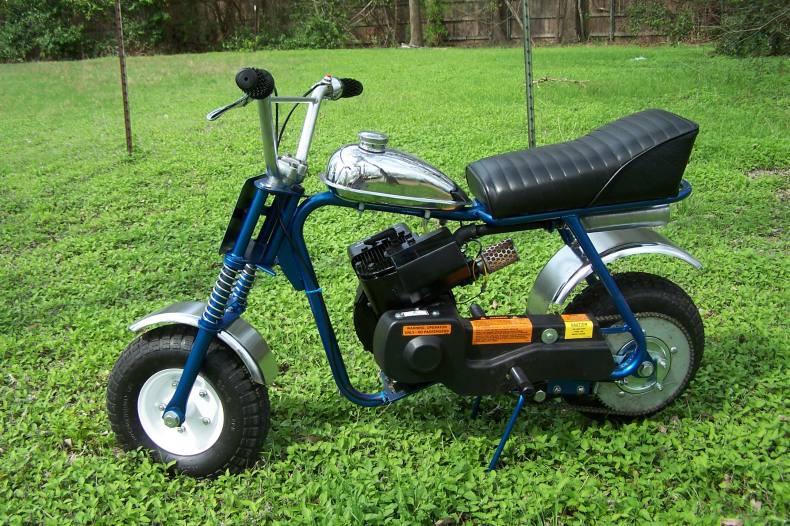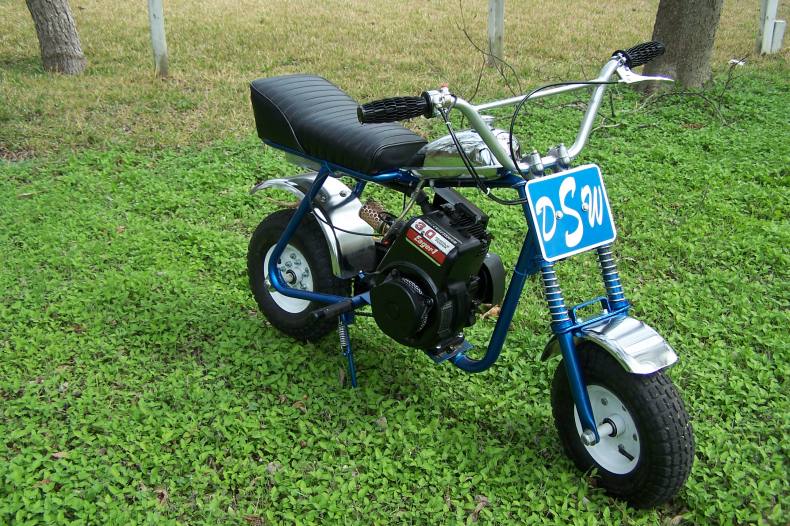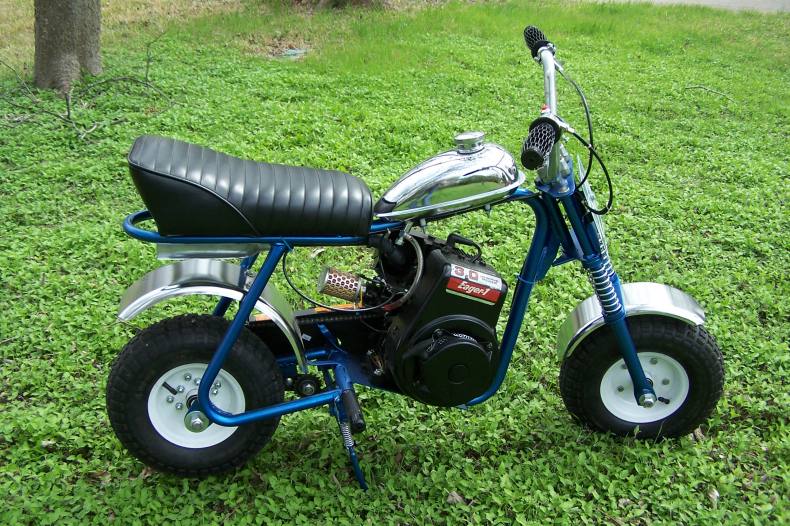 Below is a Bird minibike sent to me from one of our members. Here is his story.
I believe this was made by bird engineering. It says harley on the fake tank. This was cleaned up gone over and painted. The wheels were painted. It has a 3 1/2hp briggs.