KEYSTONE MINIBIKE

Below is a great picture of a Keysone minibike that was quite popular. The minibike was mostly sold by Miricle Mart stores. It had a 50 cc 2-stroke engine with a manual clutch single speed. I remember it to be a very fast bike and a lot of fun to ride. If I rember correctly it came in 2-colors red and yellow. The cost to buy this bike $129.99 + Tax.
Below is another Keystone minibike picture sent to me by Jeff Kasprick. This one was restored and painted yellow. As you can see it has a Tas motor. The one thing about this bike is how the gas tank is mounted, under the frame rather than on top. You can also see a differance on the front suspension if you look closely.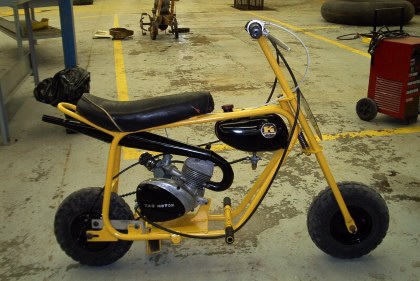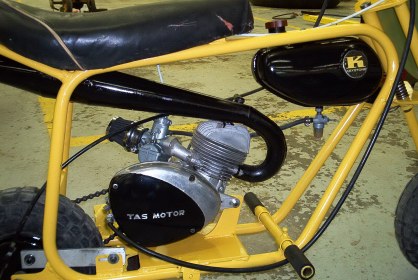 Here are pictures of Frank Van Pvkstra Keystone Delux minibike. It is in excellent condition. Here is his story. The brochures are on the "Brochure Page on the web Site.
"The Keystone Mini Bike was invented in 1968 and produced until 1971. The Mini Bikes were made in Naroshino City, Chiba Prefecture Japan by Tanaka Kougyo Company (manufacturer of small engine products including, gas weed eaters, hedge trimmers, chainsaws, generators etc). The engine is from a power rickshaw, the bike was designed by Keystone Canada 7 USA, a company that specialized in the manufacturing of custom car wheels. There were two models available, the standard Keystone basic yellow model and the deluxe model (red and black) that incorporated front springs, a chain guard and a chrome exhaust. Later models came with a chrome swept exhaust and folding foot pegs. There were accessories packages that included special sprockets and an expansion chamber exhaust system. Total production of both models were approximately 23,000 units.
Two 4-cycle models were also produced utilizing a Tecumseh engine with a cyntriphical clutch.
I personally still have a deluxe model Mini Bike.
Please find attached, copies of the original brochures and pictures that I have maintained, some parts are still available from the TAS Motor Company warehouse in Bothell, Washington, USA." Fantastic information.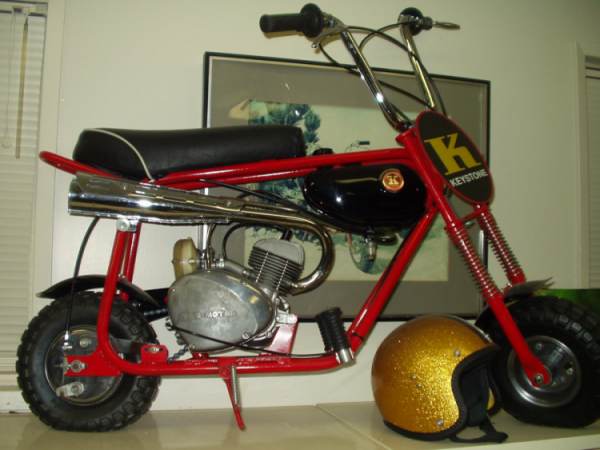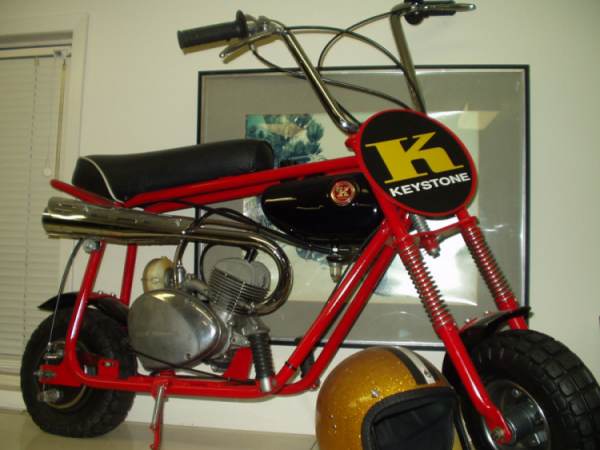 Well here is an interesting restoration story from Tim Krissak. A pretty good job. Here is his story.
"Originally, I bought the bike at a garage sale for $13.00. It's all I had on me. It had been modified into a three wheeler with the back wheels very close together. Very tipsy. We modified it back to a two wheeler but the rear sprocket was on the outside of the frame. The sprocket would hit the ground when turning left. Then I sold the bike The buyer never did anything to it so I bought it back with intentions of doing her up right. I moved the sprocket to the inside of the frame which demanded a jack shaft. I put a 6.5 Honda on it. I painted the engine black to match the tank. I had the Honda and Keystone decals made up. I did not like the huge-boxy air filter and muffler. I made an air filter from a stainless steel Parmesan shaker and connected it with plastic vacuum cleaner type hose and tucked it up under the seat. There is a band brake on the centrifugical clutch. I sawed of the muffler and welded on a steel coupling that would accommodate any lawn mower type muffler. Hopefully this weekend I'll take her out for long cruise. I'm very proud of it."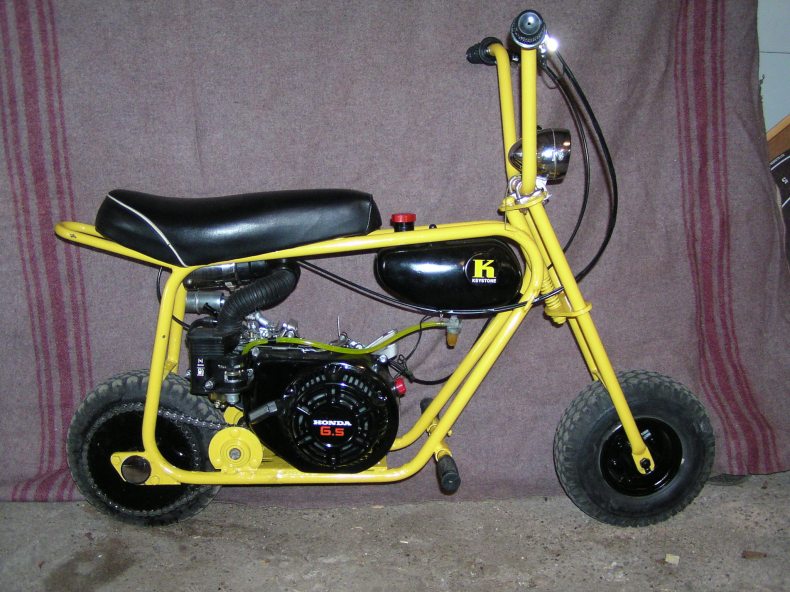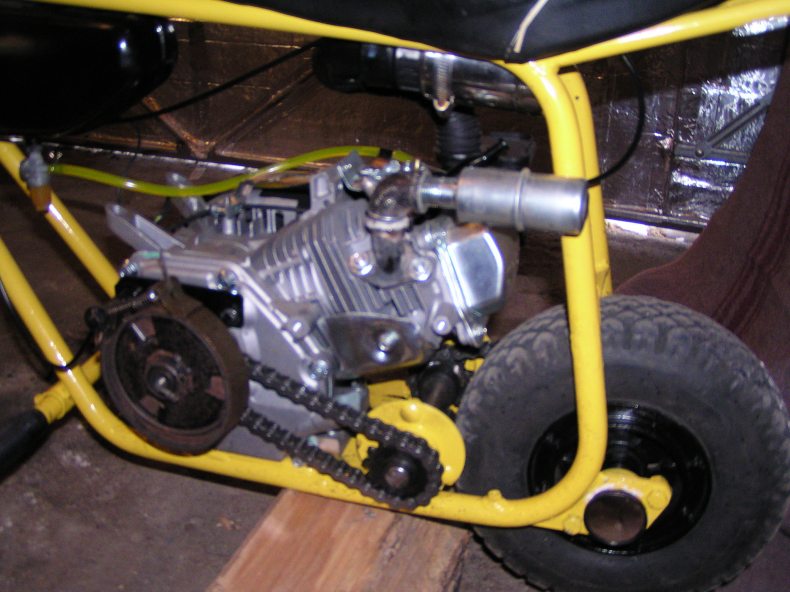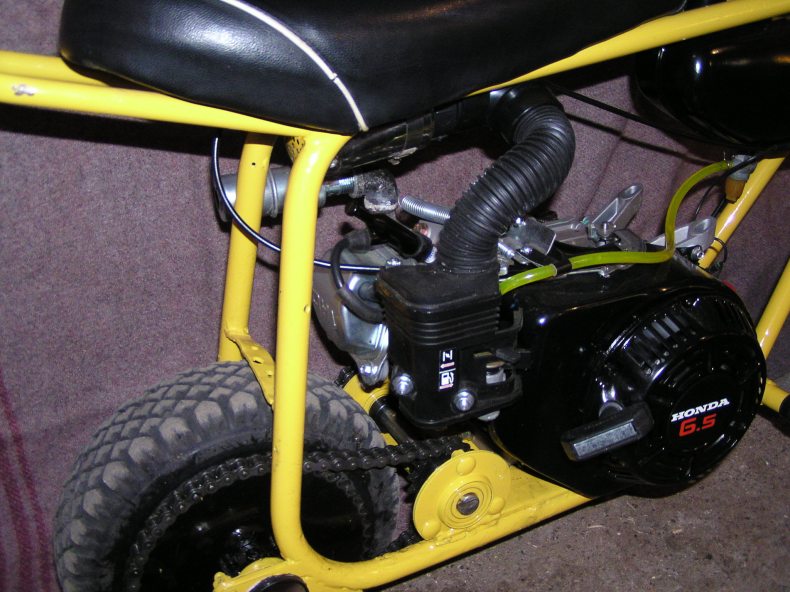 Well here are pictures of Bill Wood 2 Key stone minibikes. They look just great. Below is Bills story.
"I owned my 1st Keystone in the early 70`s it was a Deluxe. The frame`s where made in Richmond BC Canada & there were 4 models & 3 colors.The Tas motors came on 2 of the bikes.The Deluxe`s were light purple with white forks & came in hard & soft tail versions. Not all came with Tecumseh 4 HP motors,some were rolling chassis & you could choose you own motor.The red bikes had folding pegs & front fork springs, some years had more chrome as in fenders & pipes but other than that they were all the same.As for the Yellow ones(the cheapest) they had 1 center spring on the fork neck & rigid pegs.The reason I`m sending this is you like manufacturers history about the bikes & on you site some of the readers have some facts mixed up.To finish up I now own all 4 keystones The Black & red one has a 5 HP B&S,it was the Deluxe hardtail version and I stupidly got rid of the stock forks instead of rebuilding them.At the time all I had of it was the frame,so I did as best as I could by using after market parts a front end is from a Yamaha 50.The Yellow one was the best one they made.It is a stock softtail Deluxe with a 5 Hp B & S motor as I said the stock color would be light purple with white forks.I put motorcycle trottle`s on both so they would have a good kill switchs.The red & yellow 50cc Tas mini`s I have are stock,but it will take both motors to make the red one run.It is the more valuable of the 2 and the yellow 1 will probably end up with a Honda motor like one of your customers did.I hope to build the red Tas this winter & when I do I`ll sent you some pictures.It should be just about mint,because I can choose the best parts of the 2 bikes.An added note...... I also had a completely stock red Tas in 1976."