JC AGAJANIAN AGGIE MINIBIKE

Now here is a cool minibike that Corey Hall has sent pictures of. Corey also known as CLH is a long time minidoodler and has added some pretty good information. Below is pictures of the minibike. It is one awesome looking minibike and I believe very rare. Another interesting thig I noticed is the rear suspension, looks almost like the Fox Campus bike. I learnened something more today. But before you see the minibike read his story.
"I have attached some photos of my Jc Agajanian Aggie minibike made by king o' lawn Inc. of South Gate, California. I bought it off eBay in June of 05 and ran it until last September when the carb diaphragm gave out on its 5 horse Briggs & Stratton. I replaced it but I put the tension spring on top instead of bottom of it so it would bog out when I gave it more than ¼ throttle. I couldn't figure out what was wrong with it so I took it to B&M lawn mower shop and had the "minibike expert" fix it for me, it runs like a champ now. It has a max speed at about 50 and doesn't have a governor. The swing arm is mounted at the front of the frame and the whole engine moves with it. The Minibike expert also added a kill switch and a few other small things. An interesting fact that it was made in the last era of minibikes in1977 and is celebrating its 30th birthday. It was named after JC Agajanian because King o' lawn sponsored his race cars and the building of Ascot Park near the KOL factory in South Gate (which is a race car track that JC Agajanian raced at). Why did King O Lawn minibikes you may ask? because during the 60's and 70's when JC agajanian was racing his indie cars his pit crew needed a method of getting around the track easily. Jc (or one of his associates) new that most mower companies back then made minibikes so king o' lawn who was already sponsoring them got the job. They also made models KB-2 And, KB-3. Which were step through type scooters these had a top speed of 10mph. Aggie bikes are fairly rare and a blast to ride far more fun than a CT70 can bring you. Although I have never seen a Kb-2 or KB-3. My bike is missing the cool front decal though :-( maybe you can get one of Mac's photos. "
Update: I just recieved this information from Bill Runge, very interesting information. Read on.
There is also there is a bit more history that goes along with that bike. Troy Ruttman was a driver for Agajanian in the 50's & 60's, His brother Is Jim Ruttman (Ruttman Minibikes) who was friends with the Michrina Brothers (lil' Indian). The Michrina Brothers built the first pit bikes for Troy Ruttman and he sold them on the west coast for the Michrina's ....then Jim Ruttman started building them for his brother and some time in the middle here Aggie developed his bike. Regis Michrina still owns Lil' Indian and still makes frames in the Detroit area (Recreational Leisure) and he also owns all of the tooling for the Ruttman Bikes. You will notice that a lot of the parts interchange between the Lil' Indian and Ruttman Bikes.............Bill in Mich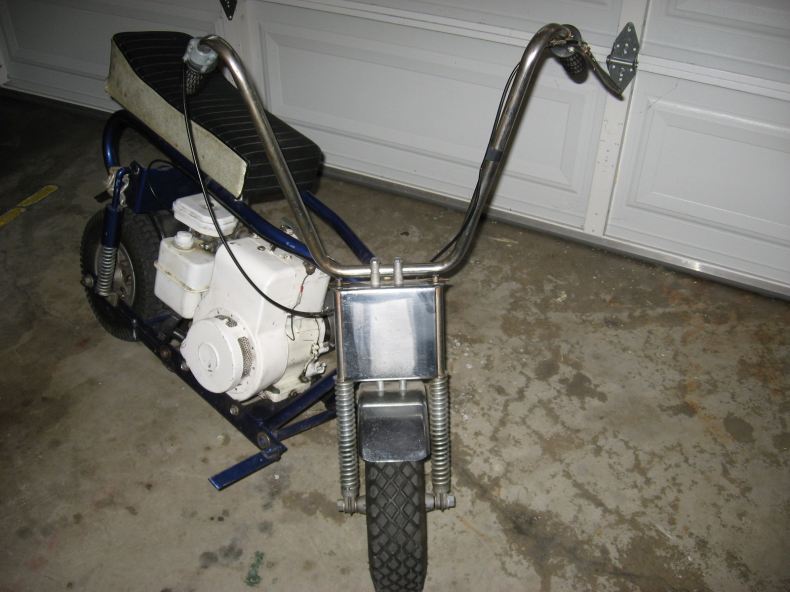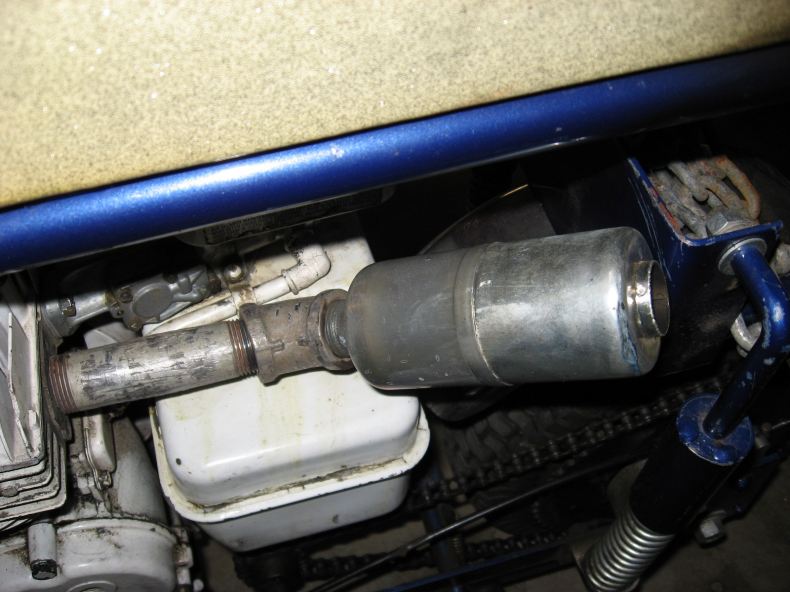 Wow, one more Jc Agajanian Aggie minibike sent to me from Mylan Chelesnik, of his bike restored. Below is his story.
'Well the story of the mini starts back on 05' when I found it on ebay for a price I couldn't pass up. The mini is missin the origional jack shaft and skid brake but the band brake is origional and works great. I also have the origional ape hanger handle bars and sissy bar but both are uncomfortable for me so I opted to go with a 1969 schwinn typhoon handle bars and no sissy bar. It is painted compatiton orange."