TACO MINIBIKE

Below is a nice picture of a 1971 TACO 100 sent to me just recently by C. Wiseman. This is a really nice classic minbike. This one brings back a lot of memories.
Below is a Taco 22 picture sent to me from Tom Browning. Wow does this guy have a collection of minbikes. Check this one out.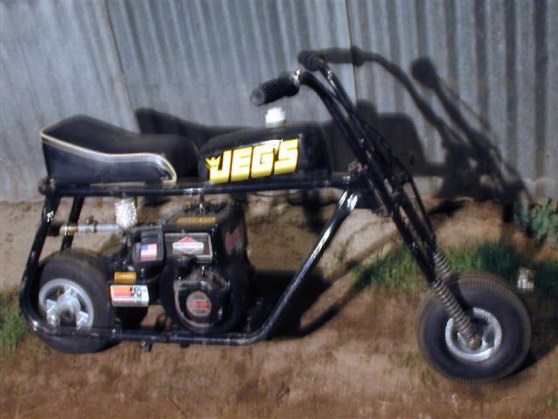 Below are some pics of Kevin Filarski1970 Taco 22. He rescued it before it went off to the dump. He rebuilt it from the frame out. Built a new set of forks for it. Put a 5 HP Briggs in it.It'll pull the front wheel! Was originally Taco Purple Metalic, but my son wanted it Red. This sounds like my Doodlebug FX. This reminds me of my
project
when I started out. It is amazing what we can do with hard work. The result? See below. Great job. Although printing a
photo
of these mini bikes would come out nicely on a photo printer using
quality
toner
, seeing them and riding them always triumphs a photo.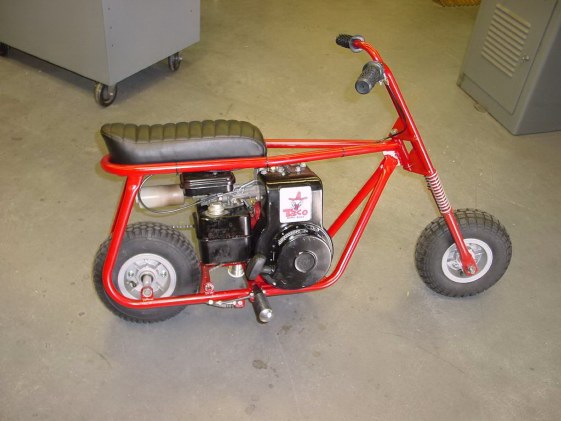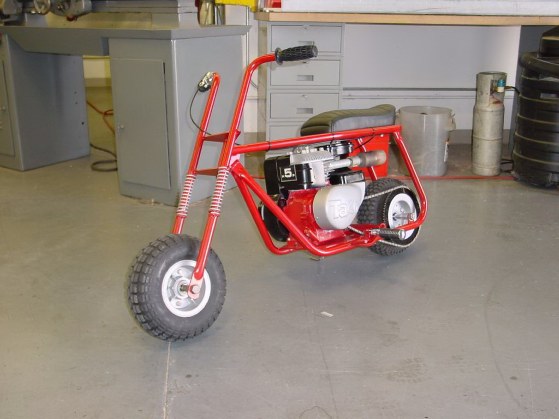 Below are 2 recently restored Taco 100 with 5 hp B & S power plants. Pictures were sent from Tom (Westcoasttacos). These are sure nice minibikes. You don't see these every day. Nice job.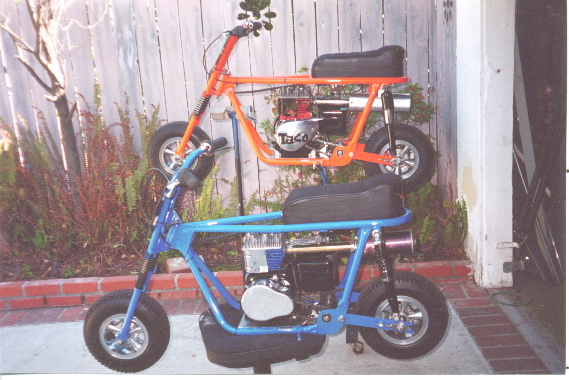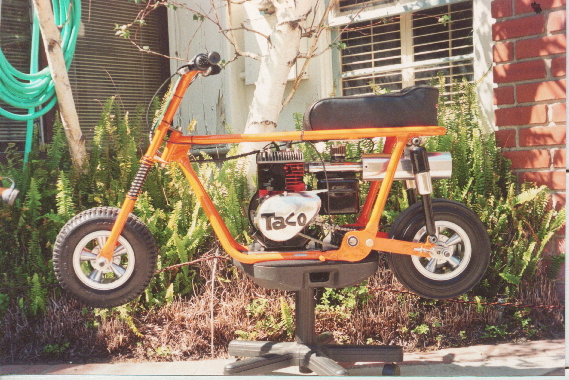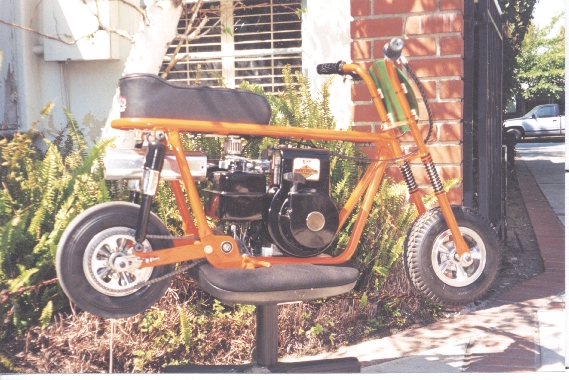 Well here are a couple neat Tacoswhich are friends of Tom (Westcoasttacos) So here is the story.
"I sent you some pics of my taco 100's,and since then my friends, the ones that actually got me into the minibike craze.They saw my pics posted on your web site and now they want to show their bikes to the rest of the minibike loving fanatics. So I said I would send somepics to see if you might post them if it is at all possible. The taco 100 was built by Rudy and the taco 22 and the custom built bike wasdone by Rick the taco 22 has a 3.5 and the custom has a 5hp both briggs and StrattonRudy's has a nice 5hp Briggs also.There part of the ''westcoasttacos'' fanatics also.Well, I hope you can post these pic's." Now a word from me. If the minis are of worthy I will certainly post them up. It's your site too.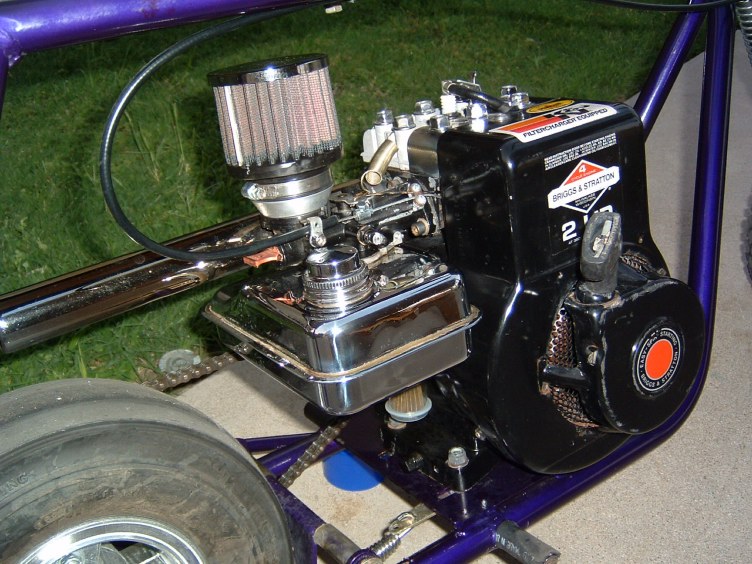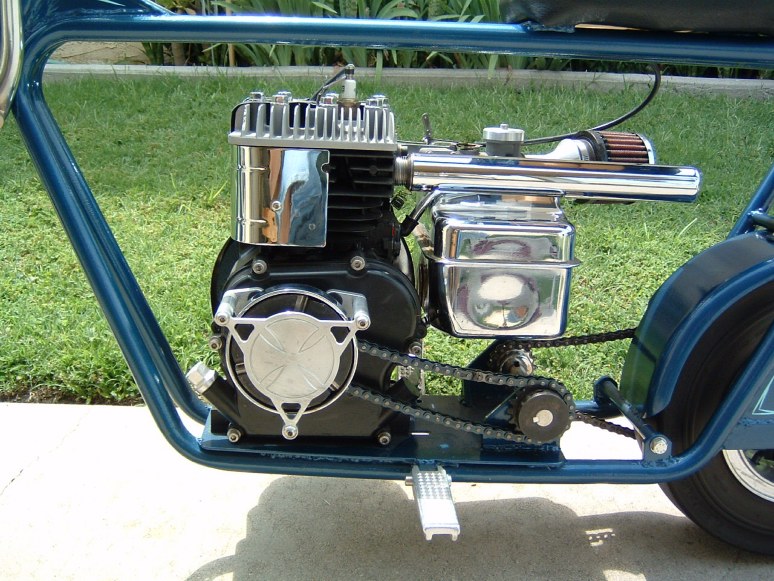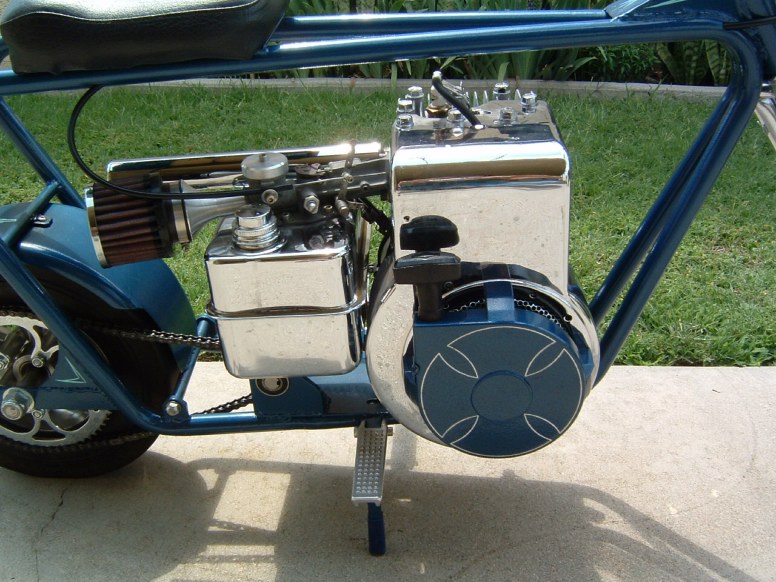 Now here is a old original picture from Steve who had the Taco 66 as a kid. Old memories. Cool.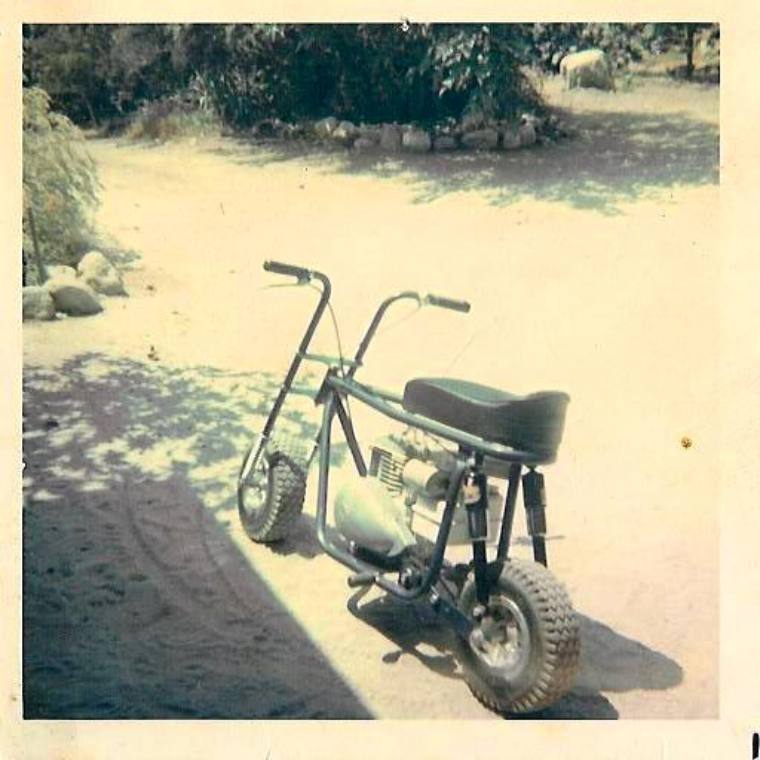 Here is another Taco 22 which belongs to Mike Notter. Very nice job. Here is his story.
"Thismini is a Taco 22 I fixed up for my 11 year old daughter she loves to ride it. I made the diamond plate chainguard and had to lower the gastank to make the engine fit."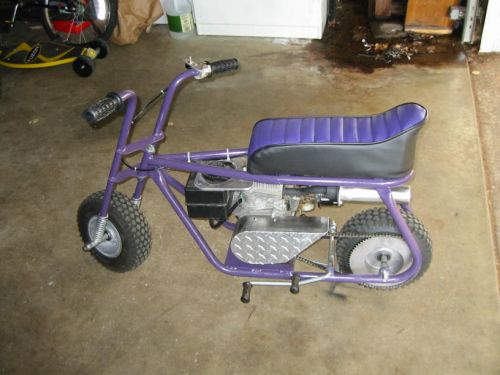 Here sent to me pictures of his customized Taco minibike. A pretty interesting project. So here is his story.
"This is Chuck Maier from San Diego, California. I just finished my latest MiniBike Project and thought I would send you a couple of Pics of that bike. It has a structure simuliar to the other 1 that you have posted here except its in a larger scale so to speak. I took a Taco frame and stretched it by 10" and then cut up a susuki RV90 and used the hyd front end and the swingarm along with the big balloon tires and also the brakes. ! advantage to this bike that I didnt have on the last 1 was a speedo which is driven off the front wheel. I then found me a HighOutput 8 hp Techumsha Motor from a parking lot vaccume and rebuilt it with some goodies for a little more punch. I used a centrifugal clutch and made a special jack shaft thats only 4" wide so I could keep the chains on the same side. I hand made the Primary cover (billet) that covers the clutch and the gas tank. I then cleaned up all the welds and filled them all to smooth them out and did the 2 tone paint job(True Blue & Cherry Red) . When putting it back togeather I replaced every nut and bolt with grade 8+ hardware or Stainless steel and lots of allen heads bolts. I also put a key switch on it and front fork lock to keep it being mine instead of someone elses..LoL . I also hand made the seat myself and bent the handle bars out of some really thick tubing with a hyd bender. My first time to ride it I did 53 mph and man thats fast and I had never thought it would go that fast. since then , after a little tweeking here and there and installing a carburator off of a 14hp motor, ive done 56mph ( gets there quick too) and its so smooth of a ride having full suspension and those balloon tires taking up any road bumps. It took me about 6 months from start to finish ( give or take a month due to the extensive welding I did to beef up the frame) Its Truely a fun ride and can go anywhere you so desire. Thats whats its all about !! thanks for taking the time to check it out."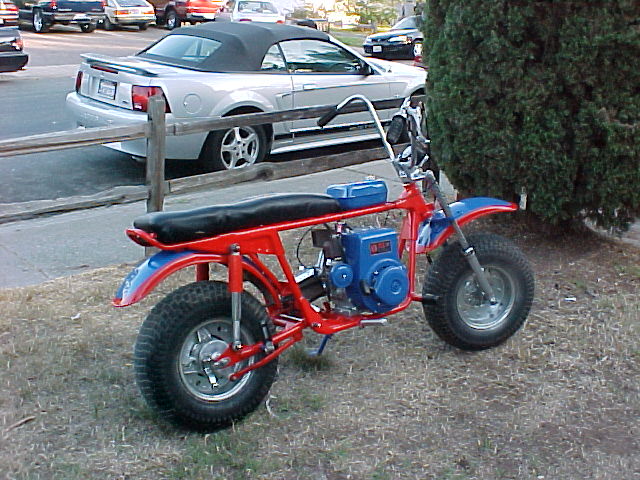 Below is a nice Taco 22 from John Stewart. This is a nice bike.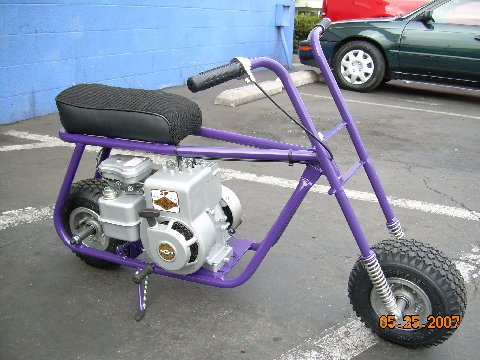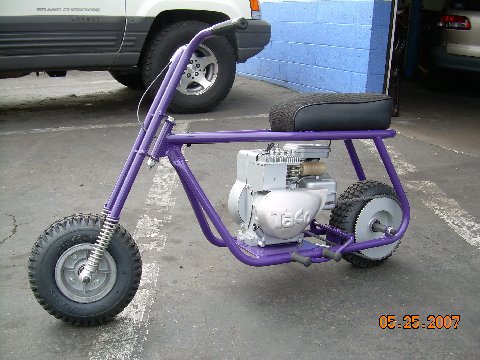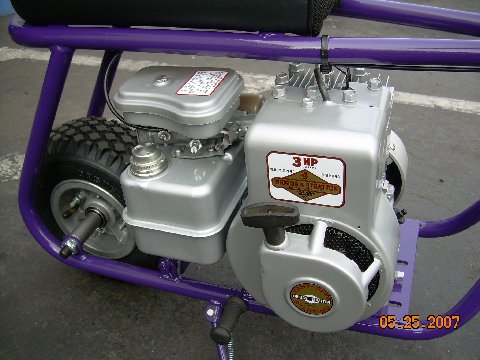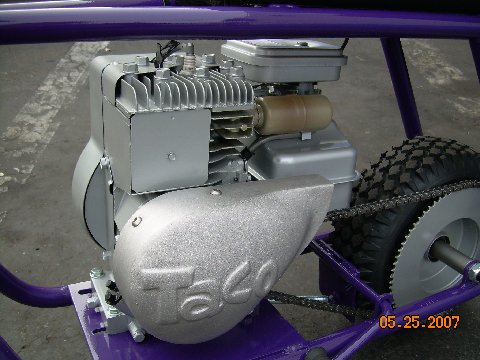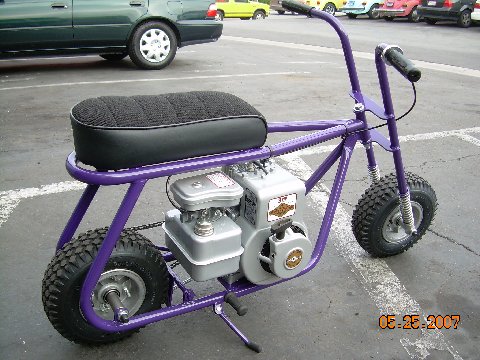 One more Taco 22 which Jarvis just restored. He mented he sold all his others and kept this one since it was the one he had as a kid at 13 years old. Yah, the good old days.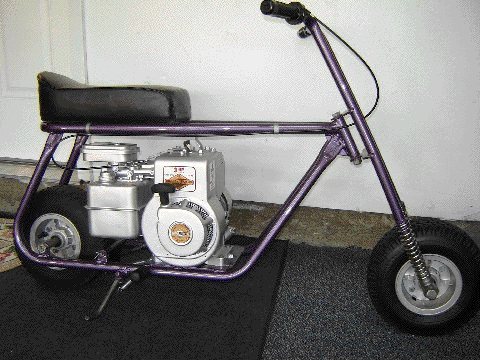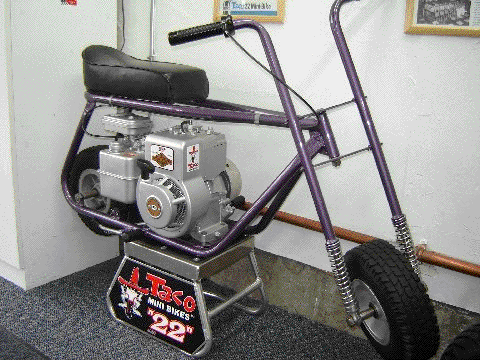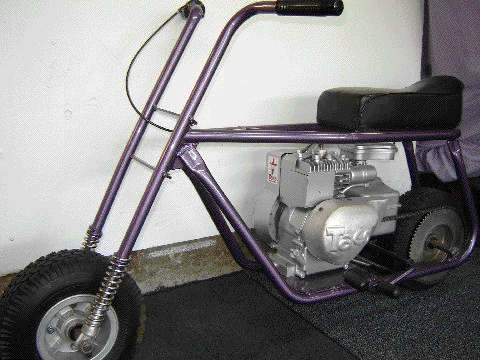 Below is a 1966 Steens Taco 55 which Tom Browning that he found a while back at a swap meet. This complete and all original. This is so amazing to see something like this that has survived 43 years.
Here is what Tom had to say aut this.
"Jay, here's a bike I discovered awhile back at a swap meet. It's a barn fresh 1966 Steens Taco 55 in original unrestored condition, and complete down to the original tires and handlegrips. The tires show minimal wear. It appears to have been used for a couple years then parked up until now.
It features the Power Products AH58 2 stroke engine and Taco wheels. The paint is "Taco purple", but the pics make it look blue. The camera also makes the surface rust look worse than it really is. Even the seat is in very nice condition. This thing is a wonderful find due to being such a well preserved time capsule for the Taco hobbyists. There really aren't many of these bikes around, and the ones that are are rarely in this condition.
Soon this bike will be in the hands of well known Taco collector "TacoDon". Don will be completely restoring this bike to showroom condition and documenting the details of every nut and bolt along the way. That information will be shared on the amazing site he created dedicated to John Steen and his Taco Minibikes company.
Check it out here:
http://www.steenstacominibikes.com/Index_Home.html
Check out the pictures below!!!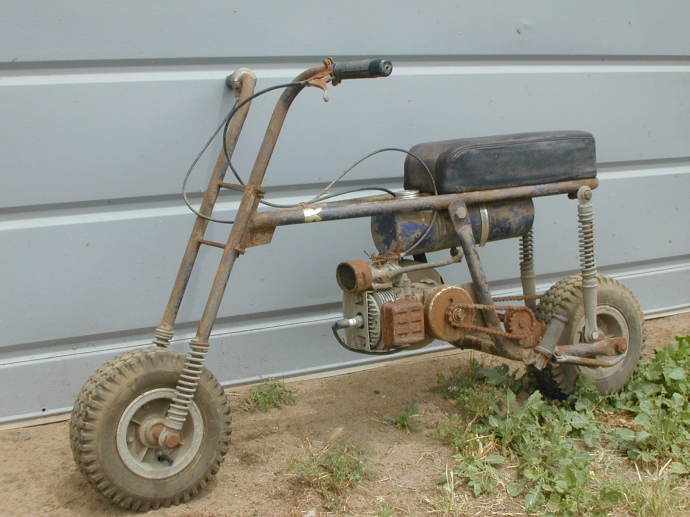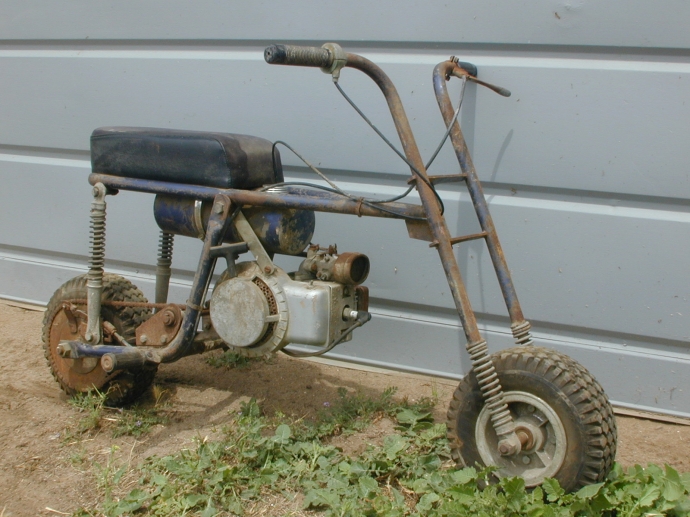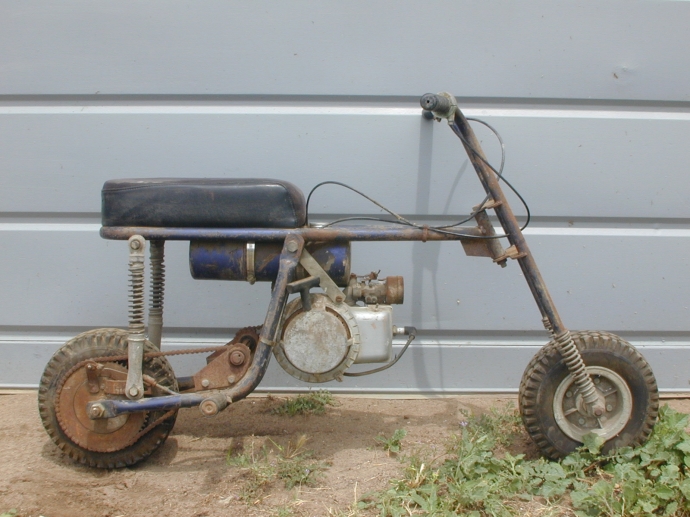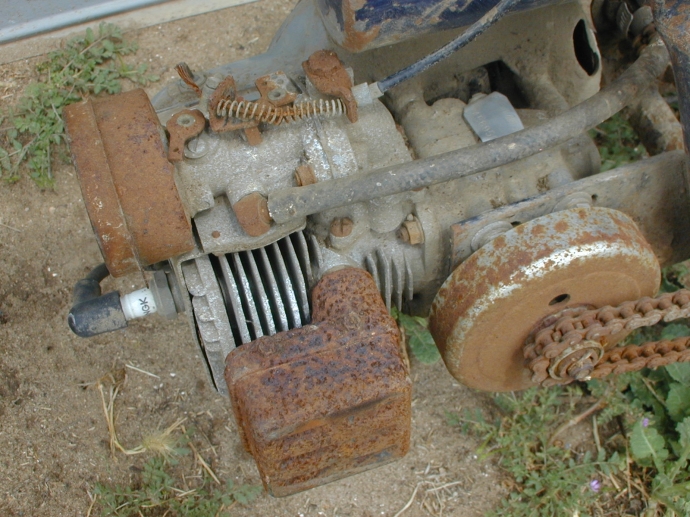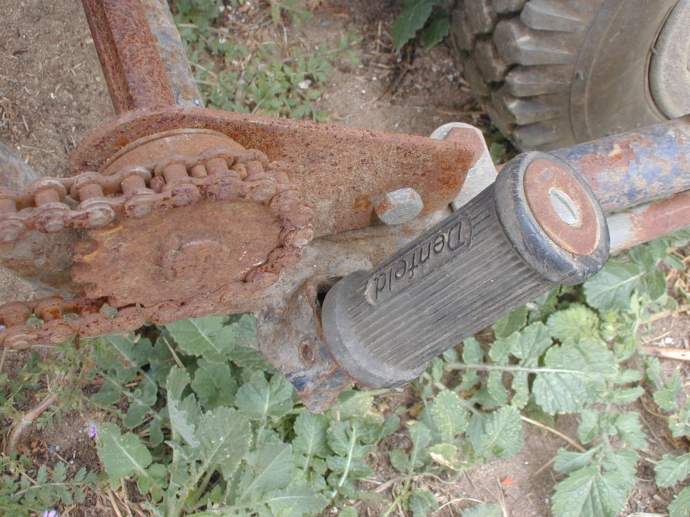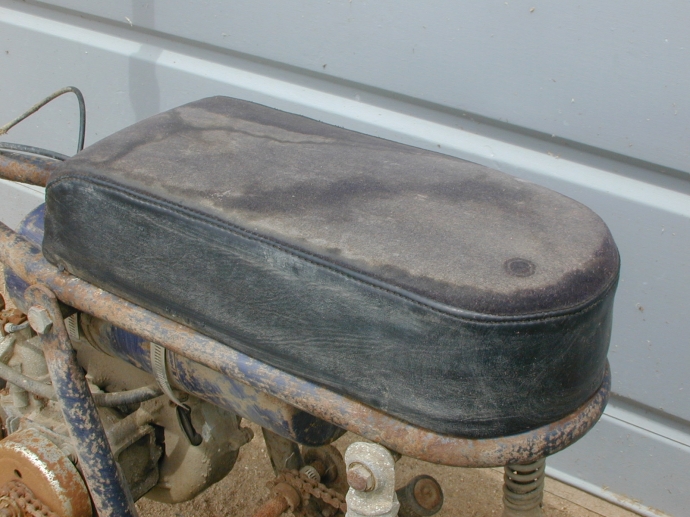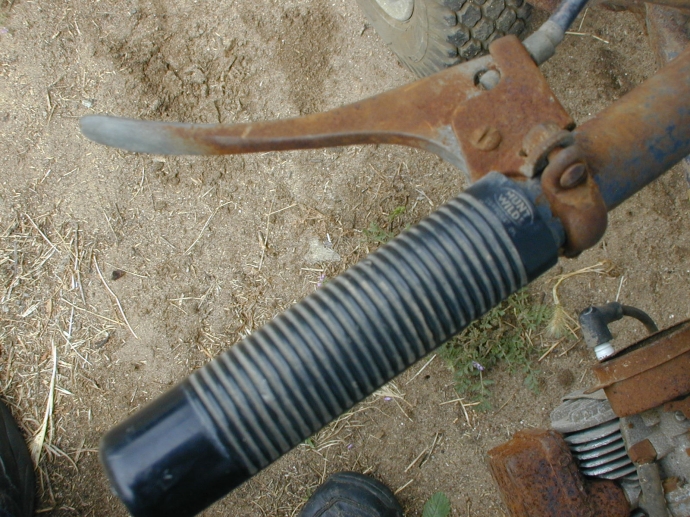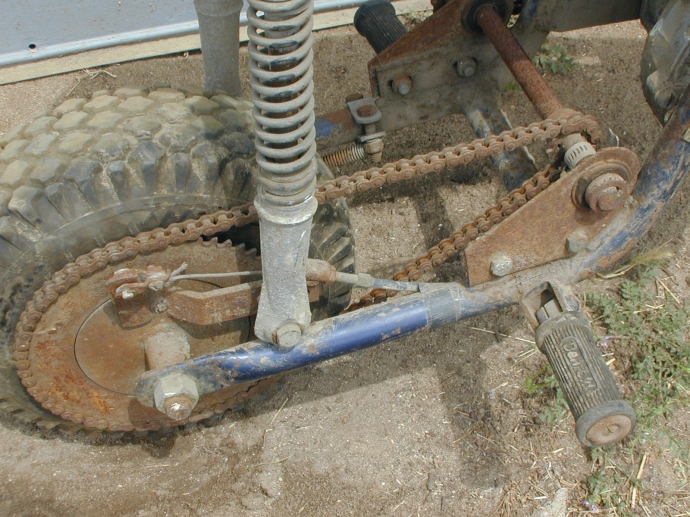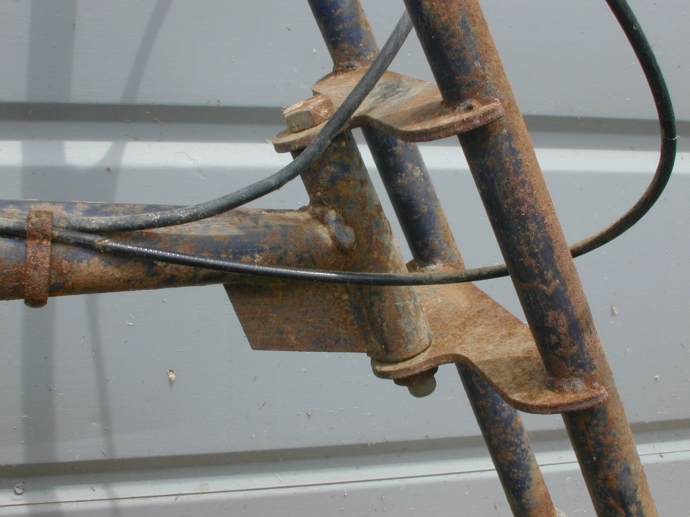 Below is a really nice restoration of the TACO 22 by Mike Reuben. The pictures really make it stand out.
But you got to read this unusual story. You will never believe it, but there is proof in the last picture.
"I'd also like to share some pics of the Taco 22 I just finished. Rolling frame from Mike Notter, misc. parts from Joe Rivello, engine from somewhere in Palmdale
Went to Vasquez Rocks for these pics and got harassed big time by a park ranger who probably argued with his wife earlier or hadn't had a bowel movement in 2 weeks.
"Get that thing off of there!"
"But I'm just taking pictures."
"Then you need a filming permit!!"
Just like old times.
The big unveiling was at Bob's Big Boy cruise nite in Toluca Lake and the Taco was a rousing hit. Check out the picture of me getting hassled. As usual.