BRONCO MINIBIKES

Below is a picture sent to me from Marcel Auger, of his Bronco TX1. It is equiped with a 5 hp engine and jack shaft. The minibike has front and rear shocks. He has spent $ 200.00 if not more to restore. He has mentioned that all parts are originalThis is a really nice bike. You don't see very many of these. The pictures below is the progress on the restoration. Great project.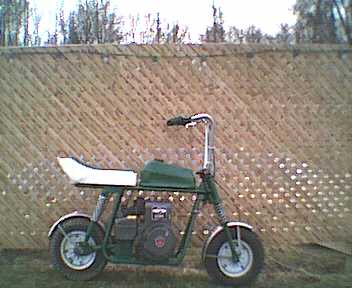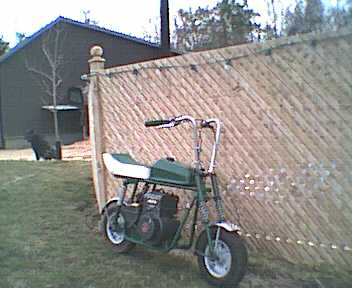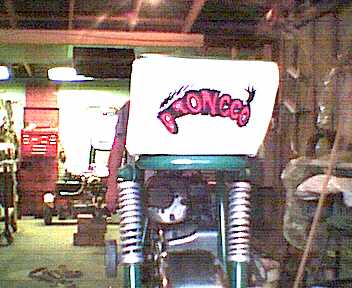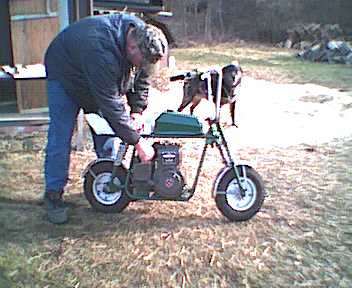 Below is pictures from Johnny's minibike and go carts of his 1970 Bronco TX-1. All original and looks complete. Nice mini.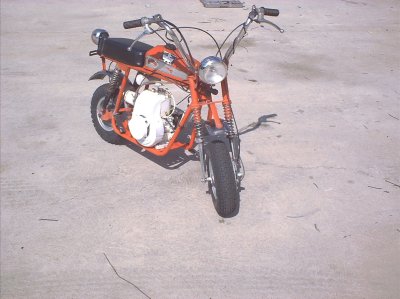 1969 Broncco Minibike TX-6
Vehicle Description
Below is a TX-6 model with a Minerelli 50cc engine, 4-speed transmissio and came with lights. I never new that they made this type of minibike. From the looks of this bike it should be sreeet legal.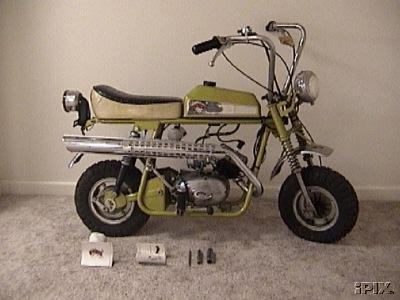 1970 Broncco Minibike TC-4
Vehicle Description
A seconcd minibike below is a Tc-4 Cross model with a 50cc Garelli Engine, 4-speed manual, Dell Orto carb. Really nice bike.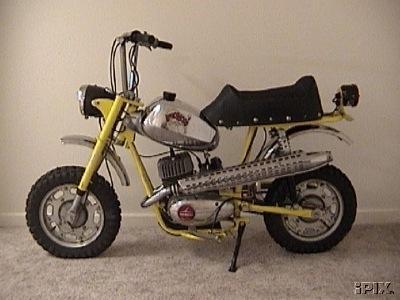 1970 Bronco TS-4
This picture was sent to me from Brian , Syracuse N.Y. He has also sent the paper work of this minibike. That is very rare to see. A really nice bike.
Up-date: Joe Carino is now the proud owner of this minibike. Congratulations Joe!!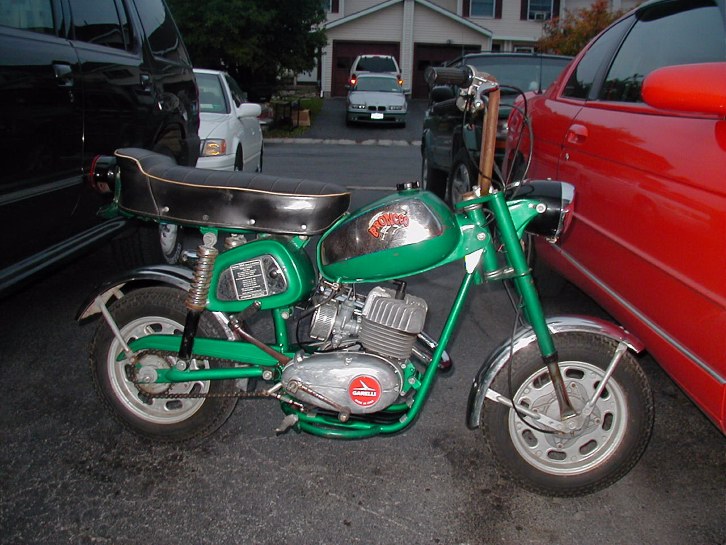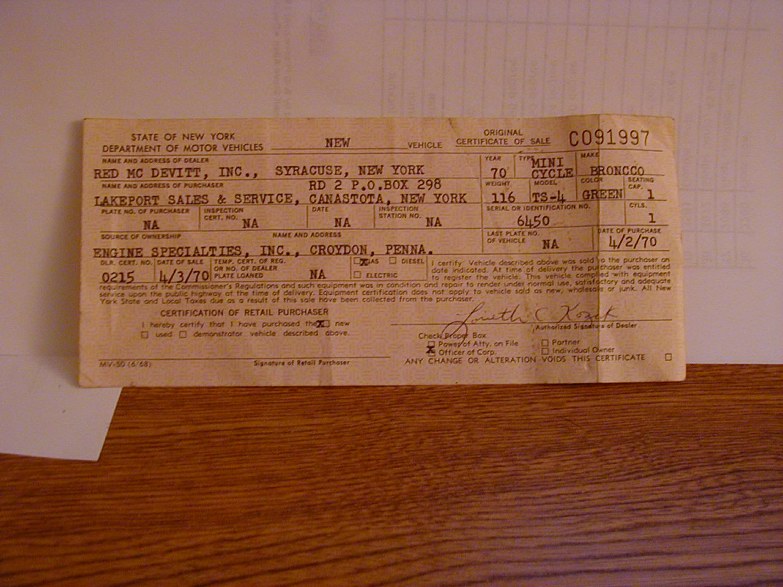 Below you will see pictures that were sent to me by Joe Kramer, of an original Bronco TX-6. This is a brand new bike, all original. Imagine owning one like this and it has never had gas in it. What a collectors item. One thing about this bike that I like, is the design. If the bike was painted fire engine red, who could resist.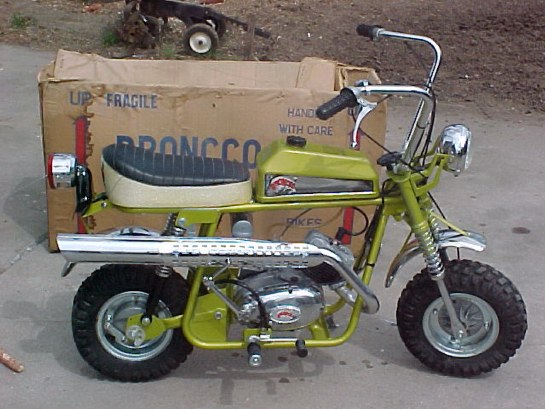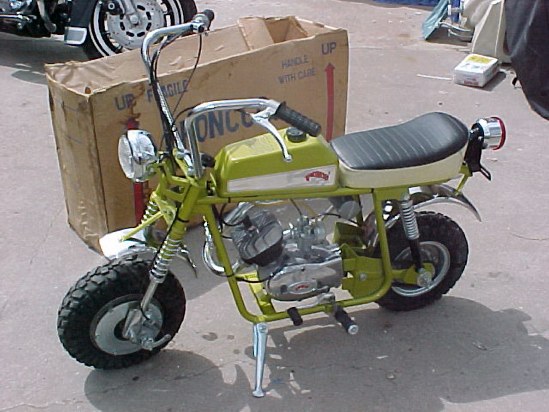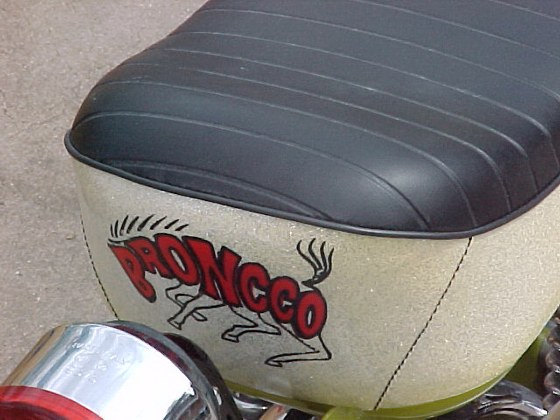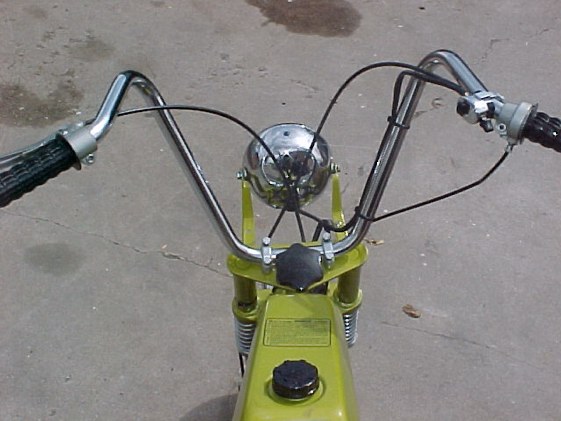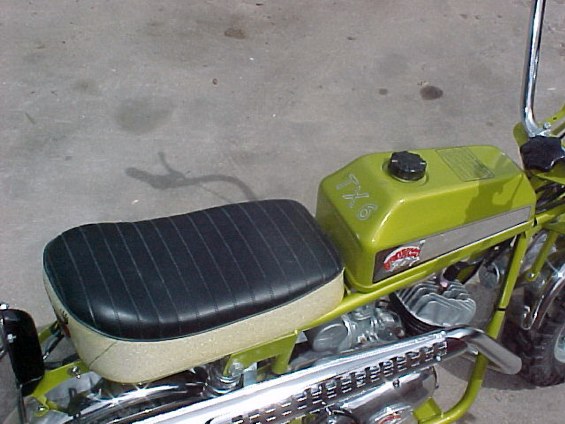 Below is a picture that was sent to me but with no name of his
Bronco TX-7. Everything is orignal on it except the paint. Nice job.
Does anyone know what the tray above the engine was used for?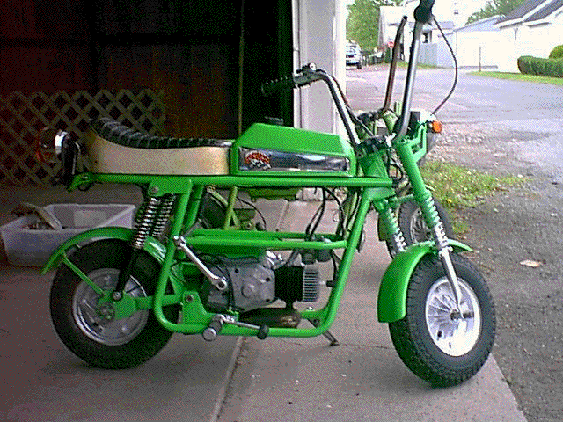 Below is a picture sent to me by a Judd of Ohio of his 1970 Bronco minibike. The minibike does not have the original Tecumseh 9 hp.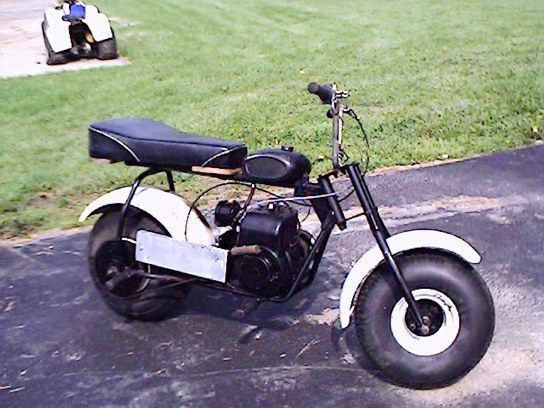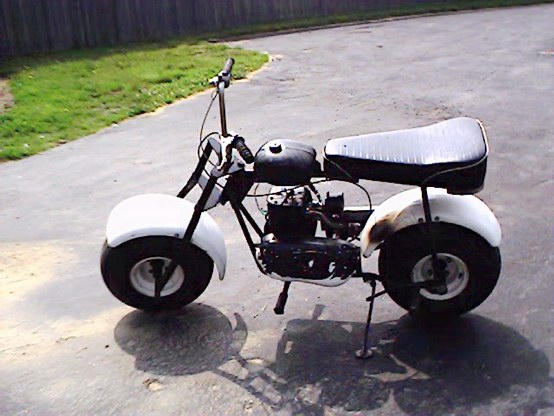 Below is pictures of Claud Frank's Bronco TX1 Cafe style. It looks awesome. So here is his story.
"This is an early Fantic-Broncco TX1 Minibike that was manufactured in Italy. In the USA they were sold as Broncco's but everywhere else they were Fantic's. Fantic is an Italian motorcycle company that is still around today. They made it big in Europe with Trial bikes for competition. Also in Europe some of the smaller bikes that had lighting and front and rear brakes were legal on the street. This TX1 is one of the earlier models and my guess is that it is either a 1969 or 1970. In 1971 they changed the bike around with cheaper components so they could compete more effectively in the US market which was flooded with minibikes. This bike was found on e-bay for $50 and was picked up locally. It was a rusty mess with most of it complete but still a mess. It was stripped down and I preceded to bead blast the frame and other components. The frame was powder coated a very close shade of the original orange and the gas tank was painted a similar shade by my friend who has an auto body shop. All the decals are reproductions using the originals and if any Broncco fans are in need of them contact me. I had a lot made up. The Aspera motor was rebuilt and this was actually pretty easy because Aspera is the Italian division of Tecumseh. The motor is essentially an H35 with a lighting coil. It was actually surprising that I was able to find as many parts as I did on e-bay. I located original Pirelli 7" street tires and OEM chrome fenders on e-bay. The seat was redone in the correct materials. A lot of people ask what that gray cylinder is under the seat. That is a plastic tool box that still has the original tools and motor manual in it! The chain guard was made by a friend of mine who has a metal fabrication shop. It was made using the original as a template but this was constructed of heavy gauge polished stainless steel so if the # 42 chain comes off it will not be damaged. I would say that the bike is 90% original. I did take some artistic license and change a few things. The headlight bucket is an OEM CEV unit from Italy used on small motor scooters. It was the correct diameter with the same mounting points as the original headlight but this is bullet shaped and had a opening for speedometer in which I installed a Broncco unit that was found on e-bay as well. Since the bike reminded me of a racer, I cut 7/8' stainless tubing and made Café Racer handlebars that are actually pretty comfortable. I also took the front rotor and cross drilled it to give it that racy look. The exhaust is something that I had lying around and may change to a down sweep nit going into a megaphone. The only thing I can't find is the front disc assembly and if anyone out there has access to one please contact me at bonanzamx1510@yahoo.com and I would like to talk to you about yours. If I could get good photos I could make one myself. "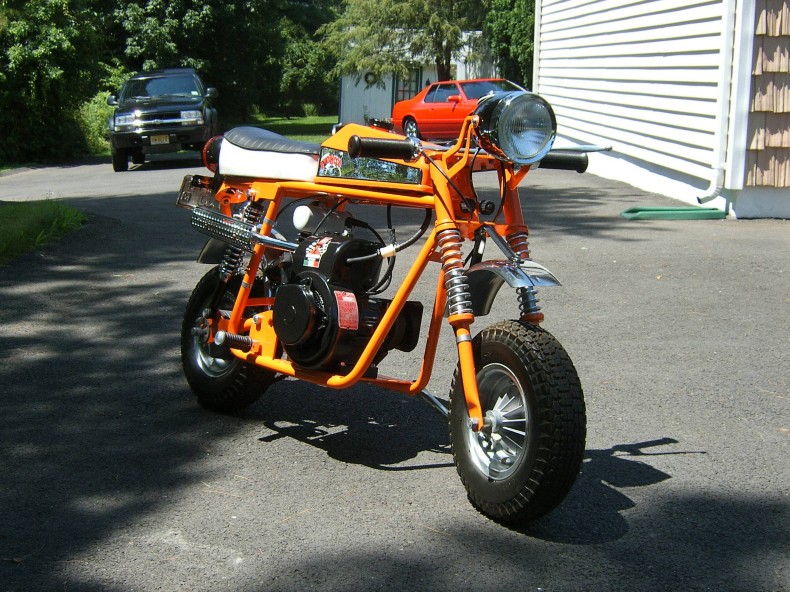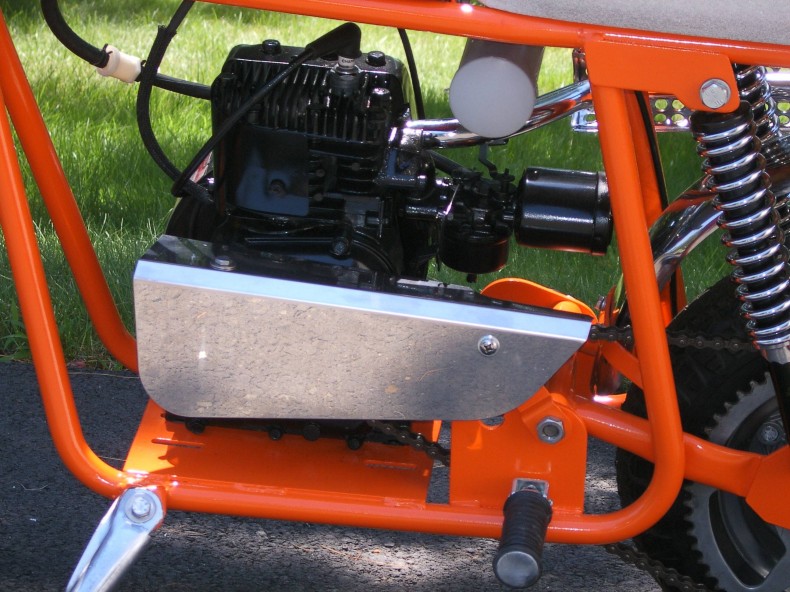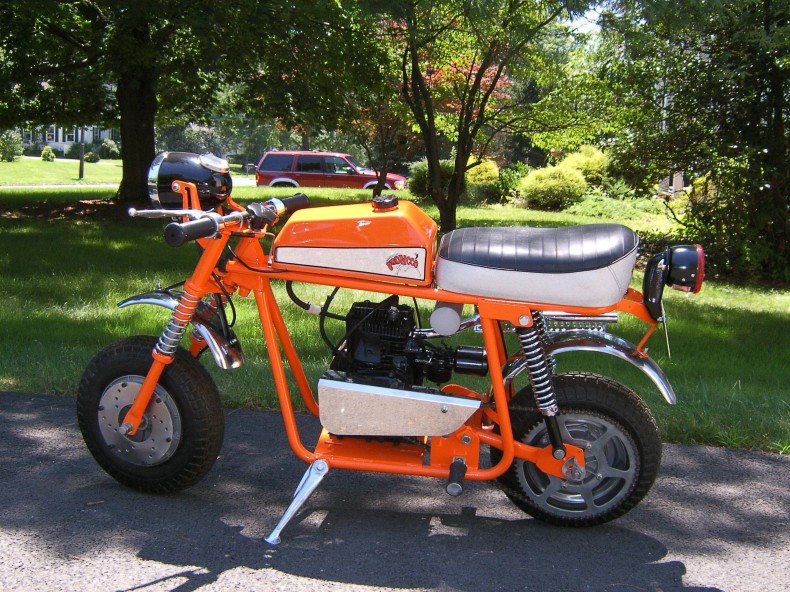 Below is a Bronco minibike with spoked wheels. I have never seen this model. Joe has asked me to post it up on the web site to see if anyone some info on this bronco mini bike.Model and all that . I need some parts too. If you have any info please contact him at his email address.
jerseyjoemamma1@aol.com