SKAT KITTY

Skat Kitty are such cute minibikes. Thanks for the information from Glenn Ayers. Below is a 1964 SKat Kitty that Glenn is fixing up. From what he has told me the frame is cast one piece aluminium. This must be one big mold. Trust me I'm in this type of business. Take a look at his project and some other information he has sent. Here's the website of the company that built the Scat Kitty
.
http://www.projects-unlimited.com/CorpInfo/profile.asp
Check it out.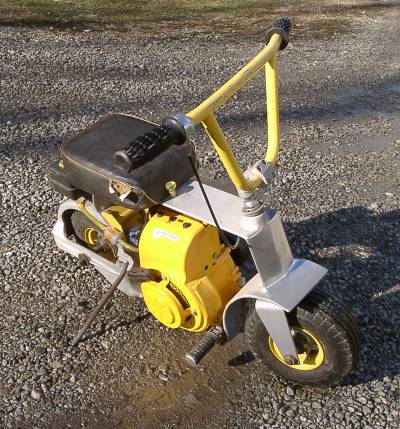 Glenn's Scat Kitty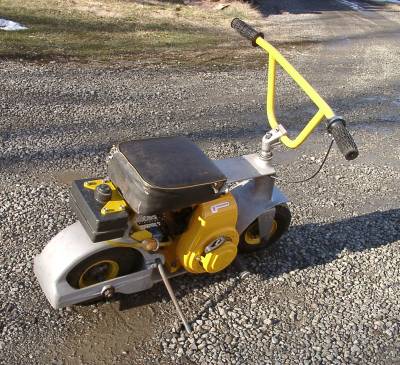 Glenns Skat Kitty with Clutch cover and decals.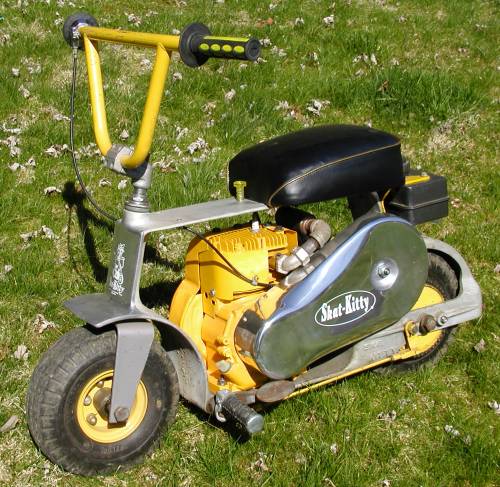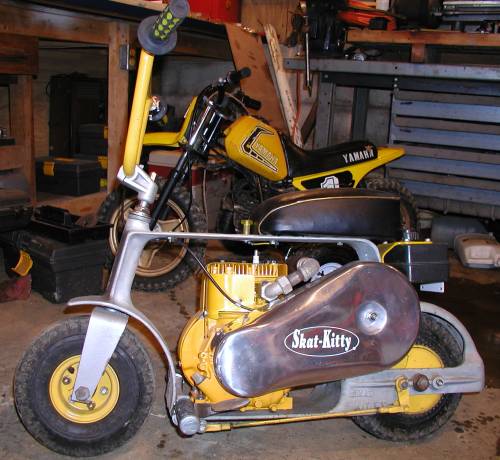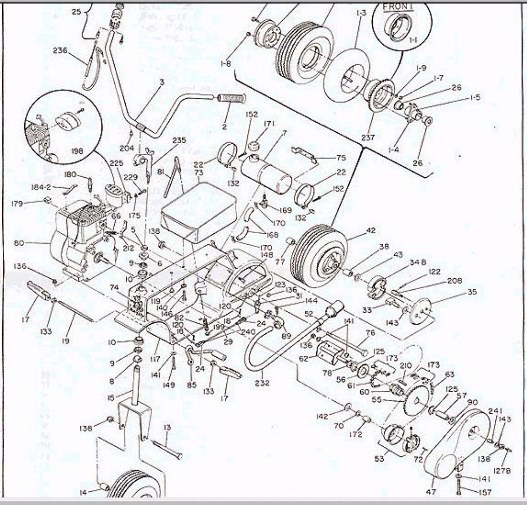 Skat Kitty Parts Blow Up
A Picture Of Dayton Ohio Antioch Bobbies Shriners (Have also other pictures of Shriners on RUPPS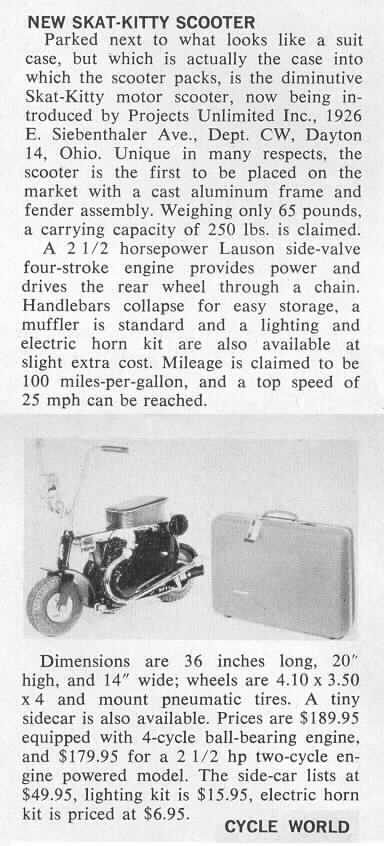 Picture Ad #1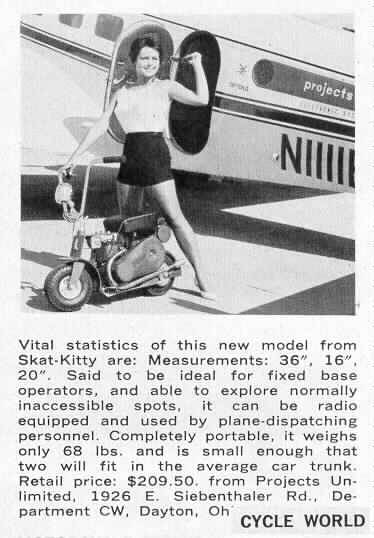 Picture Ad #2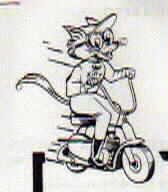 Skat Kitty LOGO
Here is a complete original Skat Kitty with the original side car sent to me from Josh Howard. This is a collectors item. Below is his story.
"Hereís the story on the skat-kitty. First off I never liked mini bikes, I always rode dirt bikes. Until the day my friend Dan Rosenberg told me he had an old mini bike that he had for his whole life, but it never ran good. His dad bought it for him when he was 2. He said he only rode it a few times his whole life. I told him to bring it by and I would try to get it running for him. He brought it over the next day, and I was surprised on how cool this little bike was. First I did some research to try to find out what it really was. Thinking the skat-kitty sticker wasnít original. But then I found that this bike was all original. It was from the 60ís and made by projects unlimited. By the way they do stuff for nasa. We where both really surprised. I even found one selling on ebay for about a 1000 bucks. So over the next month I did allot of work on it. I put on a new air filter, spark plug, points, bigger carb. I cleaned the magneto and flywheel. Hooked up the lighting coil, ran new wires, a new tail light. Drilled out the muffler, and greased everything back up. Man this thing runs great even with the original 2.5 hp engine. It was only supposed to go 25 But I clocked my friend dan at 31 and heís 160# . So now im hooked I have 3 running miniís and 2 frames to build."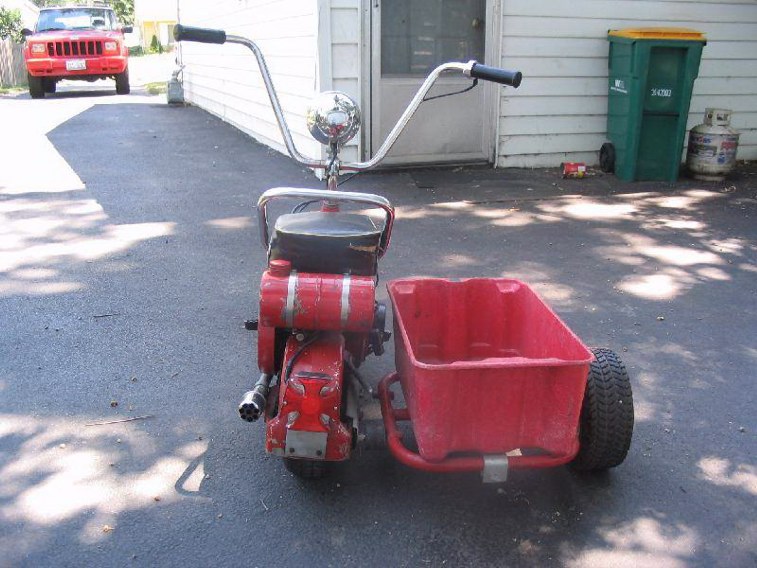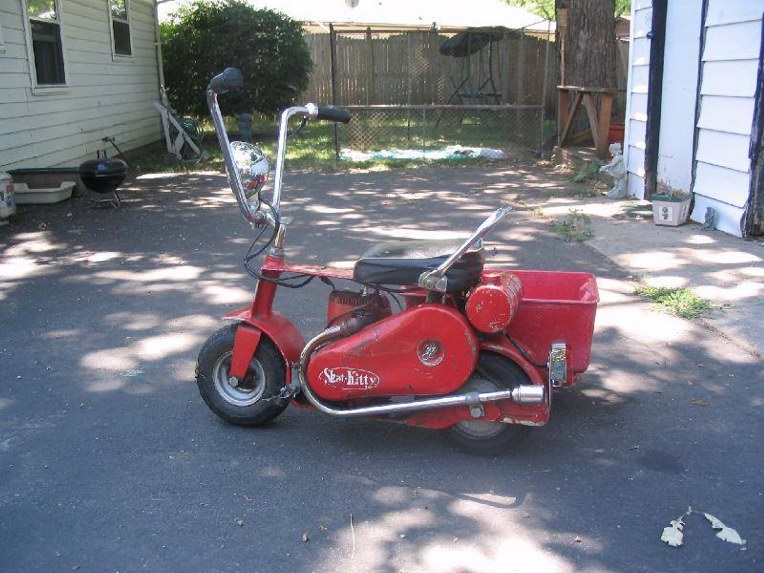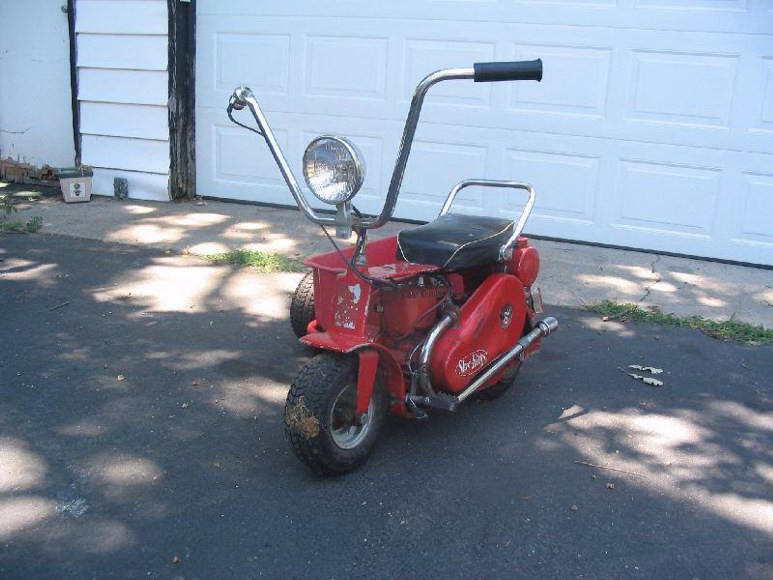 Below is a new addition to Georges collection which he just aquired. The paint is not original as you can see. He is missing some parts, that he has posted up on the message board. In the last picture is a comparison of size of the Skat Kitty and his Sears minibike.