Montgomery Wards Project Minibike

Now here is a nice project that Scott Uzarski (new miniddodle member) who is currently working on this project bike. Below is his story and progress of the project. The pictures are on his progress and he will soon send me pictures of the final project.
Here is the story of this old Montgomery Wards mini bike: A co-worker gave me the bike as seen in the photo dated 11/2/05 with the 10 HP briggs already in the frame, carburator missing. I do not know where he got it from or how long he had it. I actually wish I knew more of the history of this thing! I picked up a carb off eBay, made the throttle linkage (eliminated the governor), and made a flange to mount the air filter to the carb. With nothing else done but an oil change, she was running, with a borrowed fuel tank from my snowblower. Top speed was an unimpressive 10 MPH with the original centrifical 1-speed clutch and double gear reduction. The bike sat so low to the ground that it was almost unridable. I like speed, so my next mission was to upgrade to a torque converter. I found a reasonably priced Comet TAV on eBay... This is where the project took off. I had some Honda CT-70 parts laying around, so I decided that Honda wheels & brakes would be a nice addition. Rode it with the Honda wheels and TAV installed... This thing ACCELERATES! Top speed is a respectable 35-40 MPH on pavement. Next the front fork had to be upgraded... Again the pile of spare Honda Trail 70 parts was raided for the oil dampened front fork. Lots of custom parts were machined from scratch (by me)and with some clever welding/fabrication assistance from my buds Chuck and Jeremy, all the parts were made to fit together. Also big thanks to Chuck for applying the stunning Torch Red base/clear paint. Original Montgomery Wards parts include: The frame The swingarm (although I added reinforcements) The serial tag Made from scratch: Motor mount plate, jack shaft & bearing mounts, upper & lower tripple clamps, stainless steel steering stem, handlebar mounting/riser block, rear fender stay, rear axle, misc. brake hardware, seat, stainless steel fuel tank, gas cap and filler neck, kickstand, headlight ears, footpeg mounts, muffler bracket. If any members would like to contact me with questions, please feel free to pass my email address along at sauzarski@yahoo.com
Thanks again for your great web site. I provided a lot of inspiration for me to complete this project! Scott Uzarski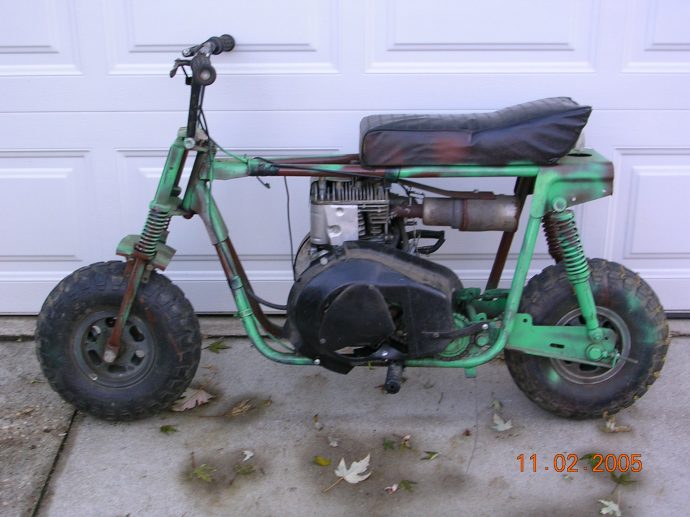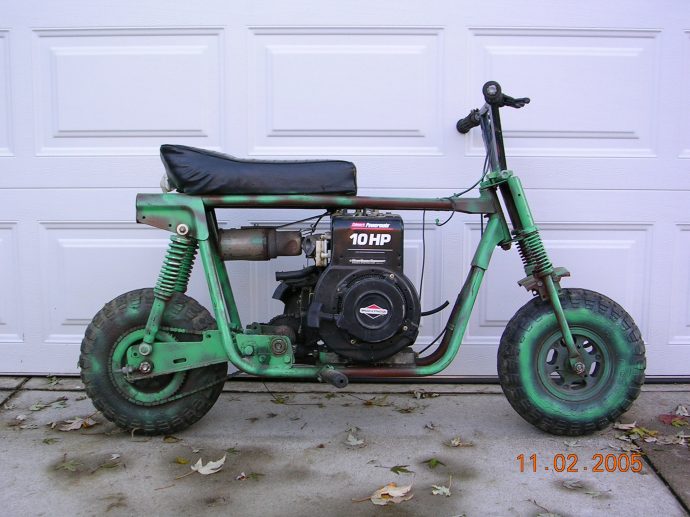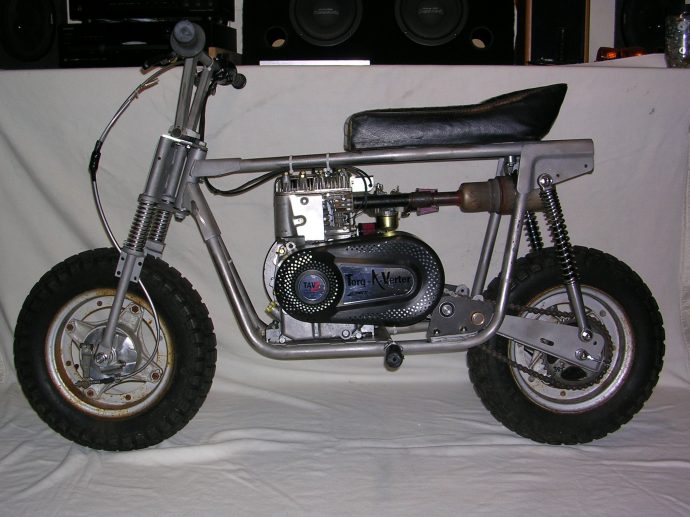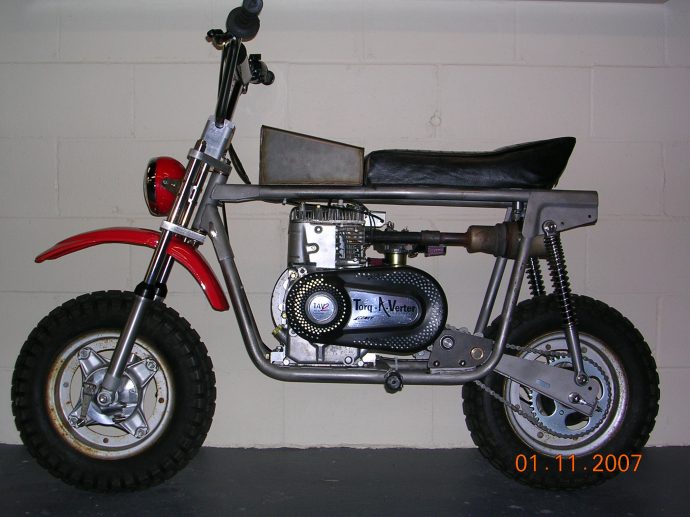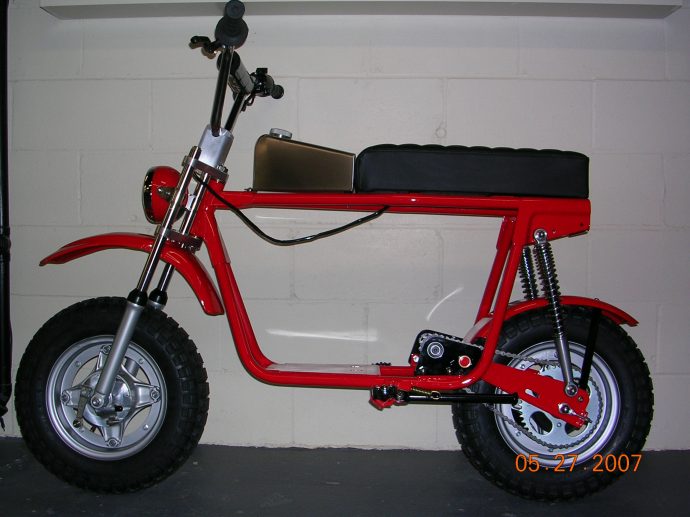 Below are the final pictures from Scott. Great job!!!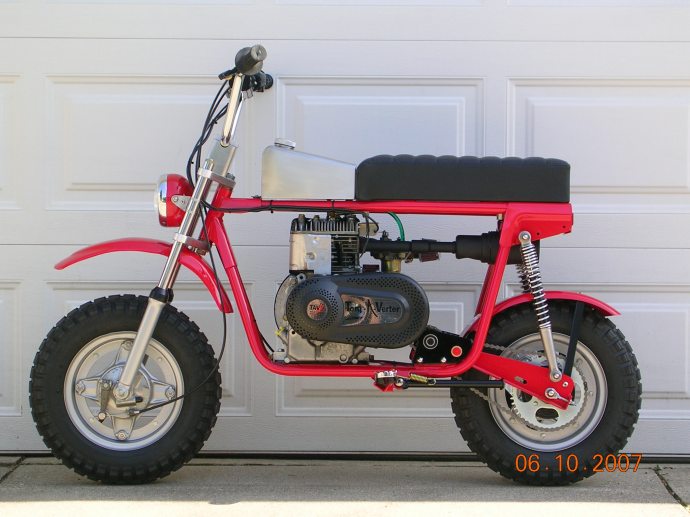 Below is another Montgomery Wards minibike. This is a VT525 Trail bike that was on ebay just recently. This is in near mint condition.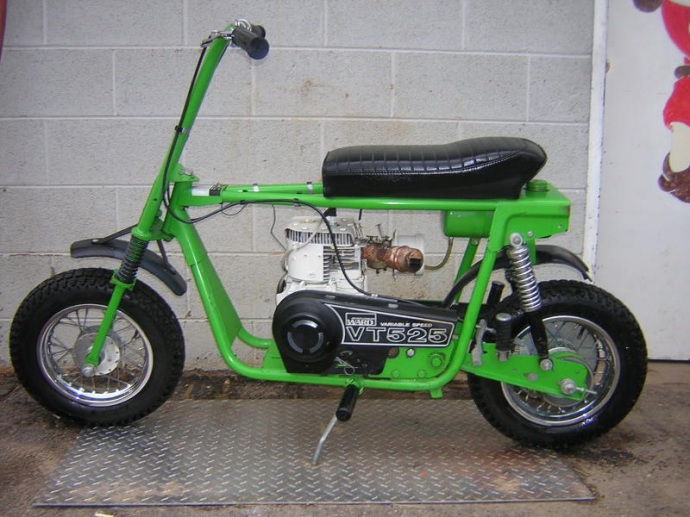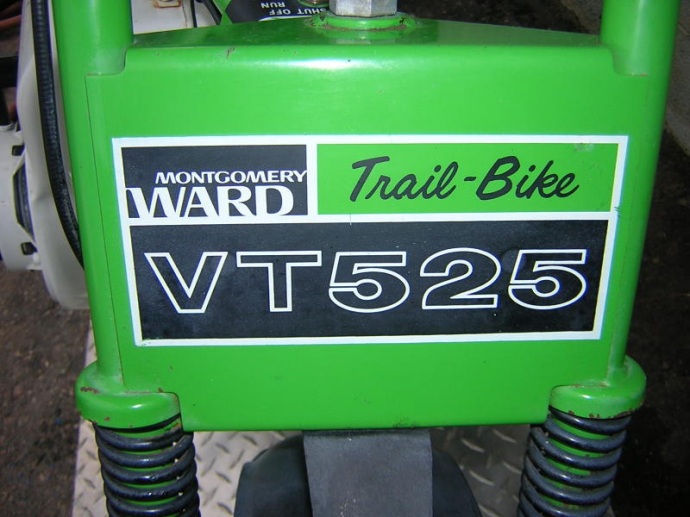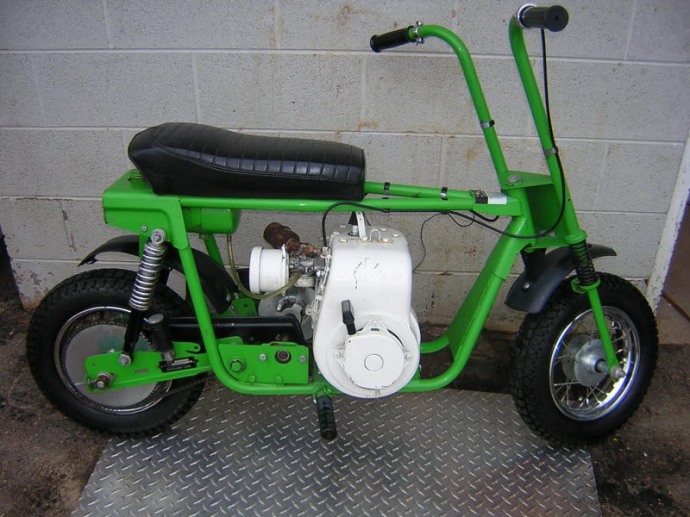 Below is another Montgomery Wards in mostly original condition minibike from John Ford. This is currenly on ebay.