POWELL CHALLENGER

Below are pictures sent to me from Chuck Maier from San Diego, California. Here is a pic of his Powell Challnger that he just finished restoring. When i sent that pic of my Cheeseanator minibike my powell was in almost the exact shape as the 1 you have posted on your site.He spent 30 hours fixing it up. Its totally original and he even has the CA title or Reg from when it was bought, it is presently up for sell. This in my opinion is the best Powell mini I have seen to date. If you are interested in the mini, go the the minidoodle message board and contact Cheese.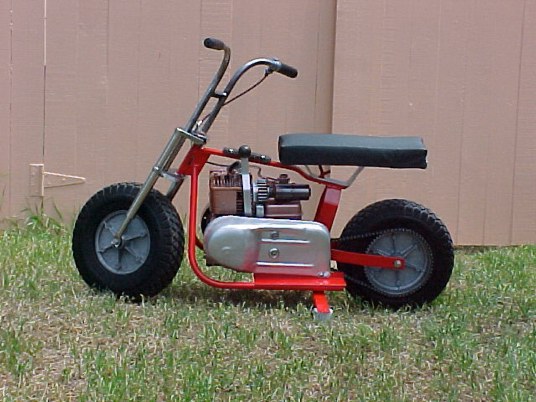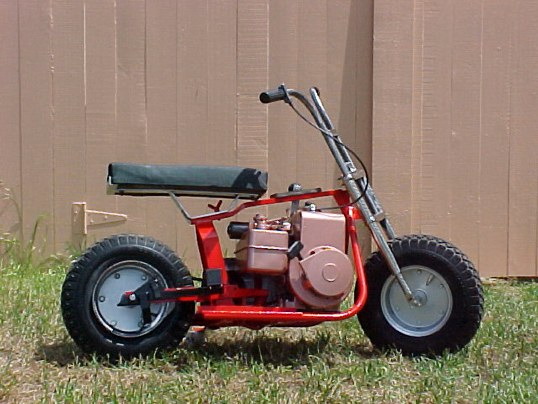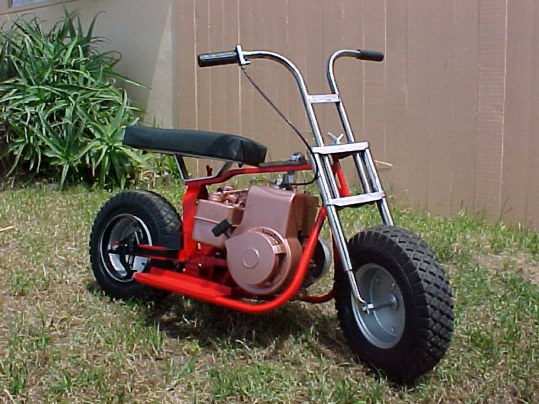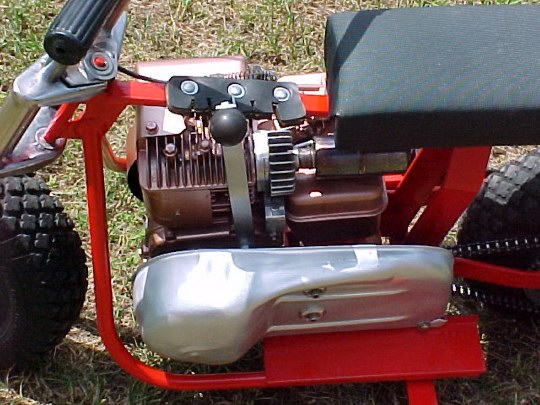 Well here is Doug Sandburg Powell Challenger minibike."Well it has been a long time in the making. I don't have to tell you how much I love this bike. I have enjoyed every minute I have spent restoring what was originally a rolling frame that was missing a lot of pieces. It has a Briggs 5hp but it puts out around 8-10hp. It used to burn alcohol and I was told it developed about 12+ hp.This bike really flies. It is a blast to ride."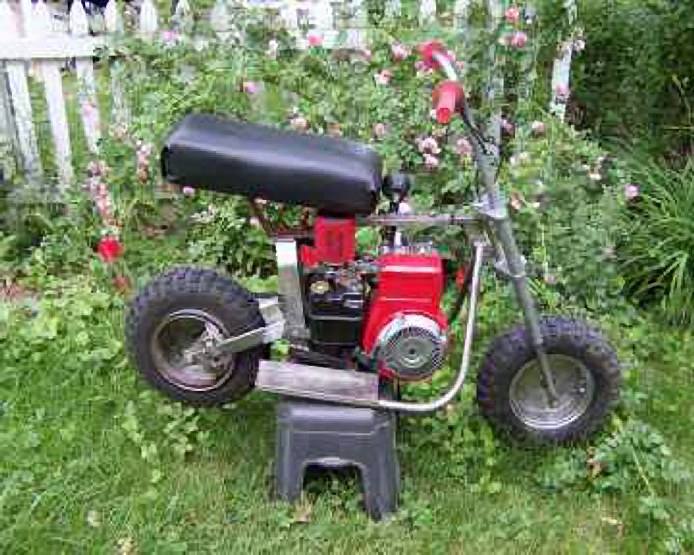 Wow here is a different model Powel Challenger called the Powel Phantom 7 sent tp me from Claude Frank.
So here is his story below.
"This is a very rare Powell Phantom 7 Minibike made by the Powell Brothers in California. This was the hot rod version when compared to the Powell Challenger. This bike came with a 7HP Tecumseh big block motor connected to a torque converter. The Powell design uses a mono-shock swing arm in the back, even before it became standard on today's dirt bikes. This bike is all original except for the hand throttle and maybe the seat. Even the chrome front end is all original and in good shape. I may be wrong on the seat as I have never even seen any literature on this bike. I just have heard rumors about the Phantom 7. This thing runs like a bear. It starts by the second pull, does not smoke or leak oil. If you hit the throttle hard enough, it will do a wheelie! It goes about 35mph with my 220 lb body on it. It is also geared to run up any hill without even breaking a sweat. I acquired it though Harry Hansen who many of the fans of your web site know when they are looking for Minibike parts. Harry found it Maine where it had seen use but no abuse. The gentlemen in Maine said it came from California and you can see the California Off-Road registration from 1974 still on the bike. Most of my bikes are restored however after restoration I never ride them again. This one I may leave alone because it is such a blast to ride. If anyone knows anything about this model, please contact me at bonanzamx1510@yahoo.com."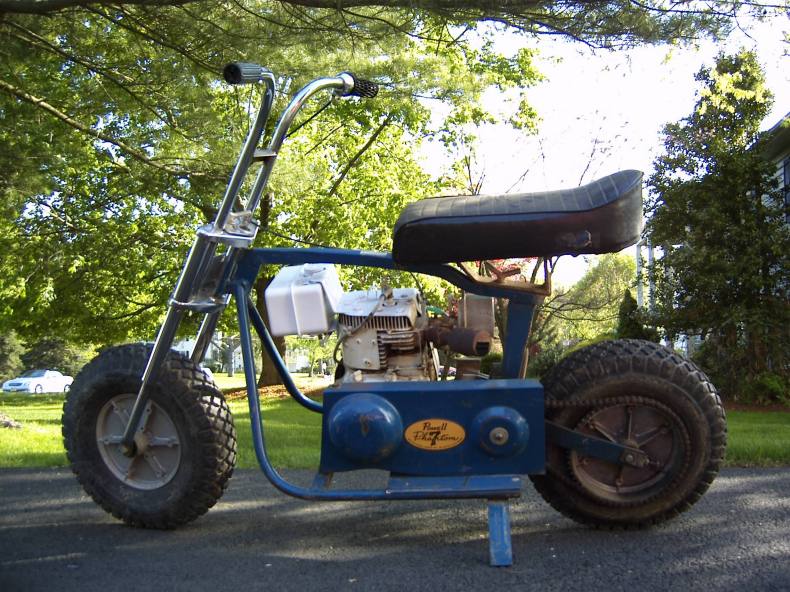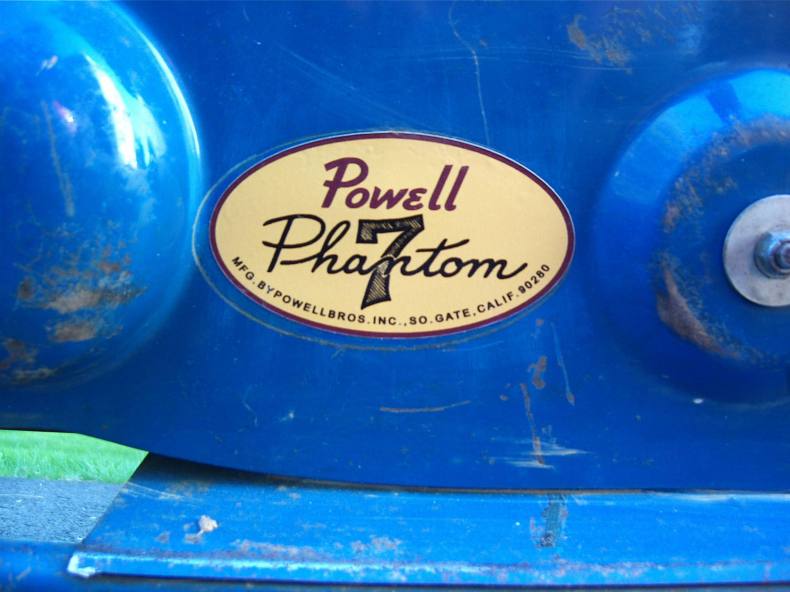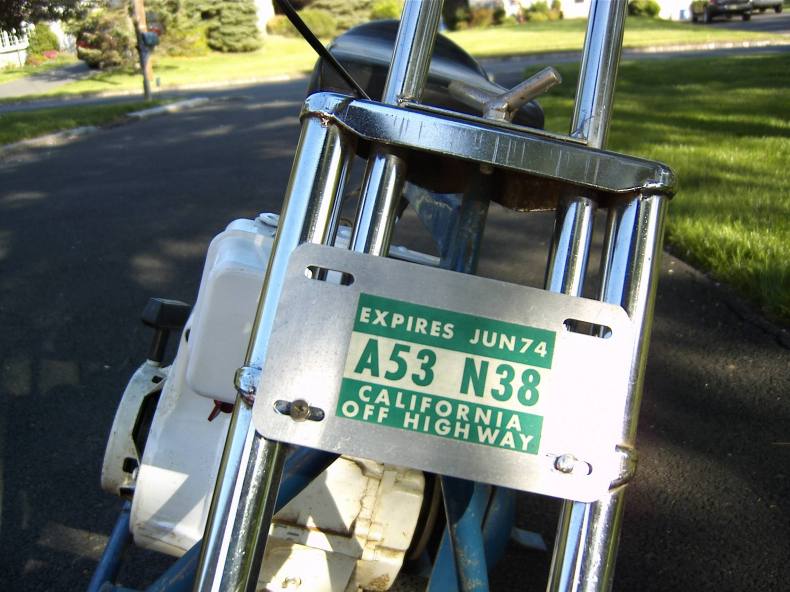 Below is another Powell chalenger sent to me from one of our members, who was asking me to post this up for a friend. This one is equipped with a 7 hp. Thats a pretty big engine.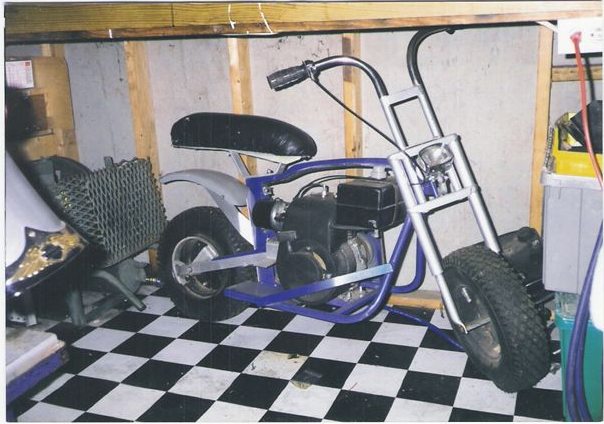 Below is another nice Powell Challenger sent to me Bayareaburrito. Really in nice shape.