SCAT CAT

Below are pictures sent to me from Justin Blistyak . He is currently looking for information on this minibike. He tells me it is a 1972 SCAT CAT Model #SC415. It has just been recently restored and has a new Honda 5.5 horsepower engine. It was imported from Taiwan by small Engine distributers in the early 70's.
I personally never heard of this brand. If you do know of any information please contact me or leave a message on the message board.
Up date: April 20, 2004
I have just gotten some more information on the Scat cat from John Wilson.
Thanks John!
I had one as a kid and rode the hell out of it. He contacted the
company Small Engine Distributers and here is their reply:
"We used more than one manufacturer for our bikes. If I remember
correctlyone name was Yuan Ta (a Taiwan based company) and
Cheng Chin (another Taiwan based company). We called most of the
bikes Scat Cat mini bikes and had a letter model number (example...
YT-66 , YT 114, YT76 , SC-114, etc.). They really were a nice overall
mini bike. Many of the common items are interchangeable with some of
the others like throttle controls, throttle cables, throttle stops,brake cables
front and rear, etc. I have no idea of where you would be able to find parts for these bikes today. Like antique cars the hunt begins.
Well a comment from me. I have gotton a lot of e-mail requesting information on this minibike. Because it was an inport it really is difficult to find information. I do hope that anyone who has a brochure of the Scat Cat of any of the models to please send me a copy. Sharing information is what this site is all about. Make this your site.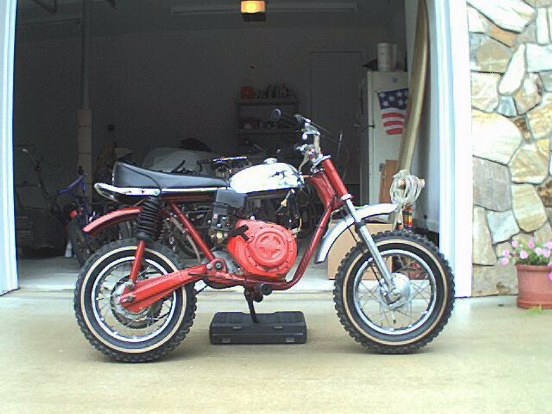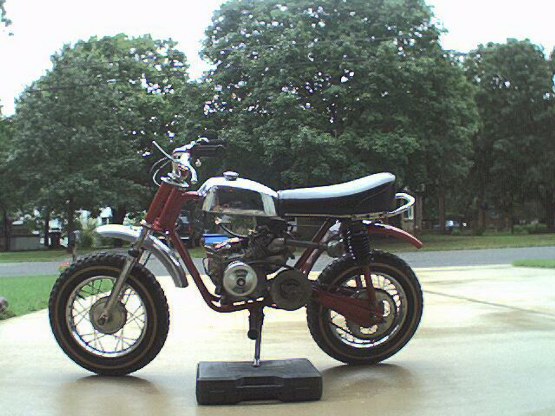 Below is pictures of a Scat CAT ASC-114 sent to me by Scott Sackson from Mesa Az. So here is his story. Read on.
"This bike was purchased by my Grandfather in the late 70's in Albert Lea Mn.. I rode the heck out of it when I was a kid. When my Grandfather passed away, I found it in the back of the garage. It had not been started in 20 some odd years. I had to fix the linkage, installed a new carb, replaced the fuel line, tank, and spark plug. It runs great now, and sure brings back memories. My kids are getting the same thrills out of it that I had as a child. I am still looking for a few miscellaneous parts, but have found it tough going." Now this is pretty neat.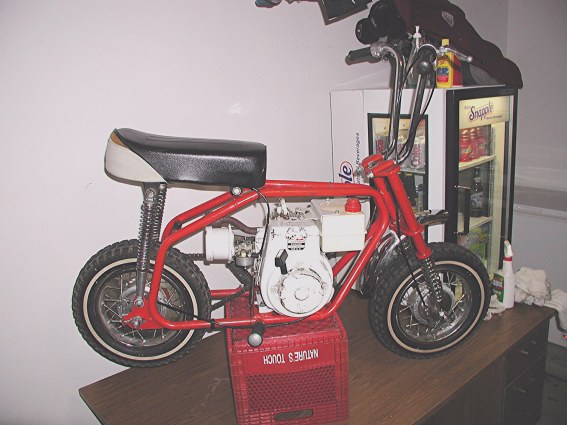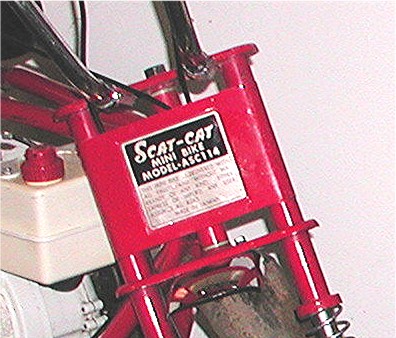 Below are some pictures of a ScatCat YT660 Mini Bike from Herb Pattison that was recently upgraded. It originally was red with white wheels, fenders and handlebars. Original engine was a Tecumseh HS40 (4 HP w/alternator).
The upgrades include new Tecumseh 6 HP OHV engine w/electric start, new front wheel and fenders, powdercoated frame. It has been in the family 30+ years. So Scat Cat made different models from what I see. Nice job.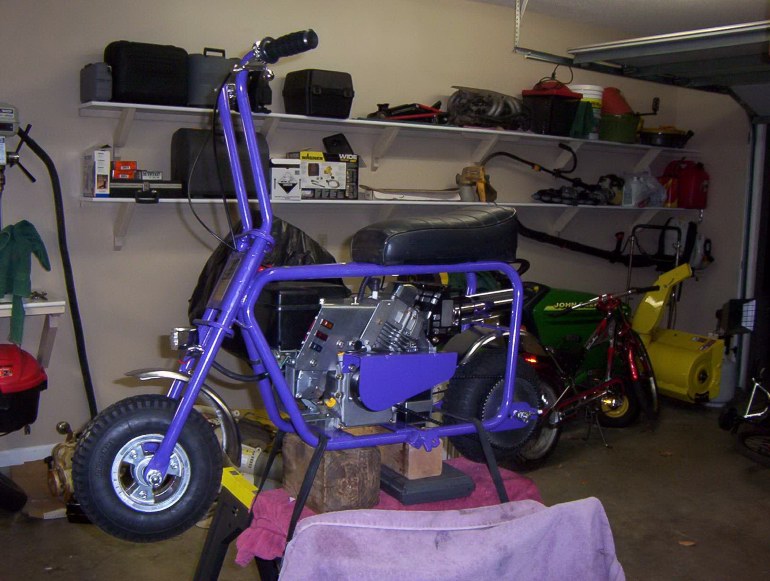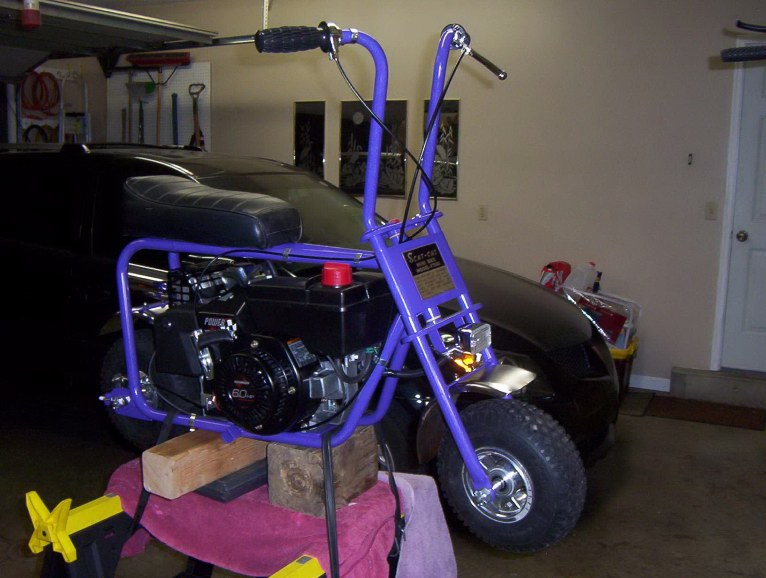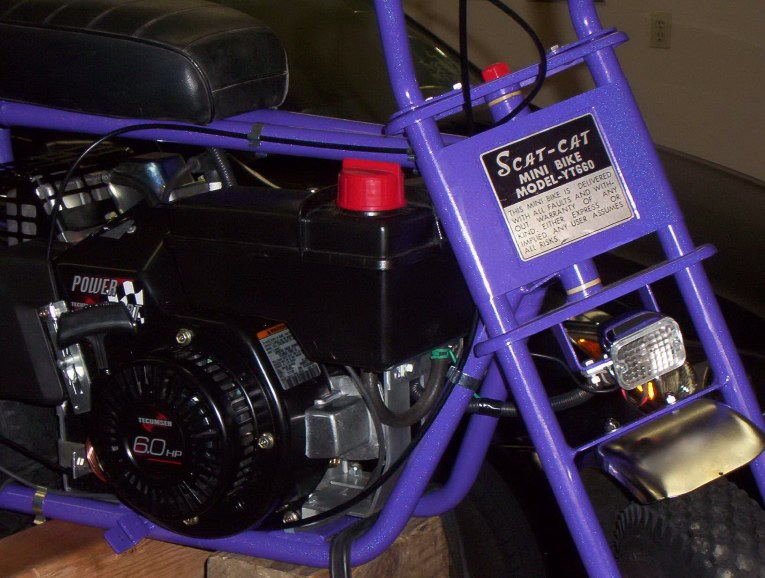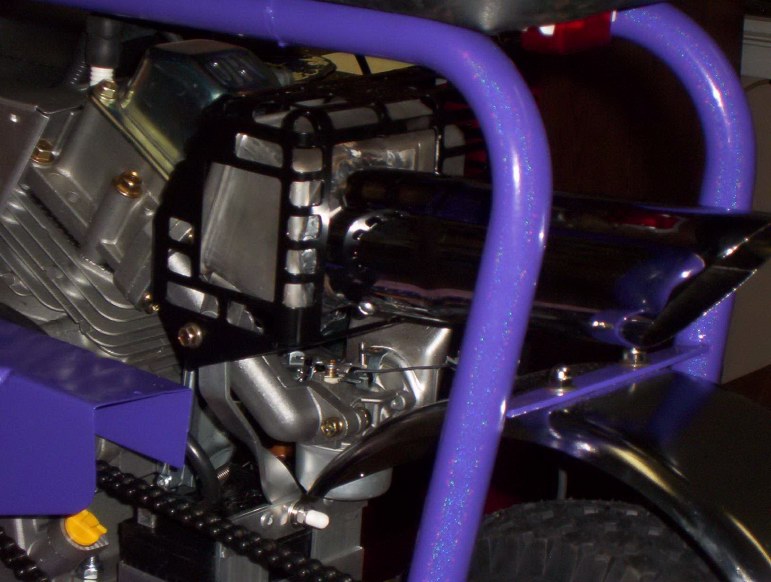 Below are pictures of Jeffs Scat Cat mini. I see there were quite a few models. What a great job! So read on.
"I have finaly got some good picturs of my bike Im sure the wheels are orginal. You can see the brake hub stops
on the frame. Like John Wilson wrote it was built by Yuon Ta in Taiwan. You can see the stamping on the wheels. Yhey are the same as the first 2
bikes on your page.Tthe third bike is a YT 660 mine is an AYT 660. "