72'ARTIC CAT

Below is another picture sent to me by Lance Rients of his restored 1972 Artic Cat Climber. This looks really great.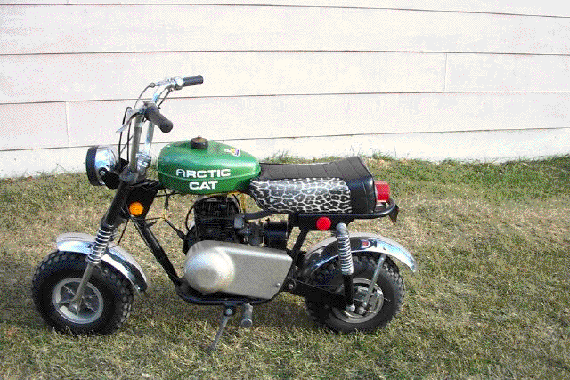 Sent to me is pictures of Lance Rients from Windom Mn restored 1972 Arctic Cat Prowler. It has a N.O.S. sachs 50cc.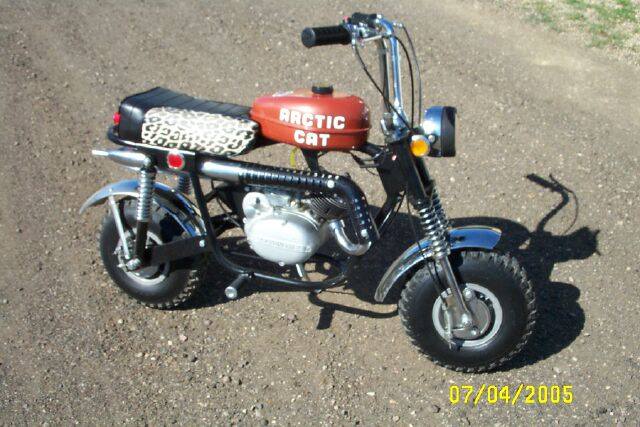 Now here is a nice Artic Cat Screamer which Rod Paulson has restored. I was very impressed at the work that was done. I have not seen any in this condition. Here is his story. Check it out!!!
"Frame.... sandblasted, powdercoated silver-grey
Tank...... chemical liner, sandblasted, filler, tri-color paint, new sticker, new fuel petcock , new gas cap
Power....Tecumseh 3.5 hp, jackshaft/bearings, Comet clutch driver/driven, sprockets
Other....fork bushings(Northern Tool) triple tree bushings, wheel bearings, swingarm bushings (self machined)shock bushings (self machined)shocks, Arctic Cat stickers, brake levers,throttle grip,seat, reflectors, rims were sandblasted,primered and painted chrome, bullet muffler, flex pipe, fenders, chrome fittings... probably forgot something... oh well, it's a kick.
P.S. Took over a year to build it but I wasn't in a hurry.
Here is another nice restoration project from Mark Howes. So here is his story.
"I bought the bike at a garage sale last year for $100 and did not really know if I was going to do anything with it, I got it running and took it out with my son a few times " he's not even allowed to look at it now" Ha Ha!! anyways I did some research on the net and could not believe the amount of models and makes of minibikes. I saw a few photos of Arctic cats and was inspired to rebuild this one, I had a blast!! Anyways a bit about the mini. I replaced almost every thing thanks to ebay had the seat recoverd not original leapard print but I liked the look better. I had all the chrome parts redone ,new brakes , throttle , cables bought three tanks till i found one that was any good, body filled it and had the boys at work paint the parts in our booth, our art dept did the "arctic cat" graphics for me, sandblasted the rims and painted silver, I found a really nice kohler engine rebuilt the carb runs great!! nos fenders on thing not on the photos is the new original gas cap. into it for about $400- $500 but don't plan on selling it."
Below is what the bike looked before.