TOYOCO MINIBIKE

Here is some pictures that Tom Mack has asked me to put up on my site for identification.
Up-date from Tom
Well it looksToyoco which he identified from ebay. He was told they were sold by K-Mart in the 70's.
Click on the address below to compare.
http://www.users.fast.net/~tommack/how_we_id_toyoco.htm
Up-date:
Pictures were sent to me from Angelo J. Alquilino of his Toyoco. Check it out below.
Up-date: Oct.07,2004
Angelo has sold his Toyoco to Joe Carino. Congratulations Joe.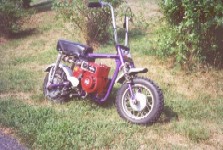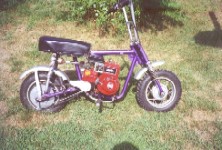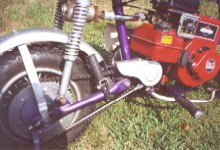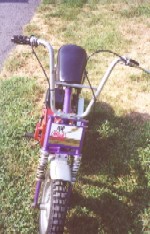 Below is picture of Angelo J. Aquilino Toyoco minibike. This is in fantastic condition. Also he has sent a picture of the parts manual.