BONANZA MINIBIKES

Below are 2-pictures sent to me by Brad Denning of his 2-restored Bonanza minibikes. The top picture he picked up on Ebay, a 1967 Bonanza BC1300 minibike. It was a little rough but all there. It took him 6-months to rebuild.
The second picture is a Bonanza BC1500HS powered a Hodaka engine. He picked this one up at a garage sale a litlle rough as well. From what he told me that this was the fastest minibike you could buy. 0-50 in about 5-seconds. It's way too powerful for its size. It took him 1-year to restore it.
Up-date
Check out at the bottom another Bonanza project sent to me from Brad Denning.
BONANZA BC1300 (Above)
BONANZA BC1500HS (Below)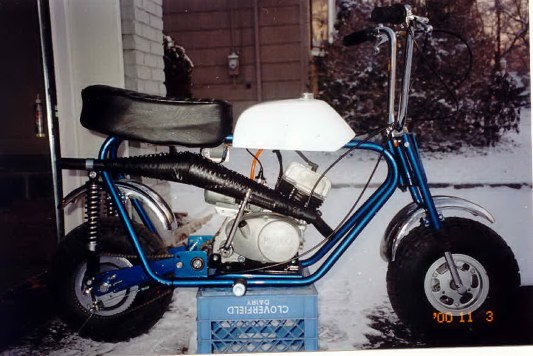 Below are pictures sent to me by Jarvis Gross of a restored 1968 BC 1000 whic took him 2-months to get in shape and a 1970 MX 1510, which took him 5-months to restore. Apperently this was a basket case when he got it. Well heres a job well done.
Up-date: Below is an up-date of Jarvis collection of minibikes. What a collection. This what he has got.
BC1000 BC1100,BC1200,BC1300SH,BC1500 MX1510 MINI MOTORCROSSER CR400 MINI CHOPPER CR500 MINI CHOPPER & A BONANZA TYPHOO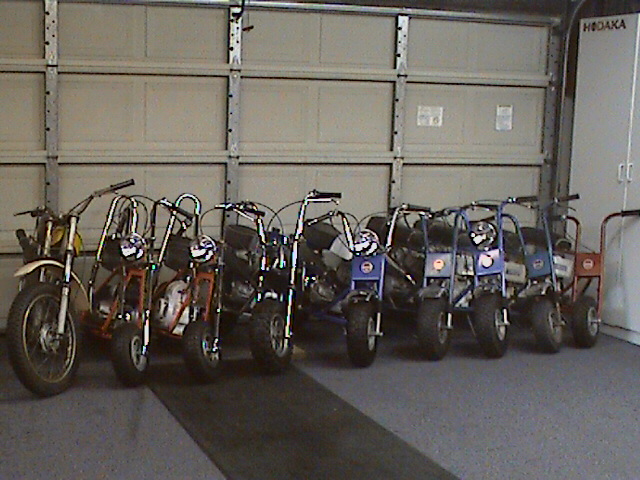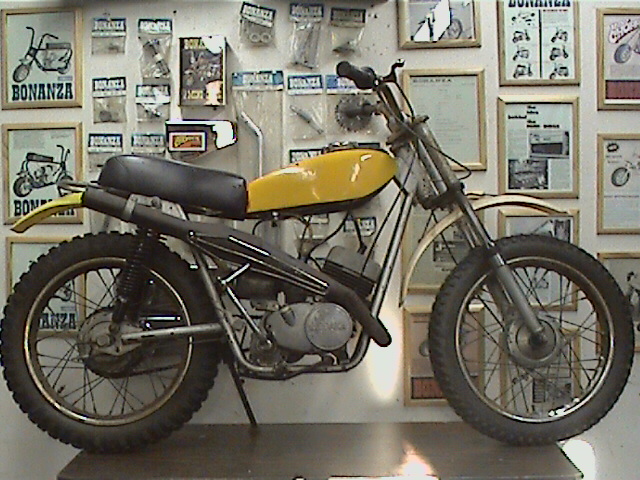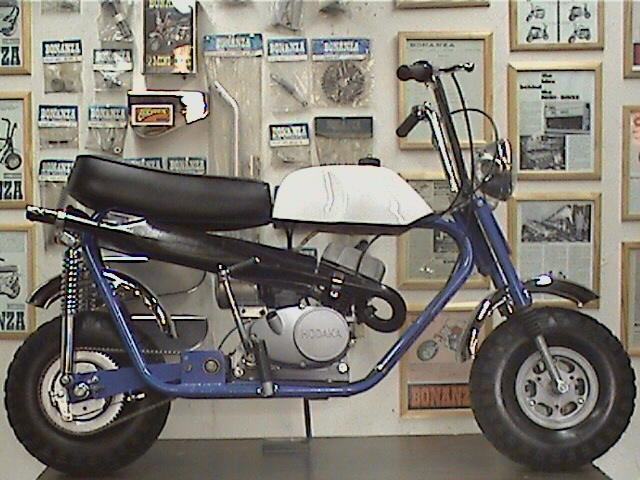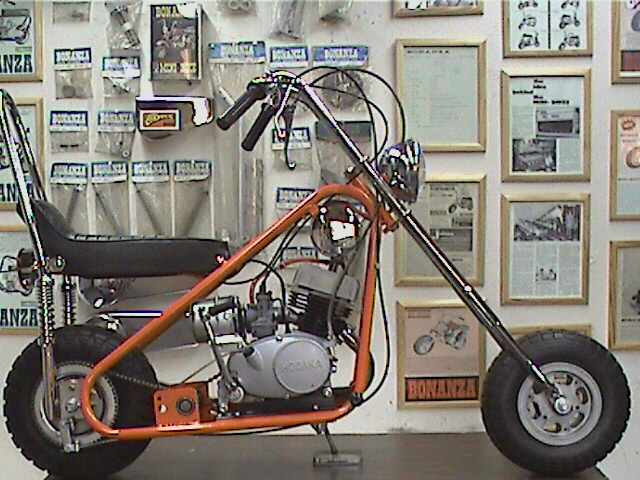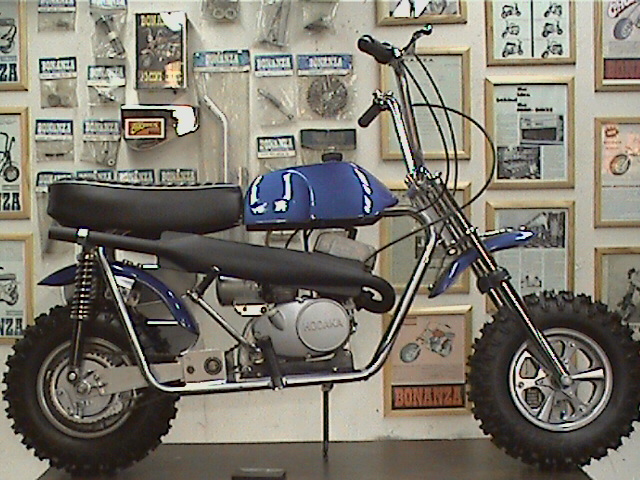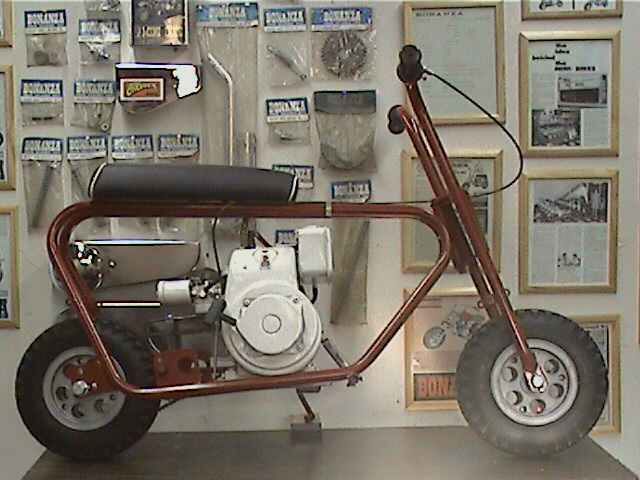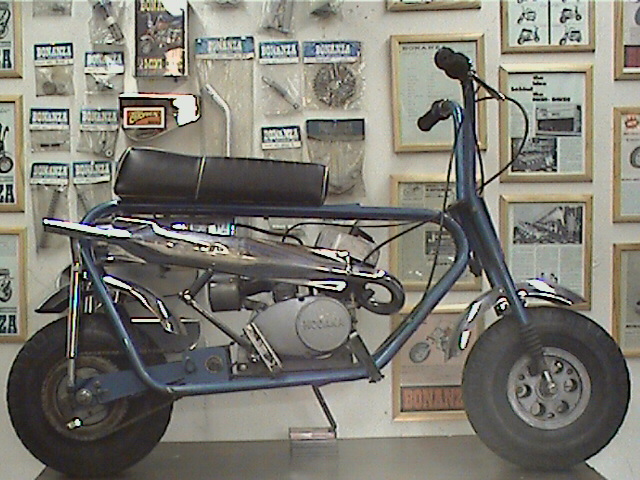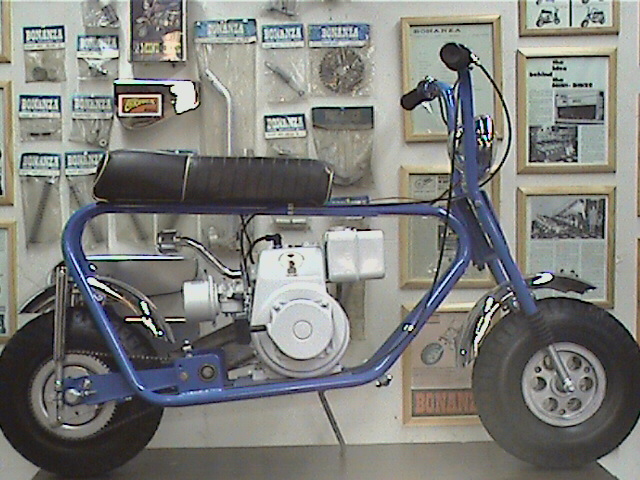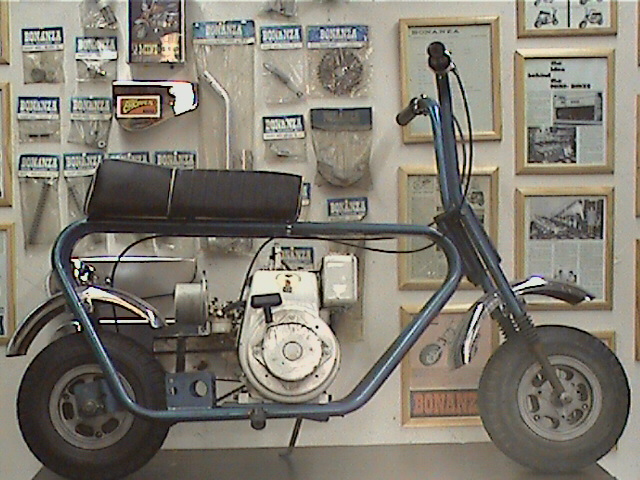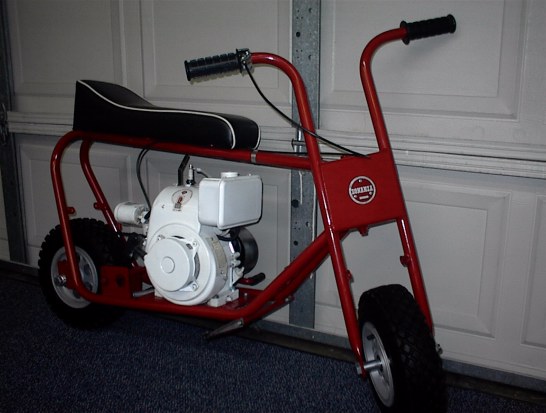 Bonanza BC 1000 Above.
Bonanza MX 1510 above.
Below is another picture of a Bonanza BC 1000 sent to me from Tom Browning. This one is equiped with a 5 h.p. B & S engine.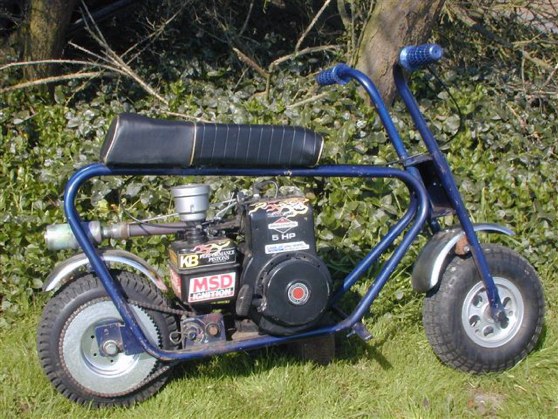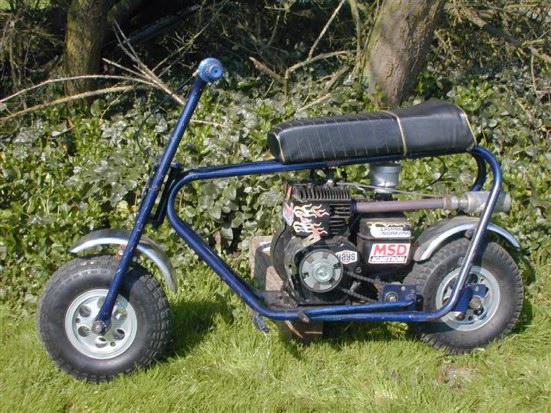 Here is another project from Brad Denning of another Bonanza mini.
Here are pictures of another bonanza he just finished. It has a 8hp tecumseh with a big bore early carb and a comet torque converter! it will throw a 200 lbs adult off the back and run 62 mph (maybe more i ran out of room). Well I do have to say I would be afraid to ride something this powerfull as this. Have a look, nice project.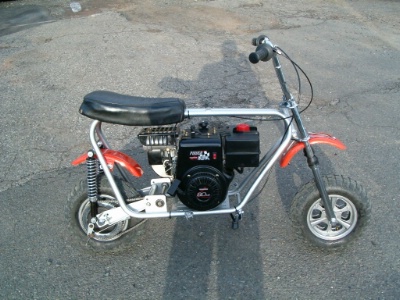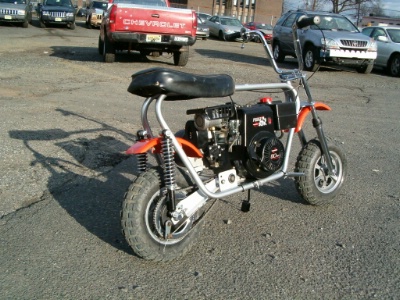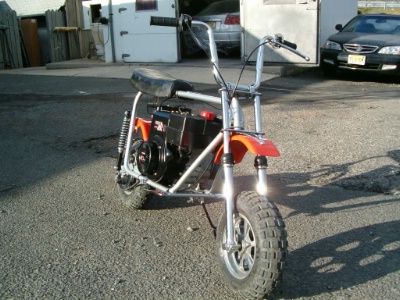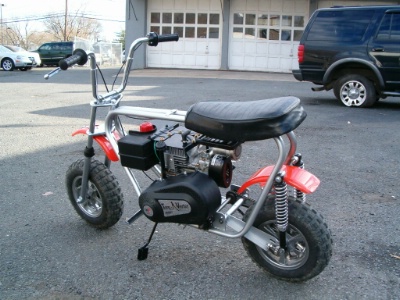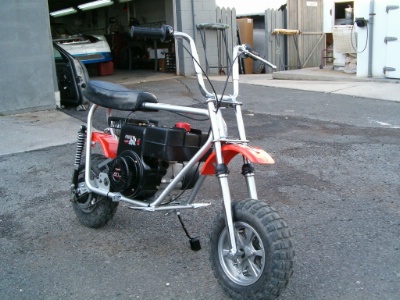 Well here is another BC 1000 which belongs to Bryan Trachsel. Nice job.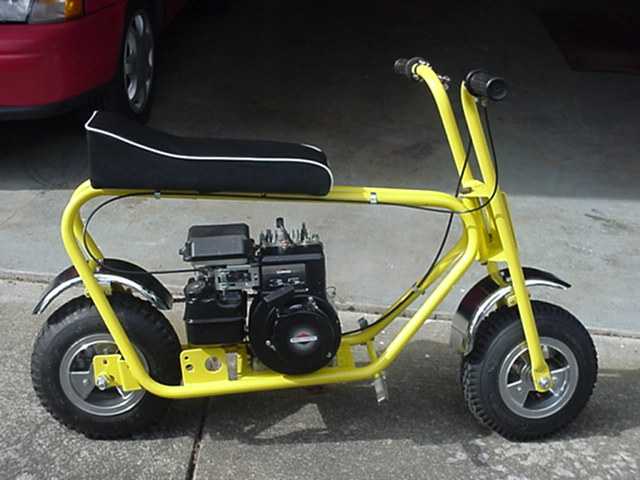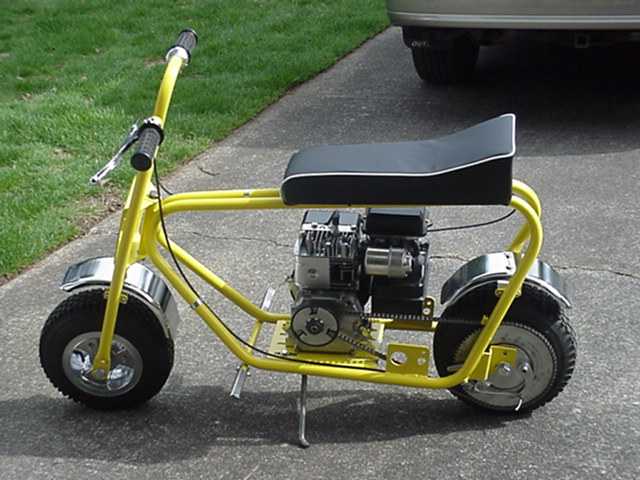 Below is pictures of his restored Bonanza. He mentions that he made the fenders, engine plate, and front plate from alumium tread plate. the gear ratio is 6 to 1. I like the color scheme.
Sent to me is Claude Frank of his Bonanza BC-1000 and 1300 T. Excellent minibikes.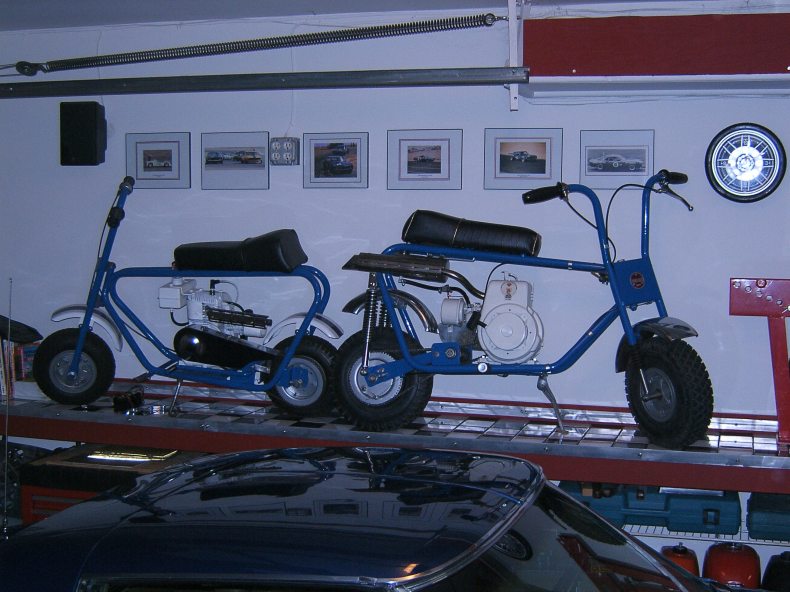 Below is the BC-1400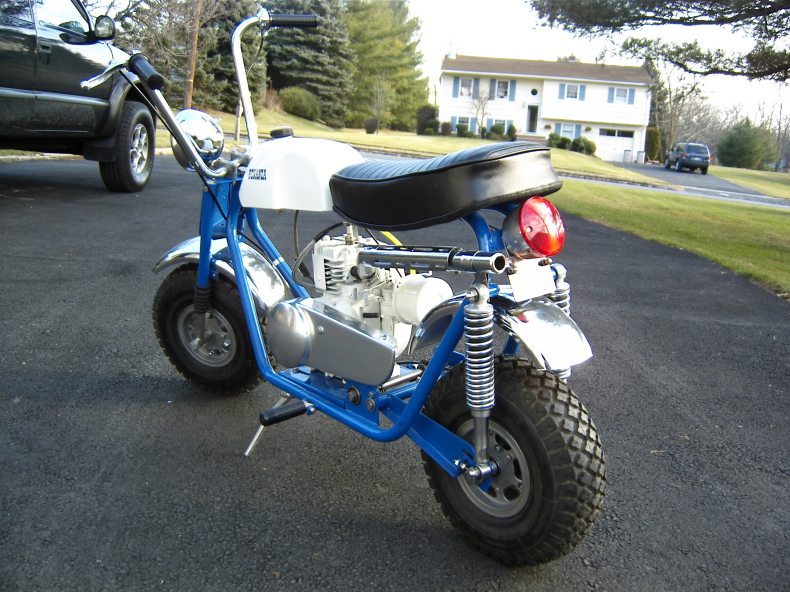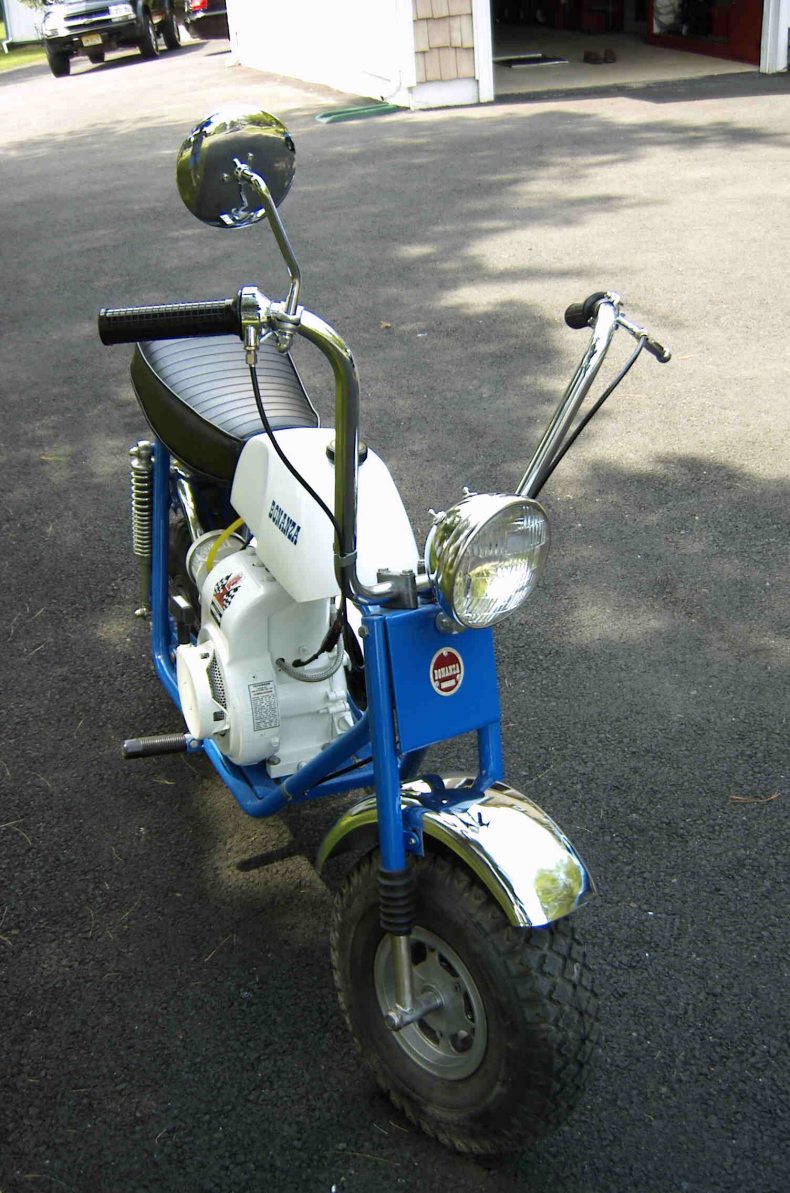 Below are picture from Frank D of his customized Bonanza 1510 MX from 1971. That was 35 years ago and these are the original photos. Now he is building another one at 57 years young. I guess we can't get these minibikes out of our system, these childhood dreams were such a blast.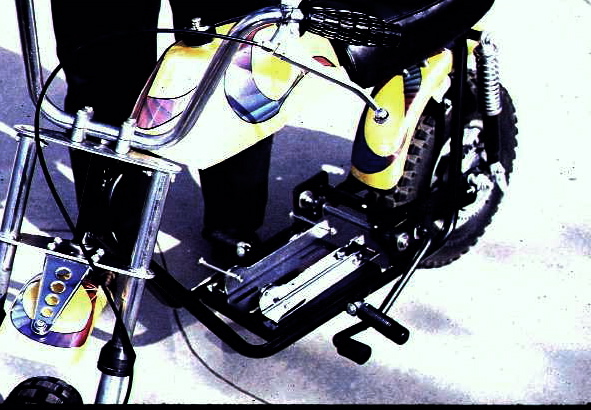 Below is taken with a model.
Below are pictures of the Bonanza MX1210 that Tom Browning just aquired recently. A very rare minibike. This is probably the smaller version of the MX1510 which you can compare in the above pictures. Here is what Tom has to say.
"Since I got it the seat was replaced with a repro by Kenny, new tires, and freshened up the wheels. The previous owner had it since about 1970. They fixed it up for his son in a non-stock color that's kind of a burgundy color. It's powered by a 3hp Tecumseh and runs through a jackshaft. Also note the matching rear shocks and front fork suspension. One thing interesting is that these are built with the same short 7/8" tube frame as the MX1510. Even has the metal name tag on the front of the engine plate. Another thing strange is that you can also see these bikes called an MX1210 as well as MB1210 on the same brochure ad. "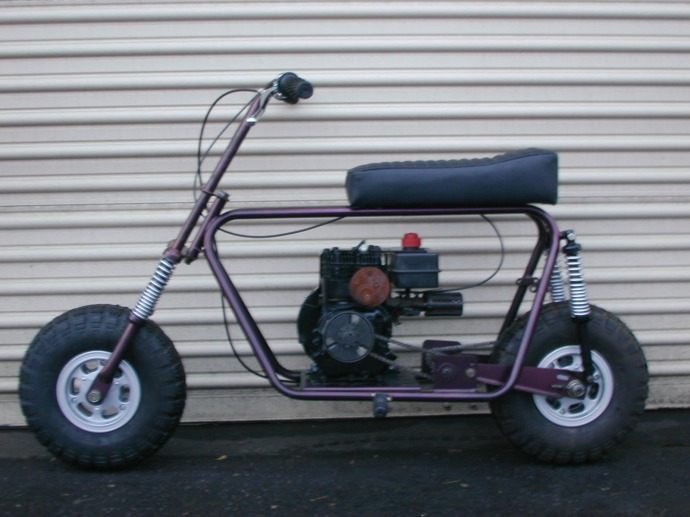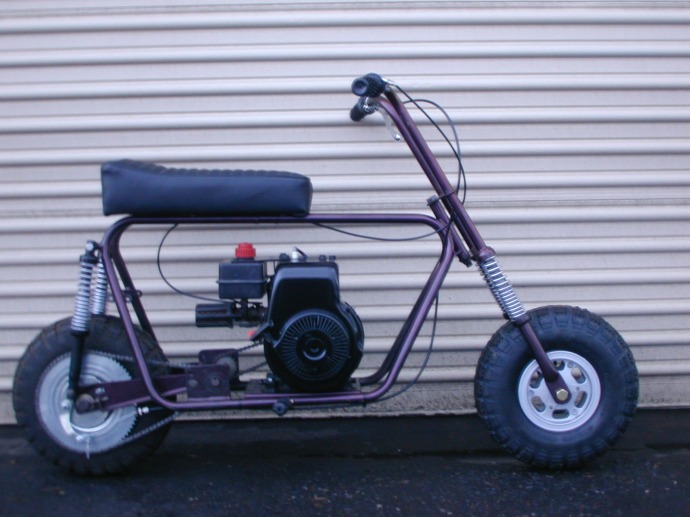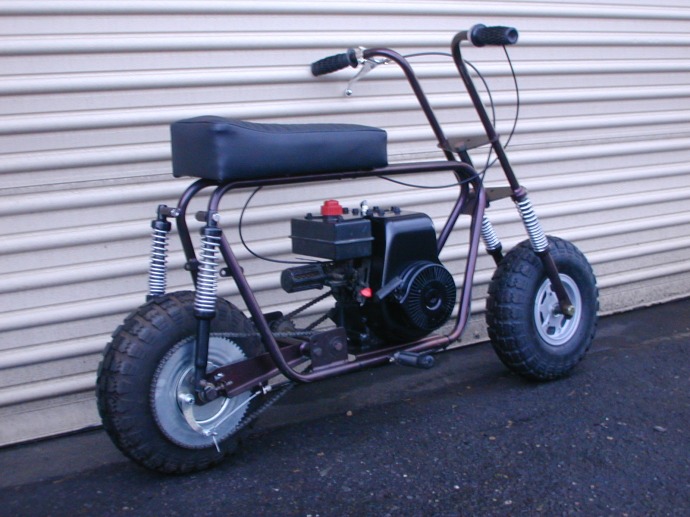 Below are 2 more minibike projects from Marlk Franzen. Here is his comment.
The blue BC1100 was also a complete rebuild, I couldn't find any "before" pictures. The yellow BC1000 is one that I put together as a "rider" for my girls to enjoy.