3-WHEELER JAK-PAK HILL CLIMBER MINIBIKE

I recieve this e-mail and pictures from Randy Lansing. This is an incredable minibike and a rare one indeed. Well heres the story. Read on!!!
I have been following the recent discussions on the Minidoodle Message Board about 3-wheeled trail bikes and I wanted share pictures and information of mine with the Minidoodle browsers. Attached are pictures of my 1971 Jak-Pak trail bike. I purchased it from a guy in Rudolph, Wisconsin 2 years ago. He picked it up at an estate sale several years earlier in a neighboring town.
The Jak-Pak is an in-line 3-wheel trail bike which was manufactured by the Right Way Manufacturing Corporation in Owen, Wisconsin. It was designed and patented by engineer/inventor Richard Gostomski, Thorp, Wisconsin. It was designed and marketed as a rugged terrain hill climber. Gostomski and his two business partners manufactured approximately 125 of the Jak-Paks before the company went out of business in late 1971. Mine is number 12 according to its serial number.
It is powered by a 7-hp Tecumesh engine which drives an automatic torque converter. It has two large 18" x 9.50' x 8" rear tires both of which are driven from a jacket shaft and #40 chain and sprockets. The front tire is 16" x 6.5" x 8". It uses the large driven sprocket on the first rear tire as a disc brake which is foot operated. It also has a hand operated disc brake on the jacket shaft. It has both front and rear suspension. It has two seats. The second seat is removable for cargo. It has electric start, a dual 12-volt alternator, dual beam head light, brake/tail light, and horn. The handle bars can be quickly removed by unscrewing a wing-nut which allows them to be pulled up and laid over the gas tank. This enables the bike to be pushed into the back of pickup that has a topper on it. Its top speed is 32-mph and in-line rear wheels make bumps and routs un-noticeable.
The lever in the middle of the bike, on the leftside, locks the first rear tire in an up-right or nearly off the ground position. I first thought this was used to enable the bike to turn easier on paved road surfaces. I later found out it is to keep the first rear wheel horizontally in line with second rear wheel when traveling up extremely uneven hills. I have never experienced this feature, and I am not exactly sure how it works.
New addition
Below is pictures of another Jak-Pak Hill climber sent to me by Joe Kramer. He mentioned that tis bike is equiped with a 10 h.p. This must be one mean machine.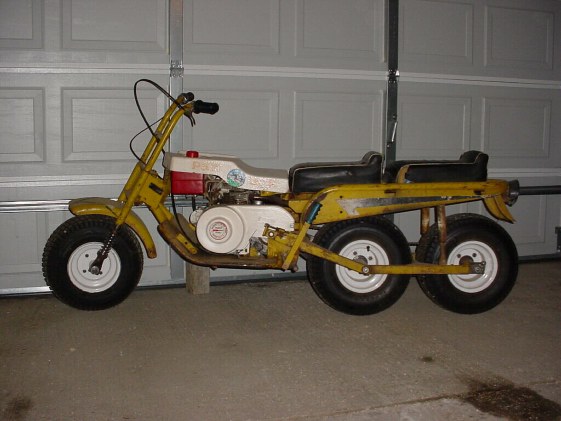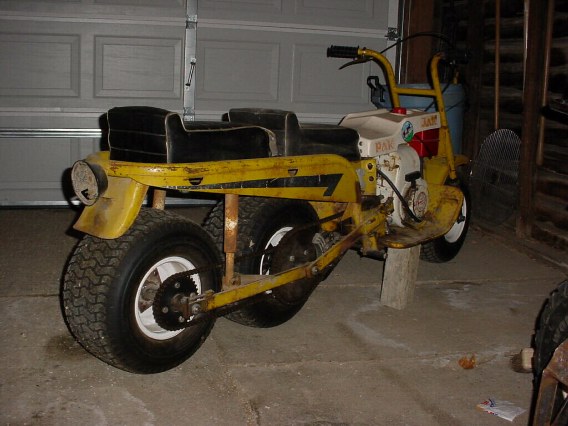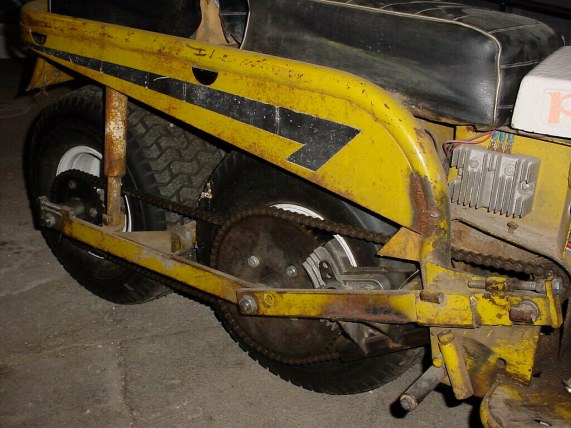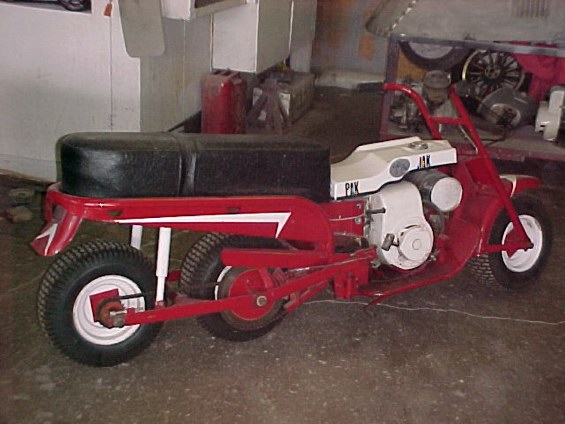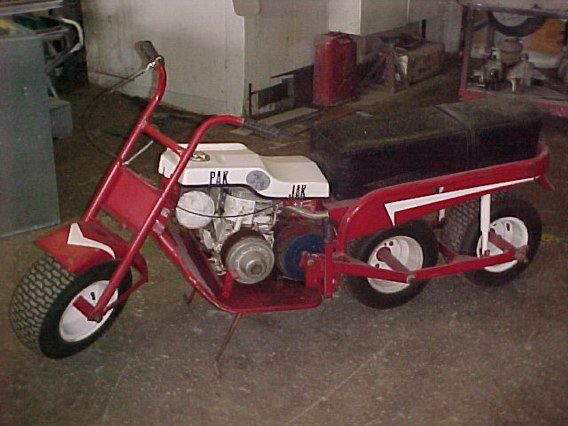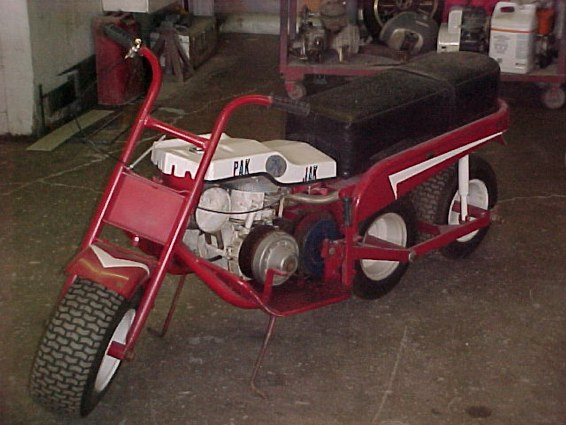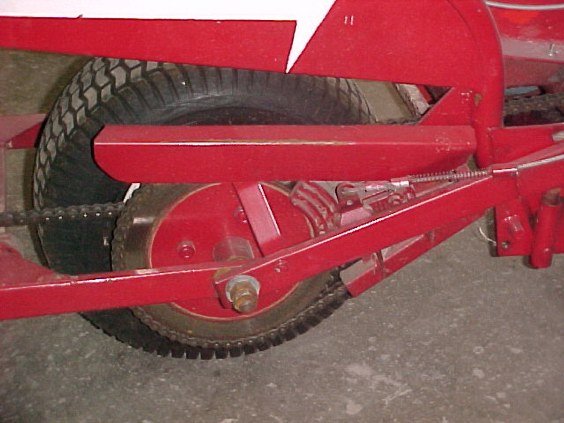 Below is Larry Lassiter's Pakjak. The machines really look tough. Here is his story.
"Here are some pictures of my PakJak. It was made by JW Black of Paradise calif. It was made to explore the Baja with the Author, Earle Stanley Gardner of the Perry Mason book fame. The PakJak is well documented in Mr. Gardners non fiction books. Its competitor was the Tote Goat Bearkat. The pictures you see are Mr. Blacks Original PakJak that i purchased from him 15 years ago.I grew up in Paradise Calif as a kid and spent many days at JW`s shop. He was a great guy and innovator. i currently use my PakJak as a pit bike at the drag strips i race at. Its a real headturner."
Larry Lassiter
Pine Beach , New Jersey