RAM JET MINIBIKE

Sent to me are pictures of Bill Hardin from Atlanta of an unknown minibike he picked up. It looks like it has a 2-stroke engine. The bike is very solid, no rust on frame. All cables are bad, seat is beat, light doesn't work. It has two 4 hp Robin motors, I don't know if they run, one has a brand new carb on it. I think it has a jack shaft on it, doesn't appear to be a torque converter. Rear shocks are perfect, tires are ok. It looks like it has a Honda front end. It has no gas tank. Should anyone have information please let me know. Really nice mini.
UP-DATE
Sent to me some information on this minibike from Dan Skofich Aurora Minnesota, That this minibike is a Ram Jet manufactured by a company called Minico. He had owned two as a kid, which his had a chrome gas tank up in front of the seat, and a 4 hp. Tecumseh engine. He also mentioned that it is a 1971 vintage. One thing he also remembers it always broke, and this how he got into this profession of small engine repairs. He will be sending some pictures soon.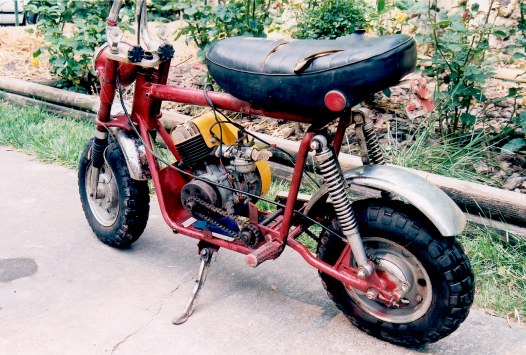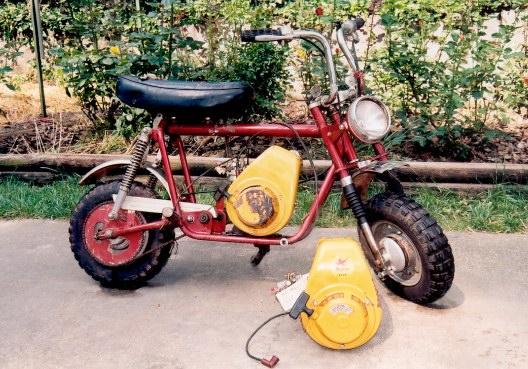 Below are pictures sent to me from Andrew in NZ. S here is his story."I had the same one in NZ. Here are the photos with gas tank. The badge on the gas tank has TRAIL JET on it I have also seen the same one in Austraila with TRAIL JET as well. It may have 2 names but it seems to be known as the Trail jet down under."