HOME MADE MINIBIKE

Here is a picture of a home made minibike built by Vince. Any how the bike is built out of an old mongoose bike frame,some gas pipe,weight bench,bed frame, fence post,the rear tire and sprocket are off of a craftsman lawn tractor.A friend had the motor laying arround his shop (8 horse) it was off of a log splitter didn`t run at the time it needed a carb, I bought the gas tank for $5.00 at a junk yard. Front brake is a standard bicycle brake. The 8 inch disc break assy is for a lil indian go cart $40.00,Max torque go cart clutch $80.00 thr rear bearings $25.00 each and some flat steel stock from home depo$10.00. The head light,speedometer and tail light are for a standard bicycle and last but not least my welder and some imagination!!
This is a super job, and I think anyone if they put there mind to it can build one as well. I like it.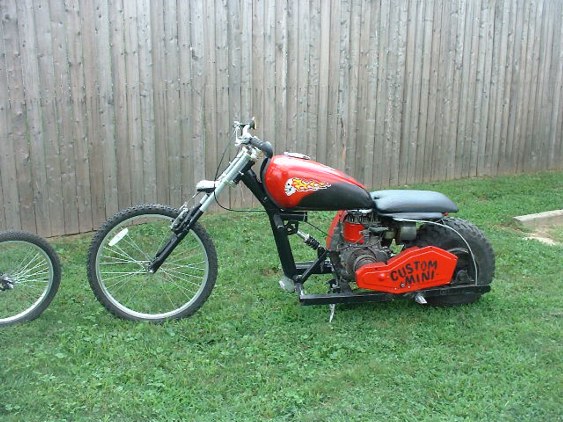 Below are pictures of a homemade old Rupp style that Mark Neubert built for his daughter
He found a really nice Tecumseh 5hp motor on a snow blower, in the trash, and started from there.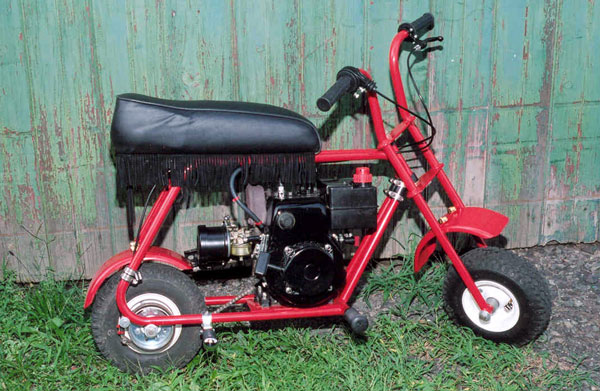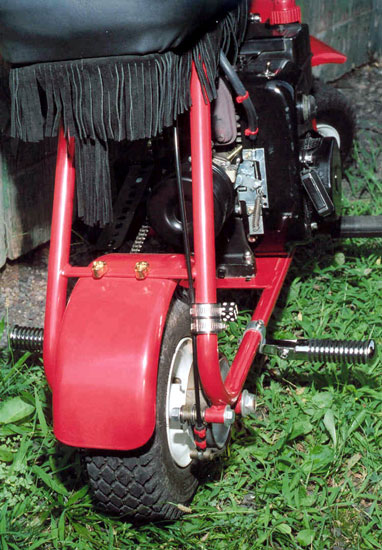 Below are pictures of a home made, cutom built minibike by Dave Emberley and co worker.
I think it is a really nice job. Here is his comment.
"My co-worker and I spent the winter making mini bikes for a guys fishing trip we take every year yes im 50 and still love riding my mini bike
This is what ended up with. Goes 35mph and has a lot of power
Red and fun
Dave"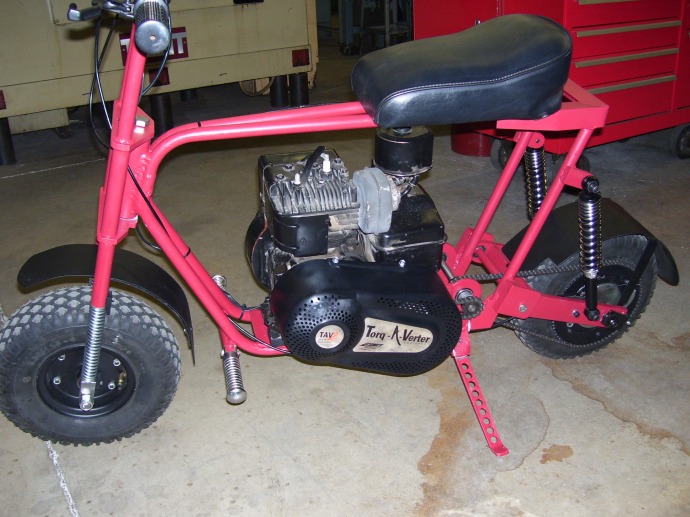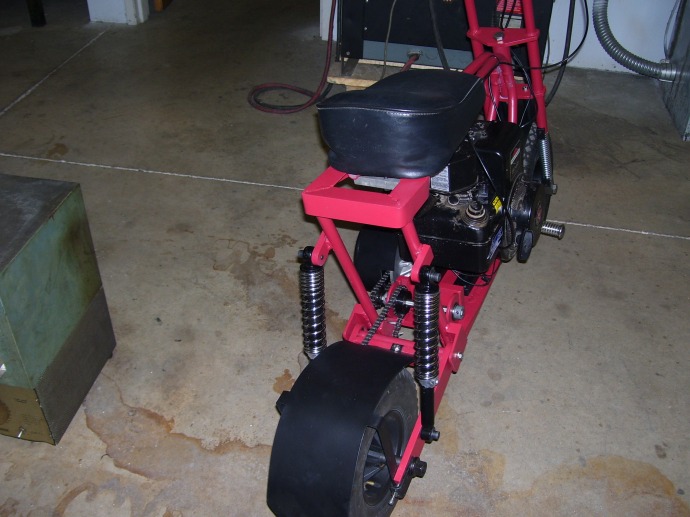 Below is another home built project minibike by Thomas Herron of Vancouver Canada. This is a really neat looking minibike. Here is what Thomas has to say.
" Here Is my homemade mini, It has a handbuilt frame, 3.5 Briggs & Stratten, and A braking system which acts on the main shaft instead of the rear wheel, the clutch and chain covers were made by a friend."