Home Made Mini Project

Now here is a home made mini built by Emil Olakowski from Chicago. He has being working on this project for about a year. Personally I thing he has done a fantastic job. It is not easy to build a mini from scratch.Below you will see the project progress from beginning to end. Great job and happy riding.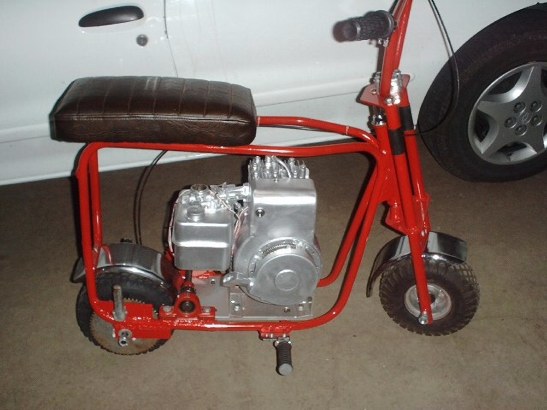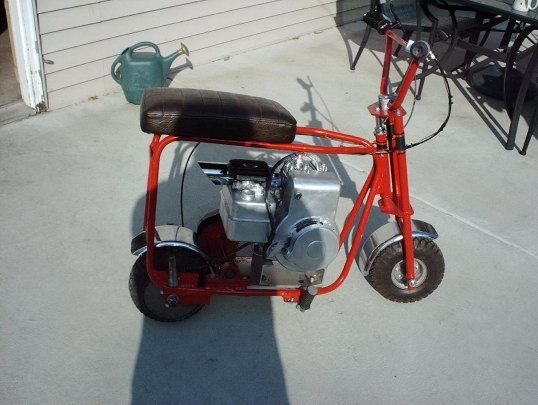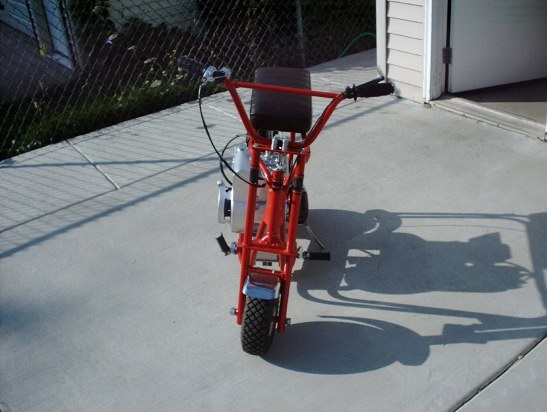 Below are the custom built minibike that Vince Bucy has recently built from different parts from other bikes. These pictures were posted on the message board. But because this is a neat project bike, I wanted to post it for others to see. Here is Vinces story.
It's the longest I have ever worked on a build. Here's a little info behind it. My brother started parting out street bikes on ebay so I have gotten my hands on some cool parts. When I saw this frame sitting in his trash, I had a vision. It is a 1982 Honda CB 360. I split the fork and widened it to get a fat tire up front (19x7) $30. I fabricated a rear swingarm to accept the 22x11x8 tire. I didn't want to shell out the cash for a rear balloon tire and rim set up so I used a Honda big red front wheel rim and fabricated a 1" keyed hub onto it $10. I went with a old KZ 750 street bike front caliper lever and master cylinder for the brakes. (Hydraulic brakes are the only way I am going to go for now on. No more cable for me). The seat I picked up from a flea market this summer. The guy said it was from a 1986 sportster he used to own $5). Last week I went to a local motorcycle bone yard and told them I wanted the cheapest tank they had. It was a mess. It had an old mouse nest and wasp nests in it $10. I soaked it in lestoil, put some nuts and bolts in it and shook the hell out of it. Cleaned up well inside. Then used some walmart special gold and clear coat to top it off. And finally the engine. This summer a neighbor of mine stopped by and said he had something in the back of his truck I might want. My eyes just about popped out of my head. This 9 HP Tecumseh was on an old chipper he had that was recovered from being stolen. The frame was bent on it and was covered by insurance. When I got the cutter off the shaft I was bumbed to see a tapered shaft. Well, I found a old football teammate that was working in a machine shop. He cut the shaft down to ¾" ($20). Torq-a-Verter $150 from BMI. I have a total of three months of work time and $270 into the build. Tonight I rode it to the only hill we have around, and from a dead stop it climbed nice. Ride on!…….Vince "