KAWASAKI COYOTE MINIBIKE

Here is a picture of Jim Chisum's minibike that he just got this Mini-bike this summer It runs perfect. He tuned it up and adjusted all the cables and carburetor and with a little. TLC He is going to paint it lime green to match the kawasaki motor and seat which both have kawasaki on them and were purchased by the original owner at Northern tool in the 70's.The original owner/ builder I bought it from said he bought most of the parts from Northern Tool here in Minnesota and found the front and rear brakes and the springer front end sometime in the late 70's which were late editions to the bike. Should anyone have more information on this minibike please send it to me. Nice minibike.
Up-Date
The mini bike that is painted red, originally was a blue frame.
I have a picture of it when I was a kid. Kawasaki manufactued it, not sure what the year was. The tank was white with a Coyote decal on either side. 5hp engine with lots of torque. Chrome fenders , shocks in the front. Thanks Mike for the information.
Up-Date: Oct.21, 2004
Thanks to Tim Lothamer here is some more information on the Kawasali Coyote. And thanks to Dave Strah who corrected me on some information.
"Kawasaki made 2 versions of the minibike. They were called Coyote and were made from 1969-1971. The 2 stroke version had a KT-30 (50cc engine) and a 4 stroke version that had a 134cc engine that was a Japanese copy of a Briggs and Stratton. The 2 stroke version only was available in 1969 because it was underpowered and blew up alot so i twas discontinued. They were originally blue in color with an off white tank. They had 3.25x8" tires They had a rear brake as standard and the front brake was optional. Although, I was also told that it came with drum brakes front and rear.Alot of the parts are japanese copies of american parts. They had spring front suspension and a rigid rear end. There are no records on how many were made because the frames had no serial numbers. The engines had serial numbers but the engines were used in other equipment. Kawasaki makes alot of small engines with John Deere being the number one user of Kawasaki small engines. Parts for these bikes are nearly impossible to find especially for the 2 stroke version. Kawasaki only carries a few parts. They were sold through Kawasaki dealers and other small engine distributors. "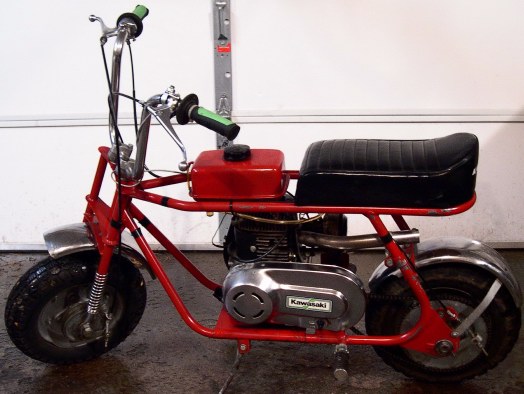 Below is anther picture of the COYOTE minibike.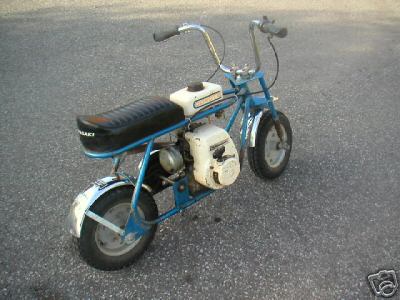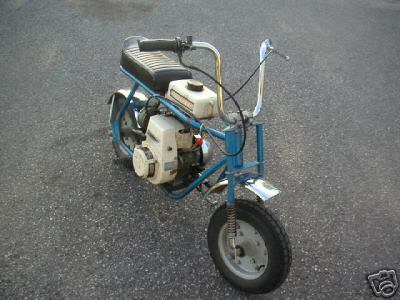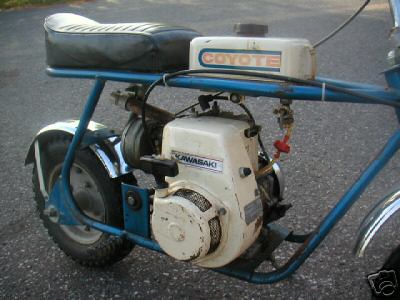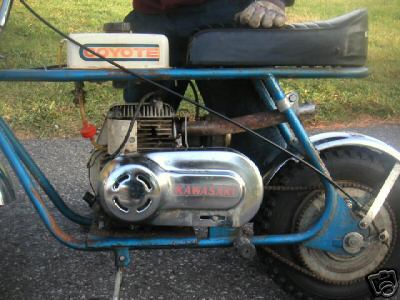 Below is Tim Lothamer 1969 Kawasaki Coyote MB1A recently restored to the original condition. He keep it in his office at work as a show piece. This is a rare and excellent minibike.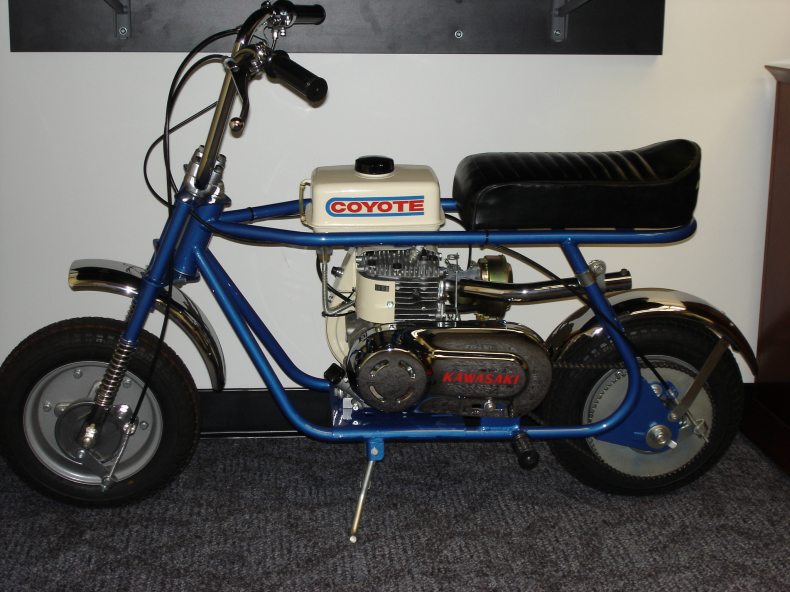 Below is more pictures of the Coyote MB-1 and MB-1A that were on ebay. Below is is a good summary of these 2 minibikes and the restoration. Read on.