HONDA AERO 50 WINDSHIELD PLANS

Well I finally got the windshield plans drawn up that I made to fit my Honda Aero 50 scooter. The Layout is full size, with all dimensions. It was drawn up on Cad. It is a simple design and not too hard to make.
Materials you will need

One sheet of "Lexan" like plexi- glass but won't shatter 17"x 17" x 1/8" thick.

2-pieces of flat bar 1/8" thick x 1" wide x 15" long.

7- 1/4-20 NC bolts, nuts and lock washers

2-pieces of flat bar 1/8" thick x 1" wide x 3" long.

2-U-bolts.
Tools you will need

A vise for bending.

A hand drill with 1/4" Dia drill bit(for steel).

Vice grips or clamps.

Jig saw, or band saw.

Hack Saw

Sand paper.

And most important, one weekend of time.
Instructions on how to build the windshield

Just cut the layout and trace it on to the sheet of "Lexan" cut the windshield.

Once this is done, drill all the holes.

Drill the center hole on the outside flat bar to be mounted on the windshield only and one hole on the inside flat bar only.

Now you form both flat bar to mount on the windshield.

Now that the both flat bars are formed, bolt the outside flat bar to the windshield in the center and clamp both ends with clamps or vise grips. Drill all the holes in alignment using the windshield as the template.

Now remove the clamps and center screw. Now reassemble with the inside flat bar by putting the center screw through the center hole of the outside flat bar, the windshield and the inside flat bar. Align and clamp both ends.

Now drill all the holes through. This will make sure all holes are in alignment.

Remove all the protective paper on the windshield and bolt the inside, outside flat bar and windshield together using 1/4-20 NC x 3/4" long bolts nuts and washers. As you see the windshield forms a permanent curve.

Now make the brackets for mounting the windshield.

Mount the bracket to the last bolt on each side of the windshield.

Mount the U-bolts onto the mirror.

Oh I forgot to mention paint the inside and out side flat bar in your choice of color.
Below is a poor picture of the drawing because my camera can't take such a large size picture.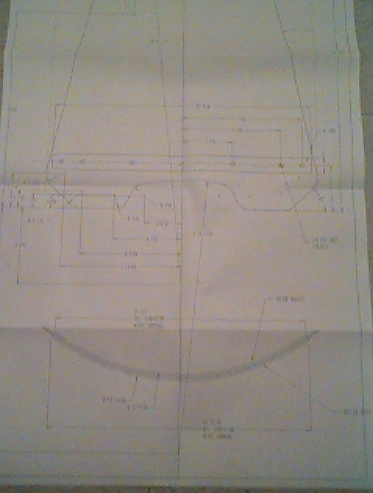 If you would like a copy of the drawing please let me know. The cost is $10.00 US + $2.00 for shipping.