BIRD DUCK MINIBIKE

Below is picture of Tom Browning new minibike which was given to him as a gift. His wife purchased it from Mr. Minibike. This is the first real life minbike I have seen of the Duck. So cool.
(Click Here)
to see the brouchure on this mini. Tom you lucky "Duck"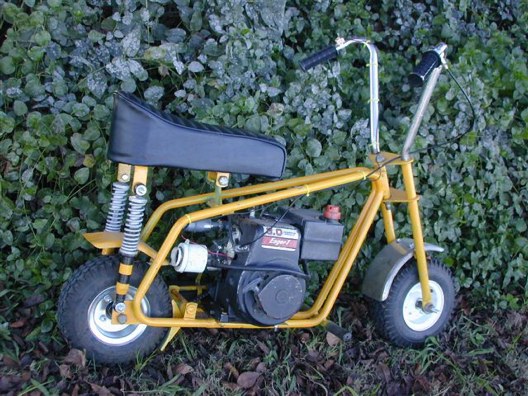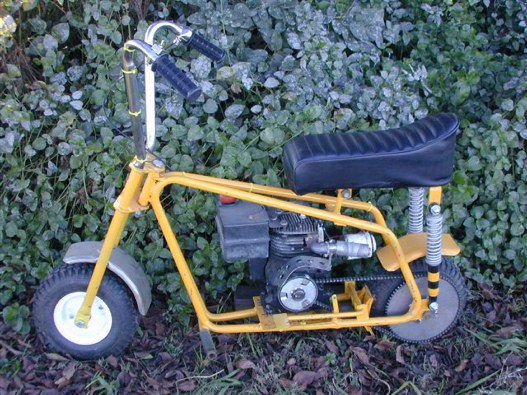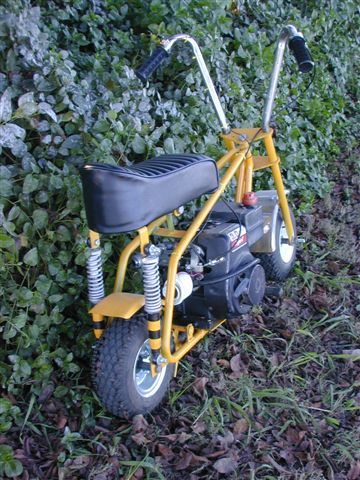 Here is a really nice restoration of a 1969 Bird Mfg from Jeff Van Conant. He even built a small trailer to haul cold drinks. This is his story.
"Jay this is a 1969 bird Mfg. Wren when I received it was a basket case. I striped it down to bare met repaired the neck area and welded all of the fixture holes in the frame and then used a 2 stage automotive paint, base clear cobalt blue metallic and cleared. 5 inch Azusa wheels a repo bonanza seat The N.O.S clutch guard I found on e-bay, the motor is a new Honda clone 5.5hp OHV. I spent 8 MO rebuilding the bike, The trailer is a custom fab tube frame of my design and a Pepsi crate from the 70's 5 inch Azusa wheels, universal minibike fenders two stage paint to match the bird mini. The hitch system of my design that allows the trailer to remain flat when the bike leans from side to side. The trailer took 1 week to finish the trailer. With me on the bike (at 250lbs) 2 bags of ice and 24 cold ones in the trailer it tops out at 30mph." Now this is a good way to transport all the beer to the party. He he he!!!!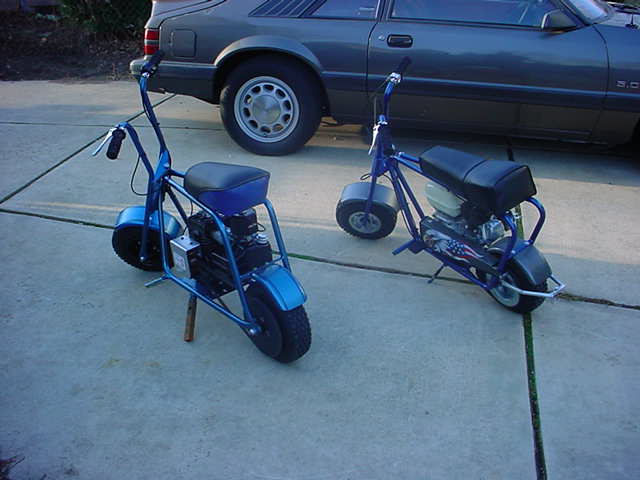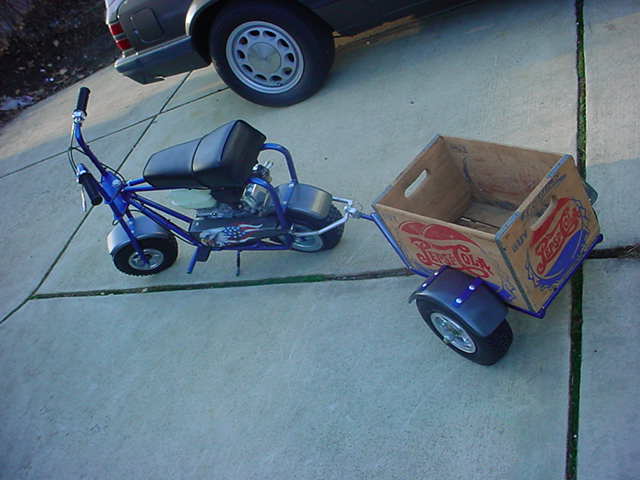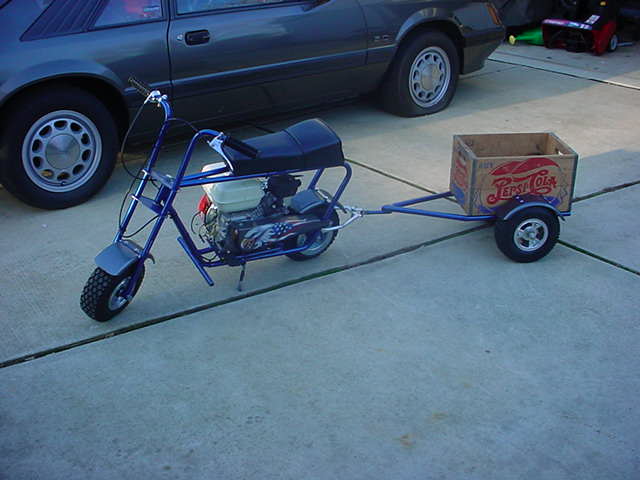 Here is Jeff Sawyer's (minidoodle member) Bird minibike project. As you will see, he got this pretty sick looing Bird frame, and decided to help this poor sole. So with Jeffs imagination and hard work he restored it into a really cool looking Bird minibike chopper. Thumbs up Jeff.
Below is what Jeff started out with.
Below is pretty well the finished Duck.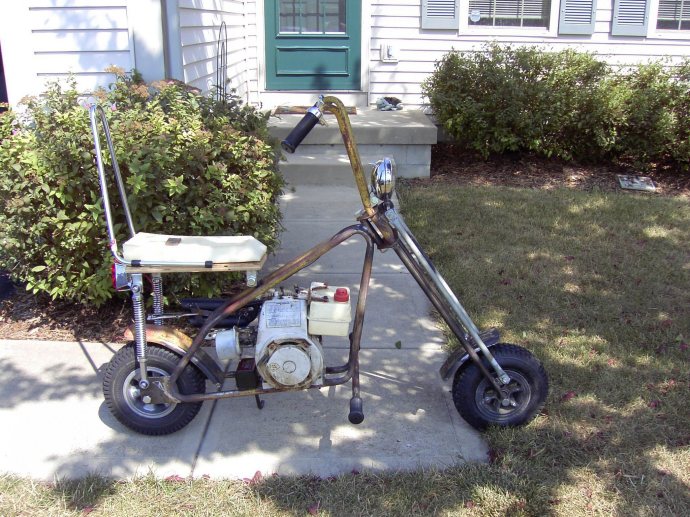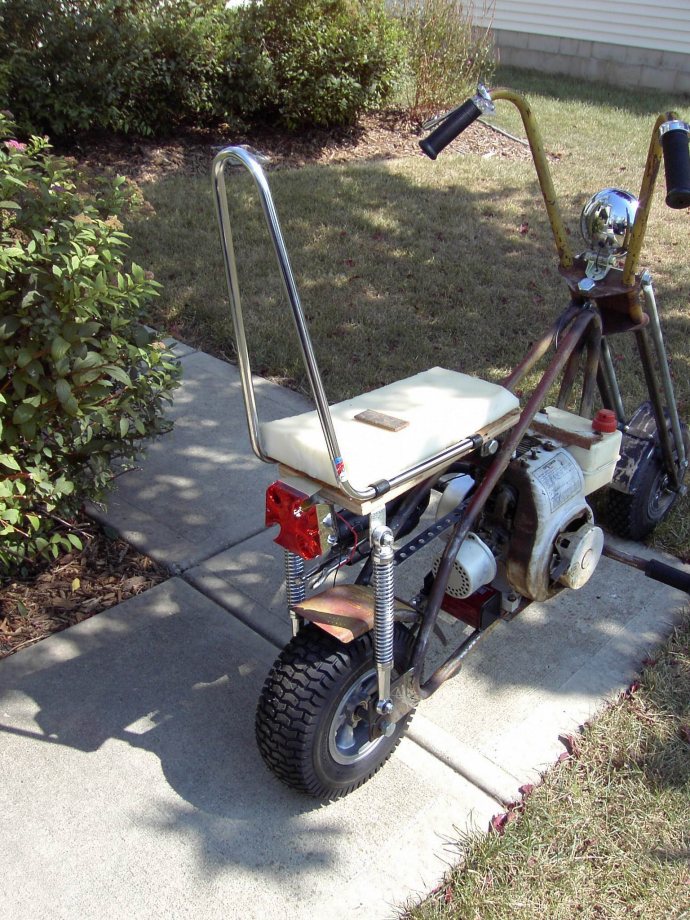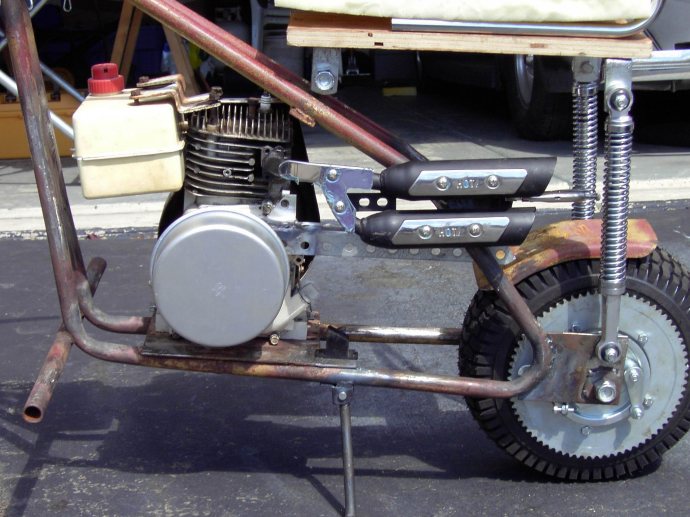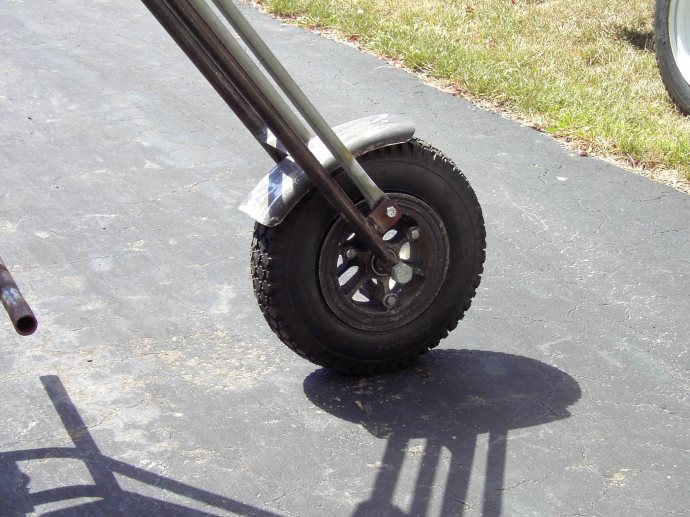 Below is pictures of a Bird Duck project by Randall Keller. Pretyy good from what he started out with. Here is his comment.
These are the before and after pics. I bought this June 29th. on ebay. I finished it Tonight. Well it's almost done, If you look at the photos you will see there is no exhaust. But other then that she's ready to go.
I also have a 1971? Central Cycle Supply "C.C.S" Charger that my Daughter rides daily. If you want Charger Photos I have them as-well.
I've ran into a-lot of folks using the web for tips and photos... and these message boards and forums are really the only resource there is to aid in rebuilds and restorations.