CUSTOM BUILT MINIBIKE

Below is pictures of one of the minibikes Matt Furness has built. This mini looks like a rocket. Just have a look at the stuff that has been put on it. He did not give me any information, but I think the pictures said enough.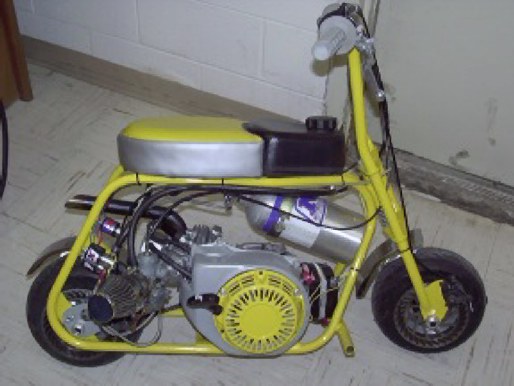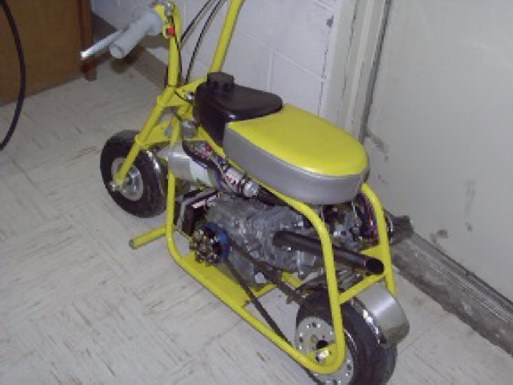 Below is another custom built minibike which belongs to Dave Michaels. It is a pretty looking minibike.
So here is his story.
"I actually lucked out on this bike. I found a guy on EBAY that was welding up frames so I sent him a money order and a blind request for something fast looking..yet vintage..the rest was history. It arrived and I was blown away...no tabs for rear axle mounts and no squished tubed forks ends!!!...It was sturdy! Well It sat in basement in pieces (no engine..just wheels, bolts, and bare frame) for over 5 years I'd say. Then recently I got the 4 HP Honda GX clone by Lifan, so I sanded, primed, painted, clearcoated (all using spray cans of course..to keep it vintage :)...and finally...assembled. Very simple design, but I enjoy the ride. It moves right along. About30-40 mph.
I am considering installing a torque convertor, but I honestly don't mind the slower starts seeing we are on looooose gravel out here quite a bit. Recently went back and found that the guy quit making frames that had sold me this one. I am saddened as this is the only one out there that is new AND strong as hell./ yet sporty and light. I love the seat forward design as it adds that "fast" look to it ya know? ;) "