SHRINERS MINIBIKE

Here is a picture of a Shriners minibike sent to me from Steven Greier. He got this mini 2-days ago. Well here is his story on this mini.
I WAS TOLD IT WAS A SHRINERS BIKE,I HAVE NO IDENTIFICATION ON IT AND I WAS HOPEING MAYBE SOMEONE MIGHT BE ABLE TO IDENTIFY IT!!.I CAN TELL YOU THAT IT HAS A POWER PRODUCTS MOTOR ON IT FROM THE 50'S,IT HAS A LEAF SPRING AS A SEAT POST!!,WORKS GOOD TOO!!.IT ALSO HAS RARE 8" GENERAL "JUMBO JUNIOR" TIRES ON IT,THESE ARE THE SAME NAME TIRES THAT ARE ON THE RARE 1946 DOODLE BUG!!.THE BIKE ALSO HAS AN INTERNAL REAR DRUM BRAKE THAT WORKS GREAT!.THE MOTOR RUNS,BUT DOES HAVE CARB PROBLEM,IT'S A TILLOTSON FLOAT BOWL CARB,I RESEARCHED IT TO FIND OUT THAT IT IS OBSOLETE,I CAN'T GET A REBUILD KIT FOR IT!,SO,I MAY CHANGE THE CARB,THE MOTOR HAS A UNIQUE FLYWHEEL ON IT THAT NEVER HAD A SHROUD OVER IT!,BUT THE WAY THE BIKE IS DESIGNED,,YOUR LEGS DONT GET IN THE WAY OF IT WHEN IT'S RUNNING,"AT LEAST IF YOUR CAREFUL.
If anyone has information on this mini or a brochure from the shriners circus in those days, please send me a copy. Now this is history.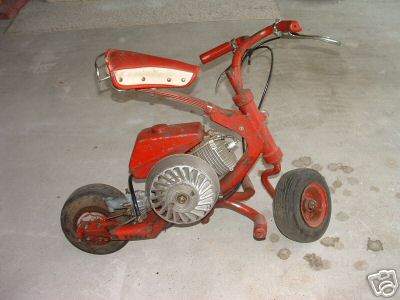 Above picture before the restoration.
Up-Date: June 25,2004
Below are new pictures of the Shriners minibike restored. A fantastic job. A lot of hard work has gone into this. Here is the story on the restoration. Read on.
"THE BIKE WAS SAND BLASTED,THE FRAME WAS POR 15 RUST PROOFED THEN PAINTED AND CLEAR COATED WITH A GAS PROOF FINISH!. THE ENGINE WAS CHANGED FROM A POWER PRODUCTS AV-36 TO A POWER PRODUCTS AH-47 WHICH HAS MORE POWER AND I WAS ABLE TO CONVERT THIS MOTOR TO A PULL START VERSION USEING A FAIRBANKS MORSE RECOIL!. THE GAS TANK IS AN N.O.S CHROMED RUTTMAN CHOPPER VERSION!. THE CHAIN GUARD WAS CUSTOM MADE. THE CLUTCH IS A N.O.S NORAM "NORTH AMERICAN" WITH 11 TEETH. THE CHAIN IS CHROME PLATED # 35.THE SEAT IS ORIGINAL AS ARE THE TIRES AND RIMS WHICH WERE BOTH MADE BY GENERAL,THE TIRES BEING THE 8" JUMBO JR VERSION!.THE SQUEEZE HORN IS A N.O.S CONDOR!.THE BIKE RUNS GREAT! TOPPING OUT AT ABOUT 35 MPH! WHICH IS KIND OF SCARY ON THIS THING!.THIS BIKE WILL BE GOING IN PARADES LOCALLY IN THE DETROIT MICHIGAN AREA."
This mini should put a few good smiles on a lot of kids faces.
Up-Date: Aug. 30, 2005
T. Joseph Dahir, Omaha is now the new owner of this minibike.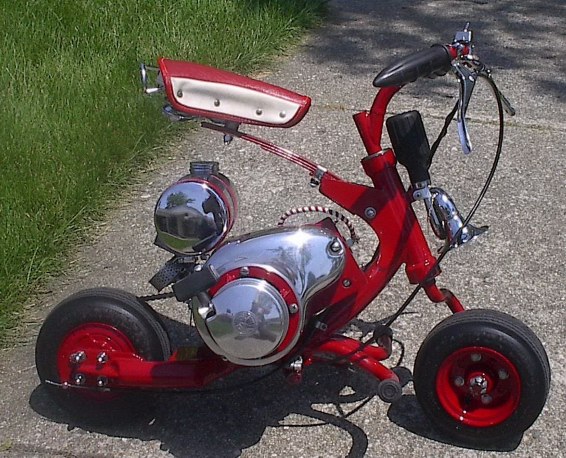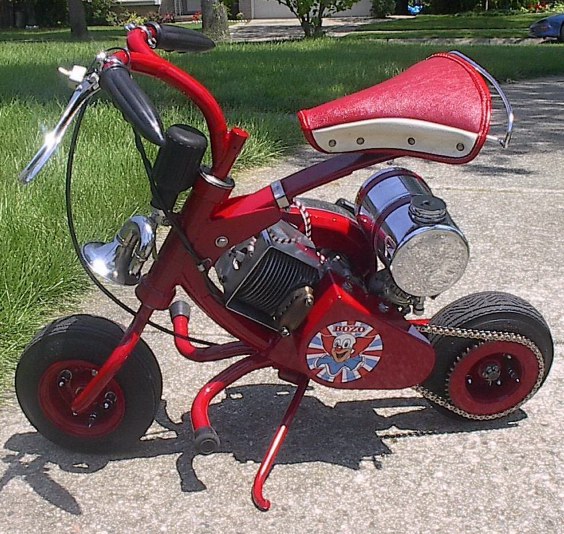 Below is another picture that Steven Greier had found. This is not his bike but although different, notice the simularities between the Shriner's bike picture he already sent me and this one!!.This one was completly restored.
Nice and small.
Up-date June 27, 2004
As well, below are the before and after pictures when Steven got the engine and restored it.