Fox History and old Memories

Man, this is just fantastic information on the Fox mini bikes that was sent to me from Bill Dussing. With the information he also sent some old pictures of his childhood days. I was so taken by this I feel that this will bring back a lot of memories for those of us who grew up with them. In those pictures I saw myself and my buddies. It felt like only yesterday. Boy did those days pass fast. Please read on and the look at the pictures, you will see what I mean.
"I have enjoyed your site over the past few years. In the past I owned several Minis before moving up to motorcycles. Now in my 40s I wish I had kept my old Minis Fox was a premiere minibike company. They prided themselves on making mini bikes up to motorcycle standards. Heavy chains, better grade tires and larger diameter tubing on the frames. From what I know in the early 70s Fox had six different models. One was even street legal. I read the Fox manual hundreds of times. I still remember their logo, a red fox running (in a WB road runner fashion) with flames coming from its spinning feet! My first mini was a 73 Fox 110 (Fox's base model). My brother and I bought it from Grants (a local department store) for $125. It was a red 2.5 HP standard Mini with a black Tech engine and Black vinyl seat. It looked sharp!. I think Fox later (or earlier) named the bike the sprite or sprint. It was quick, ours was clocked at 30 mph. This bike had hand operated disc brakes and folding foot pegs. The tires were not the typical flattened off diamond tread, these were knobbies like on a Honda or Kawi. The rear fender had a white racing stripe down the middle. My brother kept it for about 2 yrs. after I bought my next bike. The years following this bike the seat was squared off in the front. Ours had a round front with squared off (raised) back (like a Dodge Charger's rear deck lid) The 110 was offered along with its big brother the yellow and black Thunderbolt. This was a 3.5 HP semi mini (a cross between a mini bike and minicycle) It came with and without lights. It had front suspension, front and real drum brakes. The engine was tilted forward and it had a real tailpipe. Boy was it sweet! The following year 74, I bought a Fox Sundowner (from Grants), which (as I am told) replaced the Thunderbolt. The Sundowner was all black except for the tank, which was bright orange. The engine was a 50 cc Sachs with a 2 speed transmission. If you took the baffle out of the muffler, that thing would go like hell. It would also overheat like hell. The Sundowner came with and without lights. Mine did not have lights. It looked a lot like the Thunderbolt, except for the engine and the Sundowner had fold down handlebars, like a Honda Minitrail. The Desert Fox, was offered at the same time as the Sundowner. All I remember was it was Ug-Ly! A friend of mine had a 70 Fox (3 hp) similar to the Thunderbolt . His did not have a name, that I am aware of. I also had a Rupp RMT80, which was an 80cc Minicycle. From what I am told (from a Speedway Dealer) Speedway and Fox were either sister companies or did work for each other. In either event, they merged and the Fox name was dropped. The Sundowner became the Shrike. The 1st Sundowner you have pictured (with the oval tank) is a Shrike. Speedway had the oval tank. Fox had the boxy tank. As my brother and I say, while reminiscing "Them were some mean times!" Hope this information helps, it is as accurate as a 14 yr old kid's memory 29 years later. "
Here are some photos from my childhood.
Fox 110 (me with my first mini) 1973
Fox Sundowner (me on my Sundowner) 1974
Rupp RMT80 (my first minicycle) 1975
The one titled "boys" is of a fun day of minibike riding in the fall of 1974. Me on the Fox Sundowner with Joe, Jonny (my brother) on his Fox 110 with Timmy and Tommy on his Arctic Cat Whisker with Brian.
These are the real deal from back in the day! I had a fun childhood!
The boys. Below.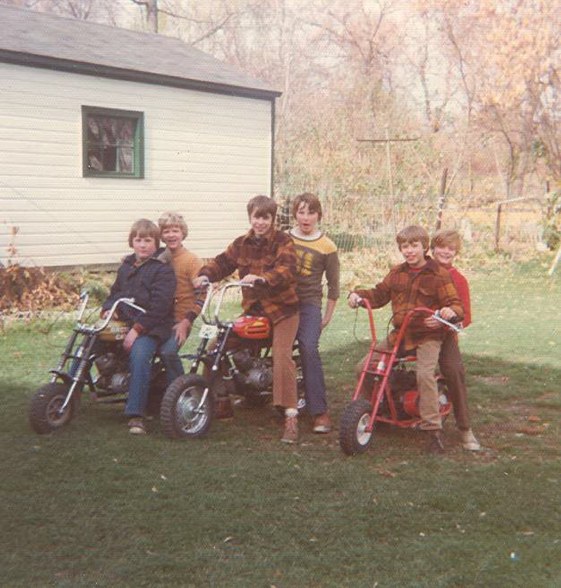 Fox Sundowner Below.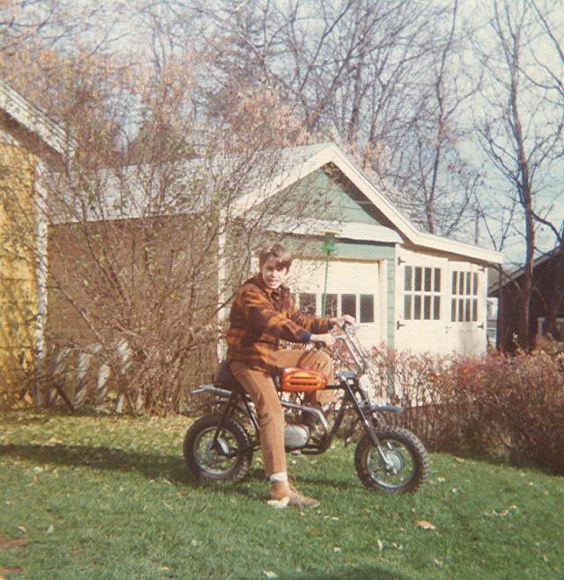 Fox 110 below.
RUPP RMT 80 below.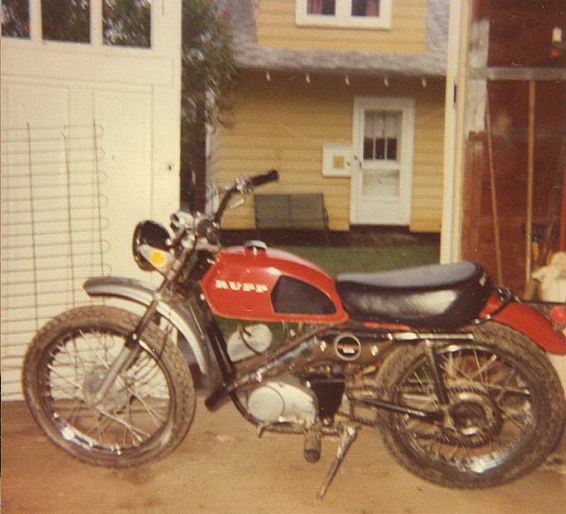 Below is some additional pictures of 1973 Fox Thunderbolt "Sport Cycle" This is super information.
Here is Bills comment.
"I acquired photos of the elusive 1973 Fox Thunderbolt "Sport Cycle" See attached. This is the Puppy everyone in my neighborhood wanted in 1973. Ain't she sweet!
I also found a photo of the Running Fox! "