SEARS BIG WHEEL MINIBIKE

Now here is an interesting story from Mark D, Panka of WI. Here is the story. Read on.
"This picture was taken in around 1978-79 I believe its about a 1967 - 1970 JCPennys Tote Goat "prototype" I recieved the bike from a friend of my Fathers who was once a CEO for JCPennys, they told him to test it, the project falied, they never asked for it back. It had hydraulic rear brakes only, 2 centrifigual clutches, the Primary was belt driven, the secondary was chain. It housed a 5.5 HP Tecumseh horizontal shaft driven 4 stroke. I had demolished the bike around 1980 when I tried to use its parts for another project. Not having a clue how cool it would be to have now. Any other info on this would be neat to know. I remember looking and never seeing any markings on the frame or chrome bolt ons'..." Well this is certainly an interesting looking bike.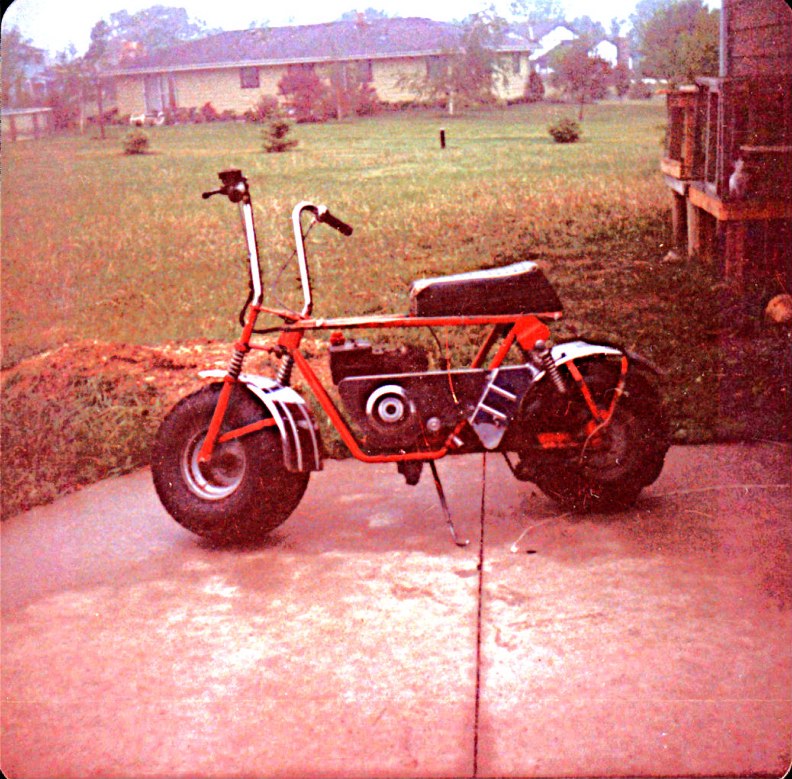 Well thanks to Randy Lansing, he had a keen eye on the minibike pictures. I guess this bike was sold by sears. Here is his story.
"I was browsing the Minidoodle web site checking out the newest minibike pictures. The J.C. Penny Proto-Type pictures caught my interest. They look very familiar to a minibike Sears sold in the mid to late 1970's. I have pictures of a Sears minibike which was in Ebay a couple of years. They nearly identical." What do you think?