SENSATION MINIBIKE CHOPPER

Now I'm really impressed with the work Tom Browning has done to this chopper. The paint job and restoration on this chopper is just fantastic. Thumbs up. Here is Toms comments.
"Here's a Chopper minibike i just got from Rick from the Minidoodle message board...it was built by Sensation MFG. It is very similar to the Bonanza Choppers, and several others from that era, but seems to be very rare, and is the only one i've seen on the net. it is also slightly larger than my Bonanza Chopper, and very comfortable to ride.
Since i've gotten it, i have stripped it down, and re-painted it with Duplicolor's "Mirage" red/blue paint, which changes from red to blue to purple depending on the lighting, and the angle you see it from. I added a new fender, and put silver flames under the color coat of the 3 stage paint. I put new tires on the re-painted original wheels, and added Ruttman red glitter grips, which match the red in the paint.. The engine is a 5hp Tecumseh that i have added a K&N filter setup to, and added a muffler similar to what the original 3hp engine would have had. it uses the original scrub brake. also enclosed is a pic of it when Rick had it."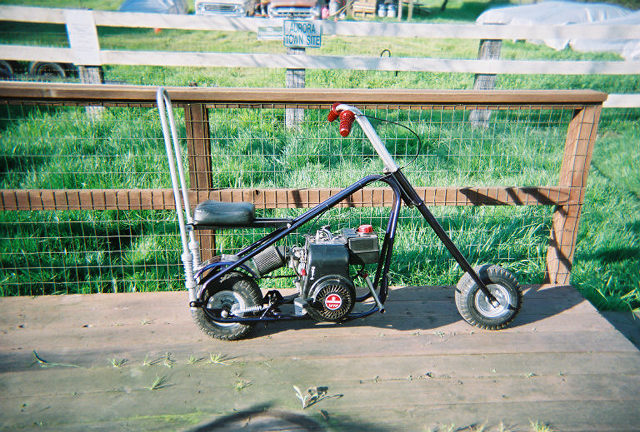 BEFORE BELOW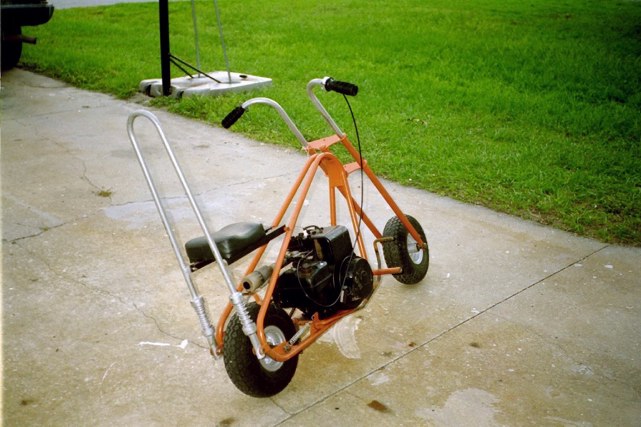 Below is another Sensation minibike from Vernon Ley. This was a father and son project. Nice job!!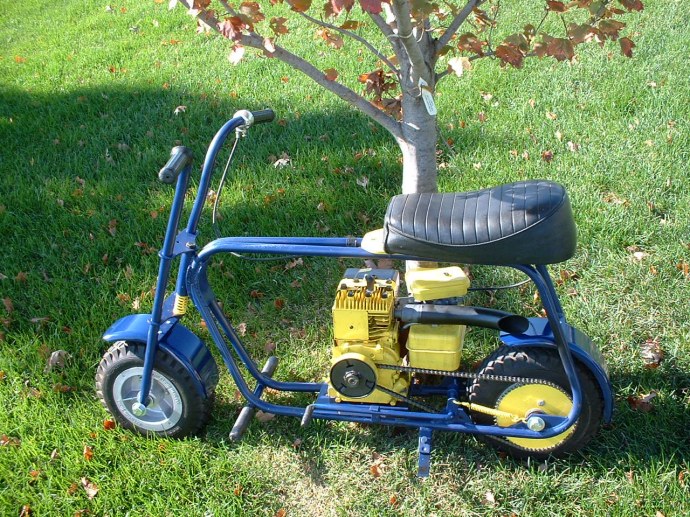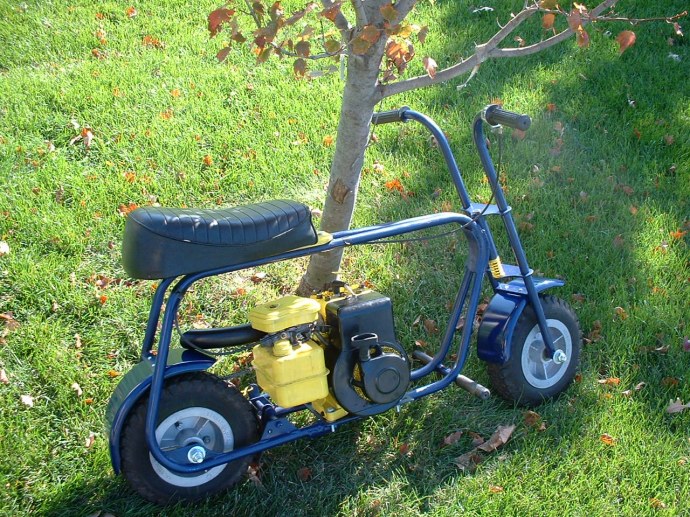 Thanks to Tom Browning, here is a picture of the Sensation Go Devil. It looks a bit like a Rupp.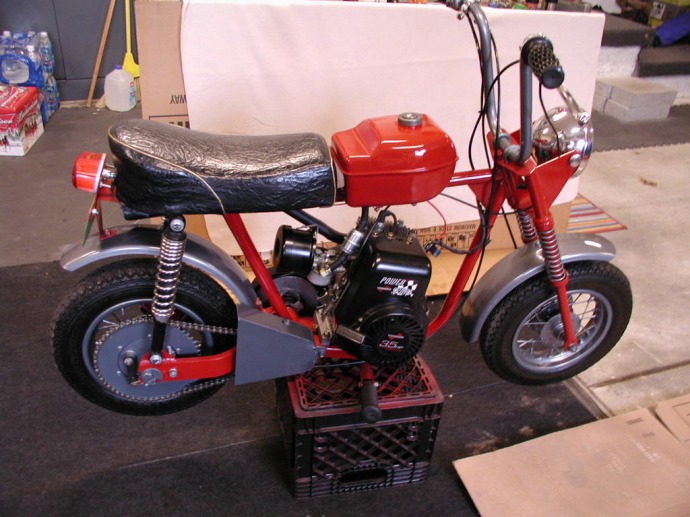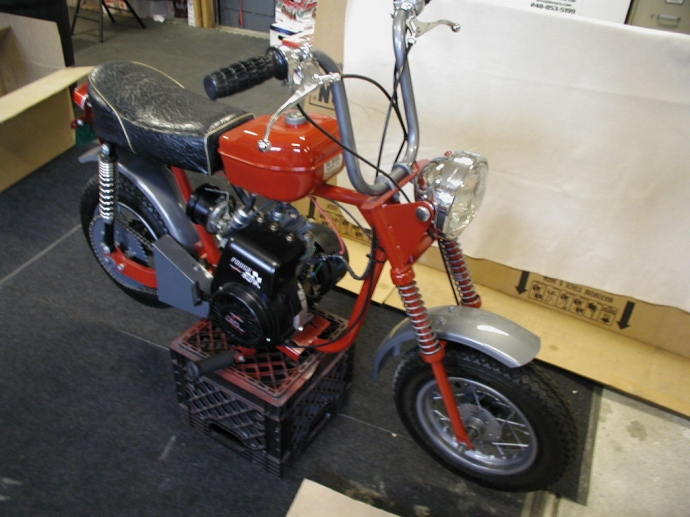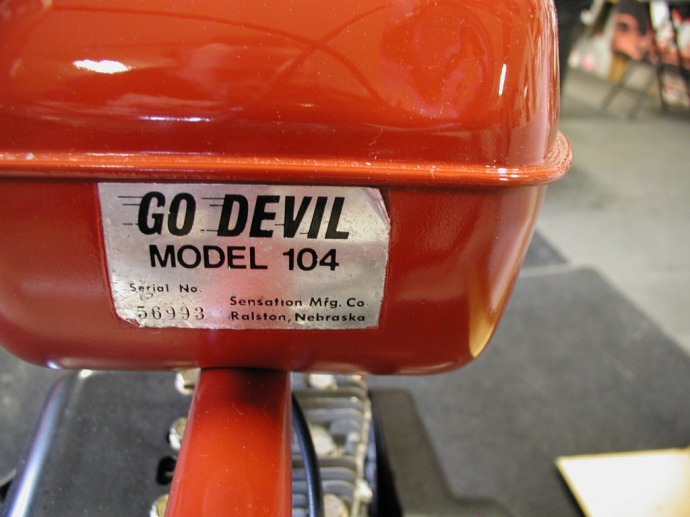 Wow, sent to me pictures of Dave Kirk's restoation project of his Sensation Go-Devil minibike. These bikes are popping out of the wood works. So cool. Here is Daves story.
"Attached are some pictures of my recently restored Sensation Go-Devil Minibike, Model 104, serial # 55989. This bike was given to me last year. It had been ridden hard by young kids early in its life and most everything was out of adjustment; the front forks were bent, no drive belt, and a missing twist grip. It had been in storage for the past 20 years and was about to be tossed when I showed interest, and the family gave it to me.
Over the winter I disassembled it completely and cleaned and rebuilt or repaired most all the components. The original Tecumseh HS 40 engine was in very good shape internally and had good compression, so this required no overhaul other than a carburetor cleaning. Front forks were straightened and everything aligned nicely. The seat cleaned up well with an application of Armor-All. The original paint was in good shape as were the decals on the dent-free gas tank, thus I decided not to repaint the bike. The chrome fenders, exhaust pipe, and wheels cleaned up nicely by scrubbing with SOS pads in water. A new Comet drive belt was ordered, along with a twist grip throttle and cable, one new brake cable, and some hardware. I also bought a ďKIK-StartĒ unit off of eBay (new/old stock) which was a bolt-on replacement for the recoil starter. Unfortunately, the original headlight and tail light were long gone, but hopefully suitable replacements can eventually be found.
The total rebuild took about three months of spare-time work and was very enjoyable. Recently, I took it for a test drive. The engine started relatively easy and after some minor carburetor adjustments, was running perfectly with no blue smoke out of the exhaust pipe (a good sign). After a minor belt tension adjustment, I took it around the neighborhood. This little bike handles very well and the brakes are great. The engine and drive system work perfectly and acceleration is quite good. I would estimate top speed at around 40 mph. The unmuffled, straight exhaust pipe has a nice, throaty sound. Itís a fun ride and Iíll enjoy doing some neighborhood touring on it this summer."