MANCO MINIBIKE

Below is pictures of a Manco minibike project sent to me from Louis Milone. Here he shows the before and after picture. Nice restoration project and a job well done. I tip my hat to you. I also love the color yellow. Below is his story and it sure sounds like a project I worked on. I'm sure we all experienced the problem of buying an engine or some sort of part and find that we have to modify it or rebuild it. Well read on.
"I purchased it on e-bay about 5 months ago, and it took the guy over a month to ship it. I was just about to contact e-bay, when it arrived. It was missing a lot of parts when I got it, but the price was right at 50$. It was missing the engine, clutch, chain, seat, handle bar clamps, the seat is supposed to be suspended with shocks from what I gathered, as there were mounts and tabs, and the gas tank was missing. So it was just a frame and fork, with mismatched wheels. None of the hardware was correct... A real basket case. I was intrigued by it because it had 10 inch wheels, and I had a vision.
I started by stripping it down and bringing it to work and media blasting everything down to bare metal. With how pitted and rusty the whole thing was amazingly the original decal was in perfect condition, so I heated it with a heat gun and carefully lifted it off with a razor blade. The wheels were both bent, and I painstakingly heated and hammered them back strait, Zinc primed them, and put them aside for later. The frame was a dilema. I was not concerned with an original restoration, I wanted to customize it a little, so I cut off and ground clean all of the tabs and mounts for parts that I was not going to reuse, and I also cut off the frame area above the rear wheel mounts, all the way up to the area under the seat, and completely redesigned it, and sort of raked the rear frame forward. I then fabricated a new system for fastening the newly made seat. I welded tabs for the gastank. I am a professional machinist and welder, so I went over every weld on the entire frame, and added some support here and there especially in the motor plate area. I found a nice set of BMX handle bars that were just about the right size, but not perfect, so I cut them in half and widened them about 2 inches, and fabricated a new V-bar cross bar. I eliminated the clamps that were missing anyway, and welded the bars right to the fork. Last I fabricated an adjustable chain guide roller system. I do this to all of my projects. It is a simple project, I machine a delrin roller with deep sides, and a machined pin in the center for it to roll on, and the welded on plate is slotted, so the roller is adjustable. It makes the chain impossible to come off. After all this work I hat the chain to come off and scratch everything up.
In the meantime I had been collecting parts. I love these little chrome gas tanks. I buy them on e-bay, the guy always has a few for sale brand new. I found these really nice heavy guage chrome fenders. Clutch chain, twist grip, my wife sewed me the pad for the handle bars...etc.. The big project was the engine. I love Clinton Engines. I dont know why, maybe because the company is gone, and they are a dying breed. I brought this engine for 25$ and thought I had a deal. WRONG!! This was the most worn out mechanical device I have ever seen in my life. The cylinder had .020" of taper wear!! the carb was junk, valve guides were huge, crank was junk, rod junk... etc... I started searching for parts, and I found a .020 piston, so I took the block to work and bored and fit it. I found a new exhaust valve, but the intake I had to machine from scratch. I fixtured the block on my mill, and bored the valve guide bores, and pressed in aluminum inserts, and rebored them to original clearance, I did the same to the carb, as the throttle shaft was so badly worn. I found a crankshaft on e-bay believe it or not, but the rod eluded me. I ended up buying a 3 hp verticle shaft engine on e-bay for 20$ just to get the rod out of it. ANyway the time and money spent on the engine goes on and on... I have to say it was challenging and fun, and when I started it and it ran it was very rewarding. I only painted the steel parts, I left the engine in Media blasted aluminum, and it looks really cool.
Well I finally decided on yellow and black, and sprayed the whole thing, and built the wheels for it, I found Cheng Shin dirt bike tires in 2.5 X 10 and they were only 10$ each new!! and they look really cool. I did a few things to trick the wheels up too, The front was just solid, and I indexed and drilled the 5, 1.25 inch holes, and the rear is spoked, but I machined the 8 bolt sprocket ring for it, and machined a trick aluminum centering ring for it too. The sprocket is an interesting story in itself. I originally had a 66 tooth sprocket on the mini, and it would go like heck top end, but had no torque. So I found this 92 tooth sprocket from Azusa Eng. and decided to try it I machined the center to fit my hub, and machined the matching 5 holes to mirror the front wheel. I will say that it over did it. Now it will pull stumps out of the ground, and it is fun to pull wheelies on it, but it will only go about 20mph top speed. I have an 11 tooth clutch on it now, and I am going to try a 12 or 13 tooth, it just needs a few more mph top speed, but I can't take the big sprocket off the rear as I love the way it looks.
Other than that it is a lot of fun, and my kids love to ride them with me. The only thing I am still going to do to this Manco other than the clutch sprocket, is I want to fit a disk brake to the front wheel, and add a cable and a lever. I think that will look cool, and I like to have an auxillary brake in addition to the scrubber. If you hit a puddle the scrub brake does nothing. If you remember my Blue Bird Mini I added a rear drum in addition to the scrubber. Oh yeah, and I am going to fabricate some neat looking clutch guards for both of them."
BEFORE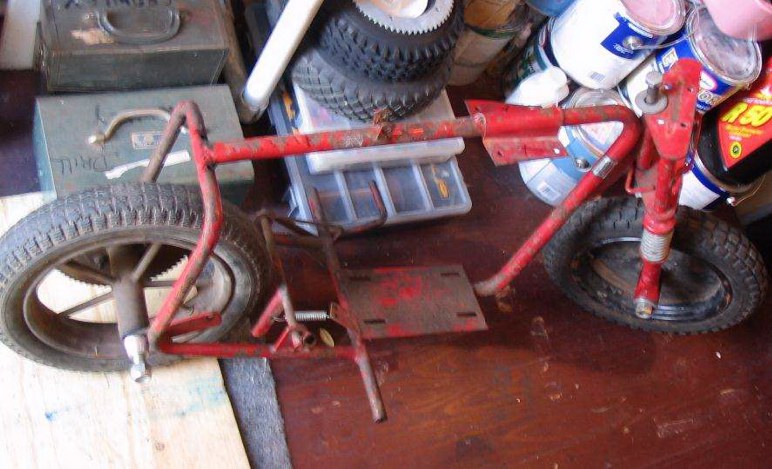 DURING THE RESTORATION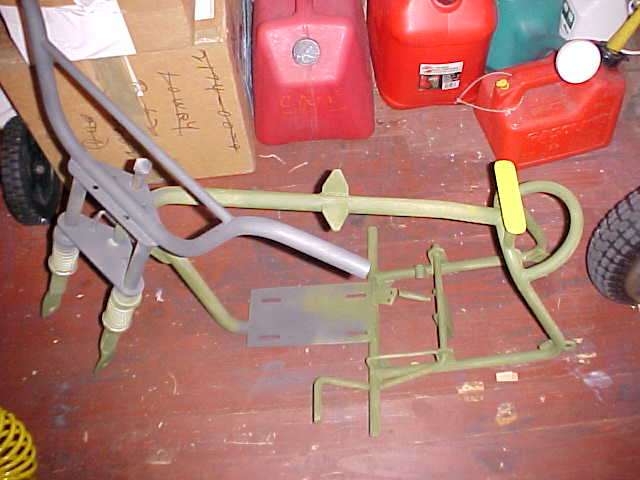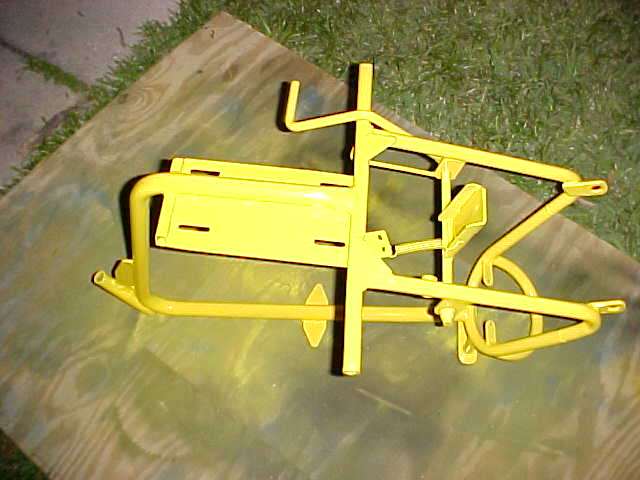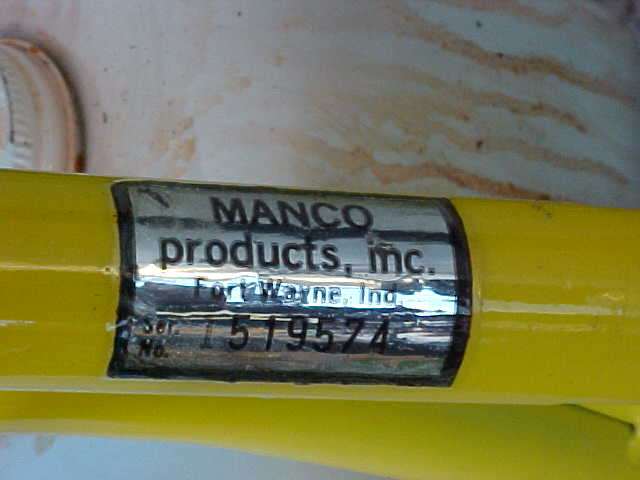 RESTORATION COMPLETED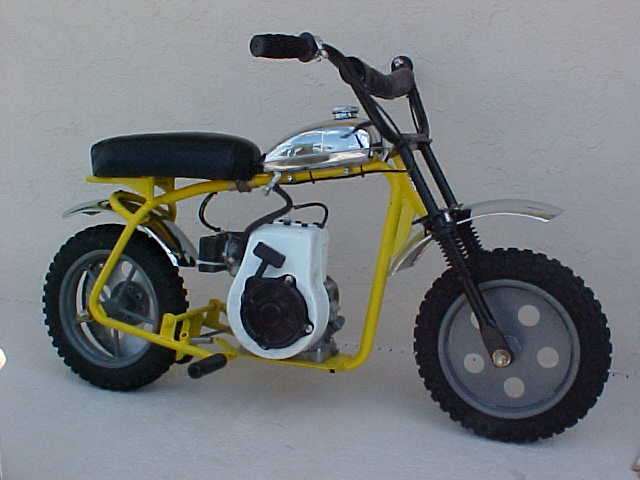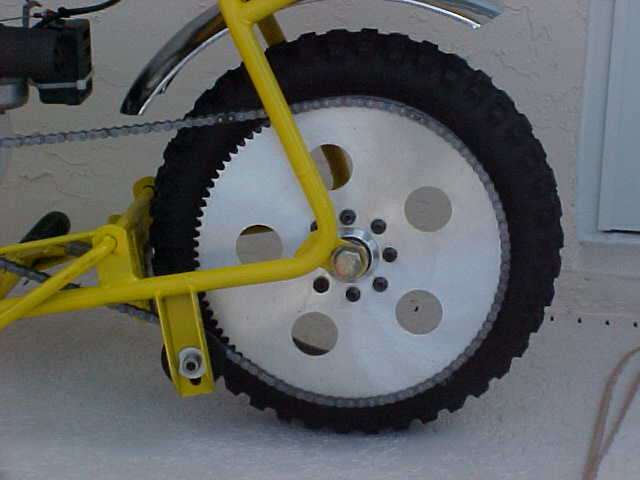 Now here is an interesting Manco Trailcat that was restored by Greg Castillo (new member). Pretty intersesting story. So read on and check out the wheelie bars.
" When I got it it had a old briggs 2hp engine on it. The front rim I am told is from a ruttman chopper but was on the bike I didnt add it later. I did get the 2hp engine running for 20 secs before it quit. I just threw it away and kept the frame. I actually restored the frame before i had an engine for it. i would just actually like to push myself around on it and pretend it had a motor. I was 16 so it was fun for me. Well I kind of forgot about it and actually put it in my grandmothers garage because she didn't use it or go in there, but i needed to store it. Just by luck a friend was working at a Sears hardware and told me he just got a engine off a preasure washer (a 6.5 briggs ohv intek). Well he agreed to sell it to me for 20 dollars! I pulled the frame out of the garage after sitting for 4 years alot of dust. I found a mower place close by that I bought the clutch, chain and the throttle is from a roto tiller a trigger throttle that works so good i try to do that to all my creations. The dual exaust i made out of two sausage mufflers and the old pipe. And yes the wheelie bars are for a reall good reason. My friend john came over one day i showed him the bike before the wheelie bars. I had the engine on half choke he was a little guy, i didnt want him killing himself. Well while i wasn't looking, my brother said " oh try it with the choke off " as soon as he hit the throttle the minibike kicked right out from him breaking the exaust, rear fender, and seat. It has alot of power!. That actually cured him of riding it again. But i made a new seat for it new exaust and bought a new rear fender off ebay. I soon after that decided the wheelie bar was the next stem since i had the welder and i got some tubing and some skateboard wheels and put it all together. I am told by everyone that ity looks tuff but i built it for function. But i do agree that it looks great too. i can actually ride a wheelie all the way down the street and while sitting with the engine off can lean it back and sit it up on the bars and hold it like that. i have since built some more wheelie bars on a lawnmower i built for speed but also will do wheelies down the street. i included a pic."