FOX SPOKED WHEEL MINIBIKE

What a nice picture from the past.
I personally owned a Fox Street Scamp minibike when I was a
kid. It had a 4 hp Tecumseh engine on a slanted engine plate. It
used a 2 speed automatic drive utilizing 2 centrifugal clutches, 2
primary chains to a jackshaft and a final drive chain from the
jackshaft to the rear wheel. It had 10" spoked wheels with Pirelli
tires and Kelsey-Hayes disk brakes front and rear. It also had
lights.The bike would run about 45 mph. I just found an old photo
of the bike, I will attach it also.It is dated December 1972. Fox
also made a similar bike with a few less options called a Campus
FX. Both had front and rear suspension.
James Francis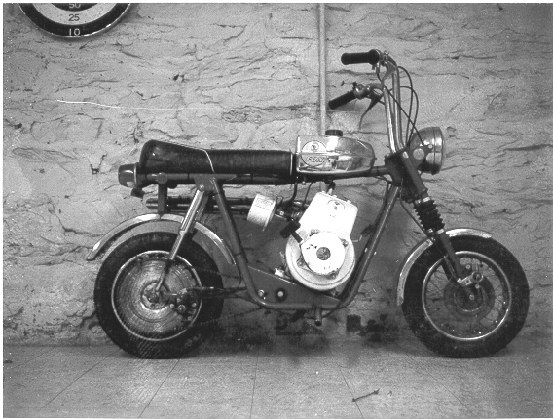 I recently recieved these pictures from Robert Zaentz of his restoration project. I was in contact with him during the restoration period and I am very impressed with the quality work that has been done. Just recently it was up for auction on Ebay. The description of the minibike is listed below with the pictures to follow. Enjoy!!!!
I would also like to mention that Robert Zaentz sold his Fox Scamp To Perry Rothenberg. This is truly a collectors item.
FOX STREET SCAMP MINIBIKE
Vehicle Description
I have owned this EXTREMELY RARE 1970 FOX "STREET SCAMP" minibike for 31 years. I just had it professionally restored using many of the original components. I did add some improvements to it in the late seventies, including some engine modifications to improve speed and torque. The now-defunct Fox Corporation of Janesville, Wisconsin was the first minibike manufacturer to offer front and rear disc brakes on their top-of-the-line models. This was one feature that made their minibikes, including the "STREET SCAMP" so unique. Please read the following list of features this wonderful "BLAST FROM THE PAST" has to offer, and don't forget to check out the photos below! 1)KELSEY-HAYES FRONT & REAR DISC BRAKES(ORIGINAL) 2)10" CHROME SPOKE WHEELS WITH PIRELLI TIRES(ORIGINAL)-CHROME VALVE STEM COVERS(AFTERMARKET) 3)CHROME FRONT & REAR FENDERS(ORIGINAL) 4)FRONT COIL SPRINGS & REAR CHROME SHOCK ABSORBERS(ORIGINAL) 5)FRONT FORK RUBBER BOOTS & CLAMPS(AFTERMARKET) 6)CHROME HANDLEBARS(ORIGINAL) 7)CHROME BRAKE LEVERS,BRAKE CABLES(ORIGINAL) 8)HANDLEBAR MOUNTED "KILL SWITCH"(ORIGINAL) 9)THROTTLE & "DUMMY GRIP" ARE ORIGINAL BUT HAVE "COMFORT CUSHION" GRIPS WHICH WERE ADDED IN THE LATE SEVENTIES 10)THROTTLE CABLE(ORIGINAL) 11)FRONT SEALED-BEAM HEADLIGHT WITH LO/HI HANDLEBAR -MOUNTED SLIDE SELECTOR SWITCH(ORIGINAL) 12)TAIL LIGHT(ORIGINAL) 13)1-GALLON CHROME GAS TANK WITH PETCOCK(ORIGINAL)-MOTORCYCLE FUEL-LINE BLACK RUBBER HOSE REPLACES ORIGINAL 14)CHROME MOTORCYCLE "FLIP-UP" GAS CAP ADDED IN THE LATE SEVENTIES-THE ORIGINAL "SCREW-ON" GAS CAP WAS A "LEAKER" 15)SEAT IS ORIGINAL, BUT HAD NEW FOAM & VINYL COVER WITH EDGE "PIPING" INSTALLED IN THE LATE EIGHTIES 16)ORIGINAL 4 H.P. TECUMSEH ENGINE WITH "GEM" HI-COMPRESSION HEAD, WISECO PISTON & ALLOY CONNECTING ROD-THE ENGINE MODIFICATIONS WERE MADE IN THE SEVENTIES- THE ORIGINAL ENGINE SHROUD, RECOIL ROPE COVER PLATE, AIR FILTER COVER,AND 2-SPEED CLUTCH COVER ARE CHROME-PLATED-ENGINE WAS PAINTED USING "TOP-QUALITY" "IMRON" "GLOSS WHITE" PAINT 17)2-SPEED AUTOMATIC DRIVE UTILIZING 2 CENTRIFUGAL CLUTCHES, TWO #35 PRIMARY ROLLER CHAINS TO A JACKSHAFT, AND A FINAL #35 DRIVE ROLLER CHAIN FROM THE JACKSHAFT TO THE REAR WHEEL(ORIGINAL) 18)UNIQUE "WISHBONE" FRAME HAS SLANTED ENGINE PLATE(ORIGINAL) 19)FRAME SANDBLASTED, "TOP-GRADE" SELF-ETCHING AUTOMOTIVE PRIMER APPLIED,"TOP-QUALITY" "COAST BLUE" "IMRON" PAINT USED EXCLUSIVELY ON FRONT FORK, FRAME, AND SWINGARM-NO "CORVETTE" COMING OFF THE ASSEMBLY LINE HAS PAINT THIS GOOD!!! 20)GAS TANK DECALS ARE ACCURATE REPRODUCTIONS OF THE ORIGINALS AND WILL RESIST ANY GASOLINE SPILLS BETTER 21)STAINLESS STEEL BUTTON HEAD CAP SCREWS HAVE BEEN USED IN PLACE OF THE ZINC-PLATED HEX HEAD CAP SCREWS THAT CAME WITH THE MINIBIKE. THE HEADS OF THESE SCREWS HAVE BEEN POLISHED TO A "CHROME-LIKE" FINISH WHICH GIVES THIS MINIBIKE A "CUSTOM-LOOK". 22)CHROME LUGGAGE RACK-A FOX OPTION FOR THIS BIKE-ADDED IN THE LATE SEVENTIES(ORIGINAL) 23)SPRING-LOADED KICKSTAND(ORIGINAL)& FOLDING FOOTPEGS(ORIGINAL) 24)CHROME SIDE EXHAUST WITH SHIELD(ORIGINAL) 25)AMBER & RED REFLECTORS(O.E.M. RELACEMENTS) 26)PLEATED AIR FILTER(O.E.M. REPLACEMENT) 26)FOX CORPORATION PARTS MANUAL(ORIGINAL) 27)FOX CORPORATION OWNERS MANUAL(COPY) 28)TOP SPEED-UNKNOWN-THIS MINIBIKE HAS "GOBS" OF LOW-END TORQUE, AND FLYS LIKE A "BAT OUT OF HELL" WHEN THE THROTTLE IS OPENED! I was thinking of taking it to the BONNEVILLE SALT FLATS but it was a little too far from New Jersey.
Vehicle Condition
This is probably the most beautiful FOX "STREET SCAMP" that you will ever see. This is an extremely rare minibike especially when you compare it to the number of Rupp and Speedway bikes on eBay. The gentleman who worked on this minibike has won numerous awards restoring exotics and showcars. This project was a first for him since Camaros, Corvettes, and Ferraris are his specialty. This minibike is near perfect!!! There are only 2 items I will mention, and Iam not sure they are worth mentioning at all. Extremely minor "flaking" on a few of the chrome spokes, and on small areas of the rim edges have been professionally "touched-up" with automotive primer and paint. It was felt that this was such a minor problem that re-chroming was not necessary. Also,if the bike is allowed to sit for an extended period without being used, it may be necessary to remove the air filter, and spray ether, or starting fluid into the "carb" to allow for easier starting.Once the engine is "warmed-up", one or two pulls on the recoil rope starter is all that is necessary to start the engine. That's it folks!!! I think I have covered everything about this minibike from A to Z.

Below is another Fox Spoke minibike. Most of this bike is original. It is powered by a 5 H.p. engine. I'm sure this would be a good challange for the Rupps.
Now here is a picture of a Fox Sundowner which was recently auctioned on Ebay. I have not seen this bike anywhere else. It came with a Sach 2-stroke engine and was equiped with a 2-speed automatic transmision. I believe it was manufactured in the early 70's. You certainly don't see many of these.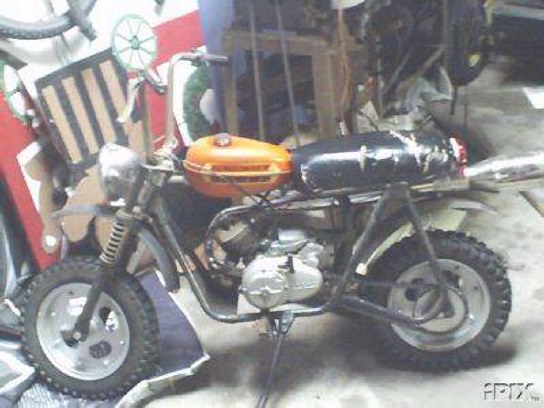 Below is a really nice picture of a Sundowner which belongs to Lance Janzen. The only thing I see is the gas tank is of the older model. I was told that there were 2 tanks that were used on the Fox Sundowner. An oval shape one like the one above picture and this one. This mini is all original from the 70's and belonged to his dad. This is in fantasic condition.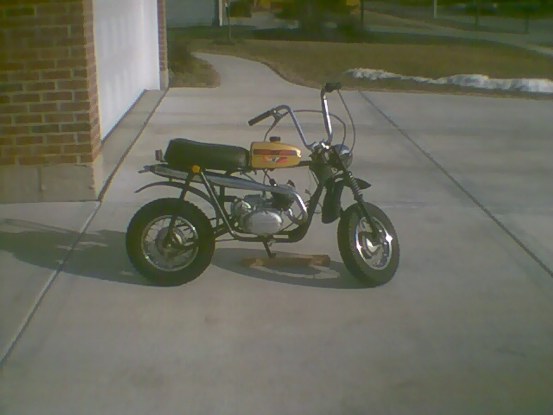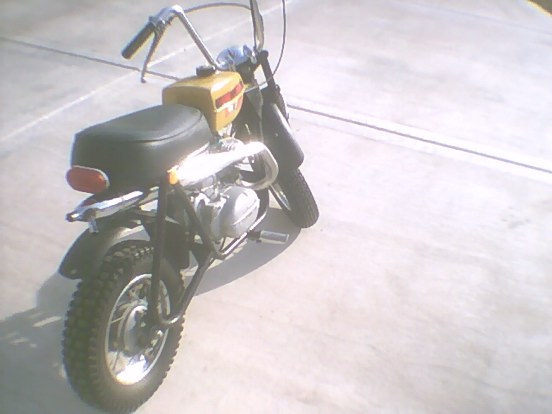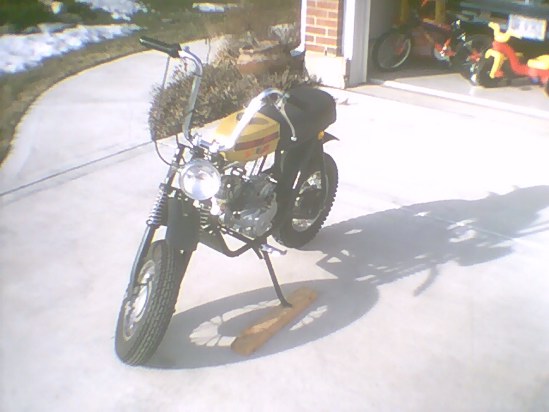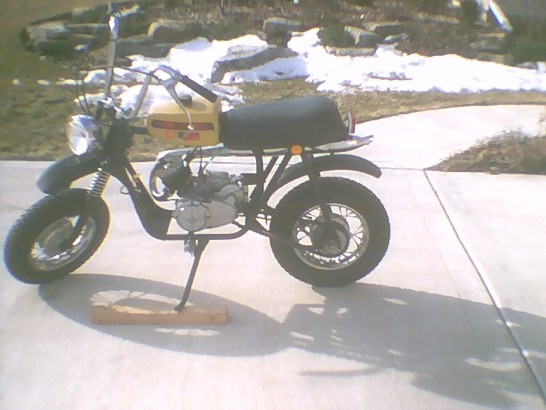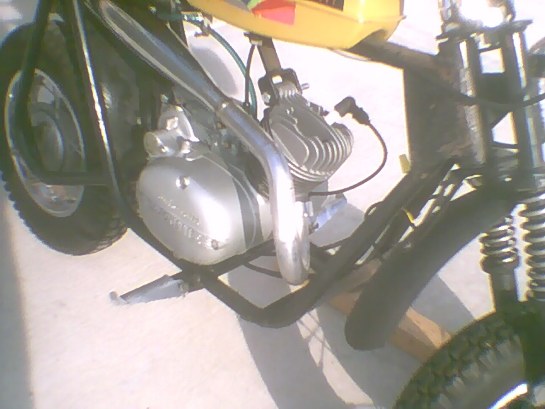 Down below is an amazing picture of a Fox Thunderbolt minibike sent to me by Dan Ferranti. I did not even know that Fox produced this. The bike looks more of a motocross bike. If anyone has any information on this bike, please send it to me.
Here is a 1970 Fox minibike, Fox Campus Bike FX, model # 1339 which was sent to me from Bob Beaudin.
He mentions it is all original and everything works. This is a very rare bike especially in this condition. Check it out.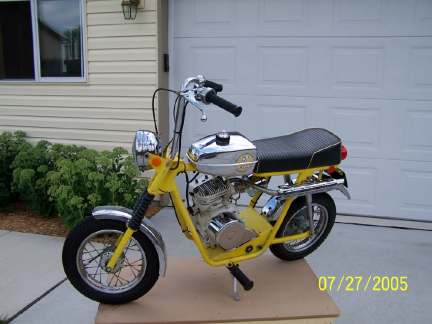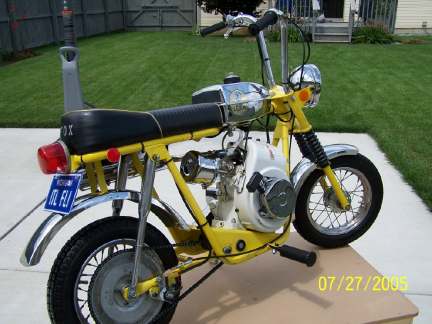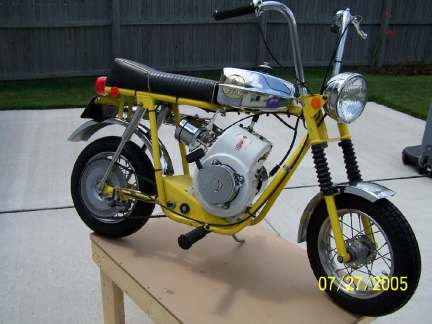 Below is a picture of a Fox Tracker. This picture was sent to me from Mike Lenycky . In my opinion this is a really sharp looking bike. I have never seen one like this.
Up-dated pictures were just recently sent to me from Mike. What a cool Fox.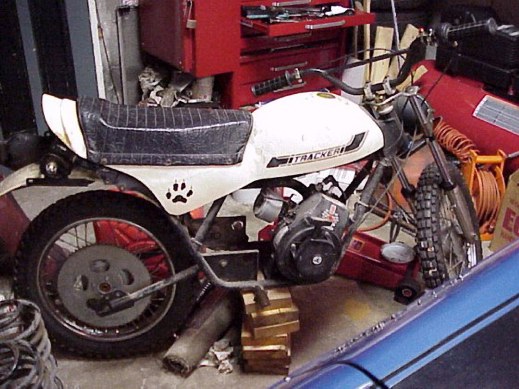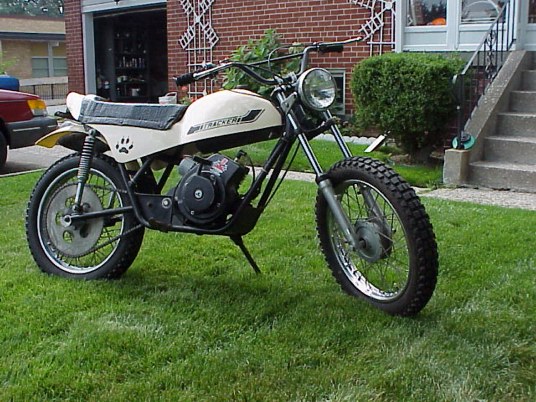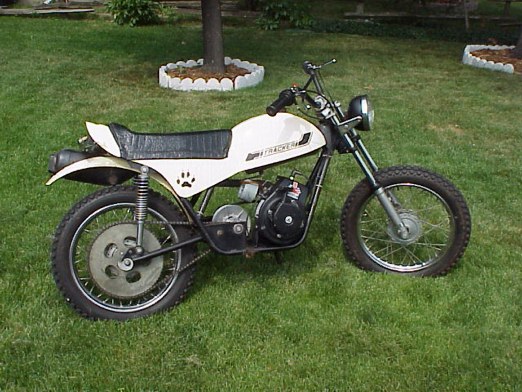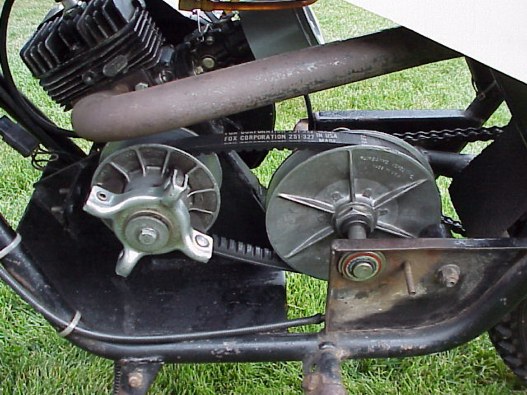 These pictures were sent to me by Daryl. This is a Desert Fox which he currently owns. This is a very impressive looking bike. I'm hoping to get more information on this bike. This looks like it it is powered by a 80 cc 2-stroke engine. As well, thanks to Daryl, the tech. specs of this bike are just below the pictures.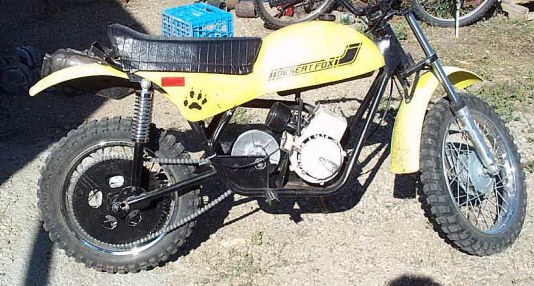 Below is a restoration project of the Desert Fox from Ray Kutchey. Nice job.