RUPP MINIBIKES

Here are pictures sent to me from Chip Eades from Chattanooga, TN. who wanted to share his Rupp Roadster pics with everyone.
The '69 Roadster was a roller that was won on Ebay. It did not come
with a gas tank or engine. It has original fenders & seat. Other parts were
repainted, rechromed or replaced with NOS or repop parts. The '70
Roadster was bought in non-running condition, but mostly complete. It has a
new period-correct 5HP Tecumseh with lighting coil & slanted intake. It
has been repainted & also has NOS & repop parts on it. As you can see, these
are the same bike, just a year apart, when Rupp was moving into the Minicycle
market. Sort of a transition model bike. What a great job.
Below 1969 Rupp Roadster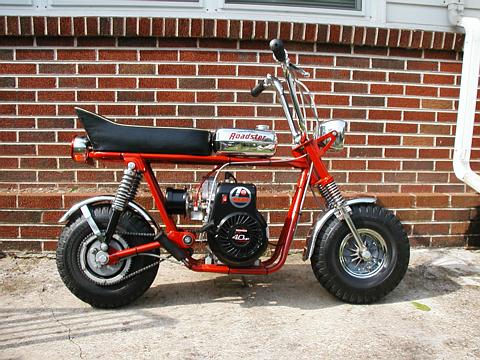 Below 1970 Rupp Roadster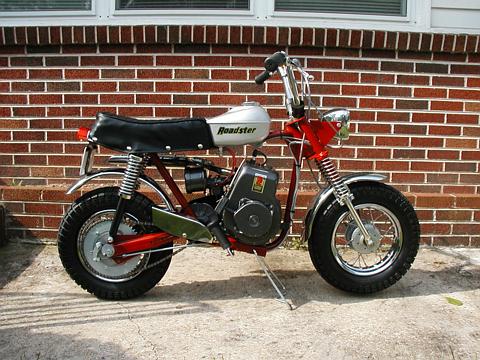 Below is a mint condition Rupp Black Widow. This is one slick looking bike. Wish I had one like that in my collection.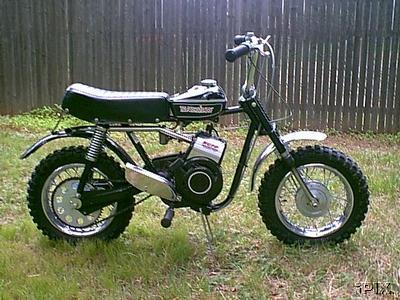 A member of Kora Shrine cycle corps of Lewiston, Maine sent me some pictures. They ride Rupp Roadsters with Tecumseh motors. All of there bikes are early seventies vintage and they ride and maintain them themselves. He personally owned a Fox Trail Tramp and a Fox Street Scamp along with a mini called a Ruttman. The Ruttman had a ski for the front for winter riding and Wide tires. It was simular to the Boonie bike. He have attached a photo of there Shrine unit preparing for a parade and one of us in action. See the pictures below. They are real nice bikes.
Now a little bit of information on the Shriners.The Kora Cycle Corps is a mini bike drill team of Kora Shrine Temple. Below is a link of what the Shriners are all about. The (cycle corps) basically attend parades throughout our state, the proceeds are used to help pay for the Shrine Hospitals. Our particular unit uses Rupp Roadsters. There are many different units throughout Kora Shrine, ie. Funsters(clowns) ,
Mopeds, Motor Corps (cars), Renegades(mini jeeps), Log Rollers(mini tractor
trailers) etc . Each different Shrine temple has its own units.
Click this "
link
" To visit the Shriners Web Site.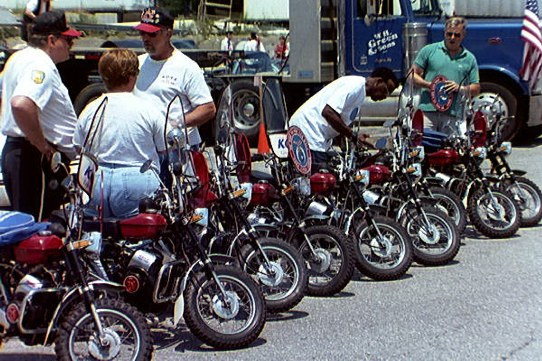 Photo Above. Preparing for parade.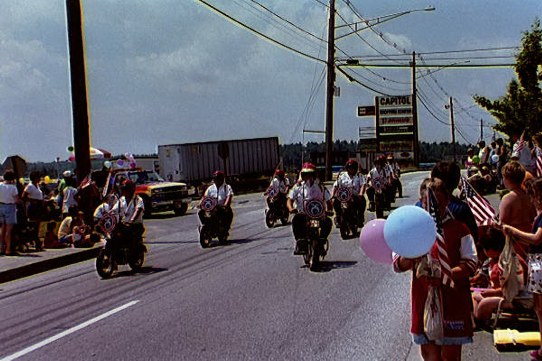 4th of July Parade.
Below is a Rupp Trailmaster. Like so many minibikes that were on the market this one I do not know much of. But it sure looks like a really neat minibike.
Here is pictures of a Rupp Sprint.It is equiped with a 5 hp. Tecumseh engine model HS50. The carb. is a bowl type. It has automatic clutch for a #35 Chain. You could say this would be in the same class as the Fox Doodlebug. What I like about this minibike is the high ground clearance.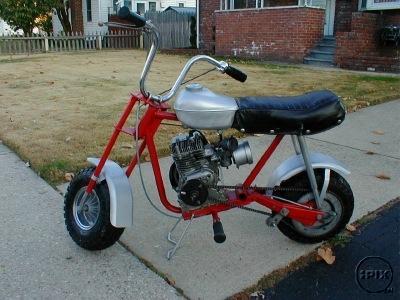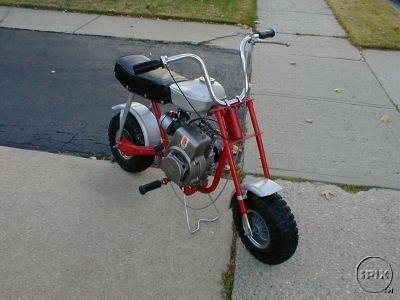 Now here is a nice restoration project by Billy Power. He bought this bike from a guy who was selling it through my web site 2-years ago. He drove 700 miles to pick this bike up. Almost all the parts are original. Below is a before and after picture of the mini. Great job.
Before
After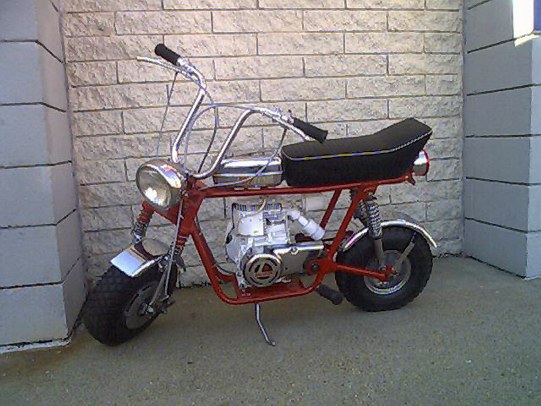 Here's a really good picture of a Rupp TT550. This is in near perfect condition with only the head light missing from what I can see.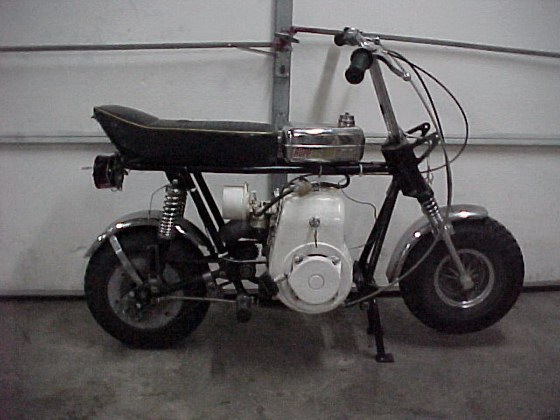 Here is a picture from Rich Rankin of his rolling frame. He mentions that it is a Rupp. This sort of took me by surprise, because I never seen a Rupp frame look like this one. So this what he has to say. If anyone has any information, please send it in.
He rode this mini a number of years ago, 30+. He haven't been able to turn up anything on it. The mfg. label says "Rupp" Dart Cycle. Model DCD-25. It has a serial number of 1423. The seat say "Dart Cycle" on it as well. Any information you could shed would be great.
I am looking for an engine for this. I have a B&S 3.5 I am thinking of putting on it. Though I have read there is a 4HP that should bolt right on."
Update: Here is more information from Russ. "I saw the picture of the Rupp Dart Cycle mini-bike roller that you have posted. I had one that was purchased brand new in the mid 1960's. It was blue with a white seat. The words 'Dart Cycle by Rupp ' was silk screened on the rear of the seat. The engine was a Tecumseh 3.5 HP flathead that was painted white. The drive was via #35 chain from the left side of the engine thru a centrifical clutch, to a jackshaft and then to the right side of the rear wheel. It had internal expanding brakes.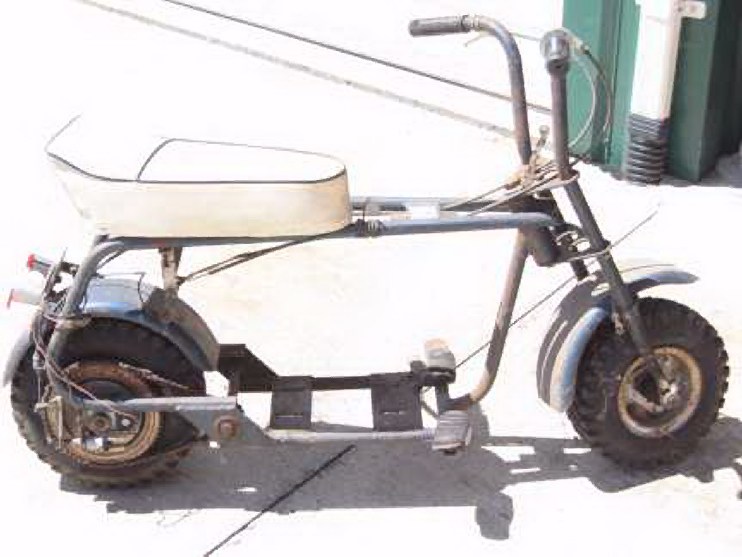 Here is a really nice classic Rupp. I do certainly believe the Rupp minibikes are the most popular. For more informatin and pictures of Rupps, chech out my Favorite links page and click on the "Classic Rupp Web Site".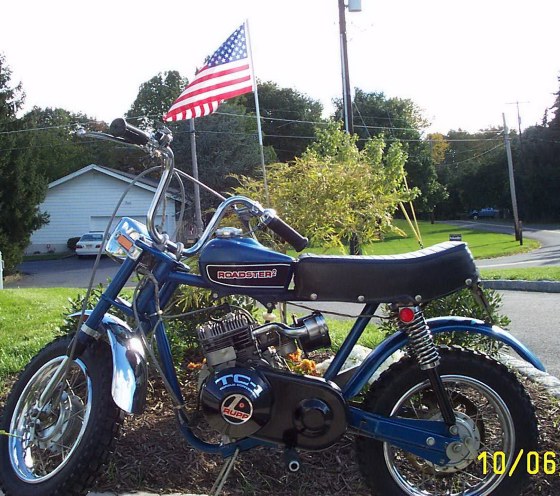 Here are pictures of a modified classic Rupp which belongs to Mickey Thomas, of Newton, Kansas. The restoration was done by Ken Thomas. Ken has built Hot Rods and show cars and is restoring vintage minibikes. This Rupp is equipped with a 5 hp Tecumseh engine, comet Tav II Torque-A-Verter, chrome header, 12" wheels with Michelin tires. The frame was extended 9" and the engine mounting plate leveled. The gas tank was extended 7" with fiber glass to fill in the gap between the handle bars and seat. Ken used a white epoxy paint to finish the bike. I do admit this is a really nice job. Check out the pictures below.
Below is the project before the restoration.
Below are picture of the final project.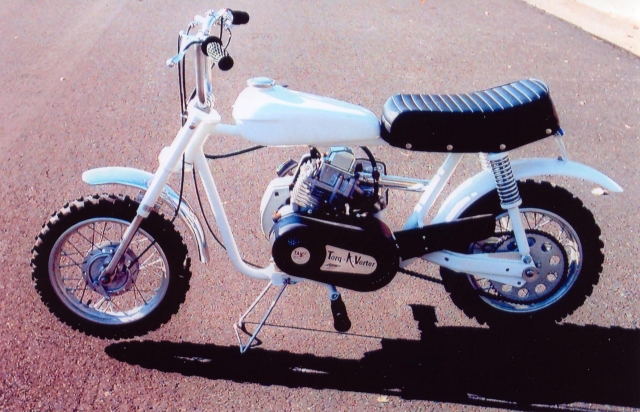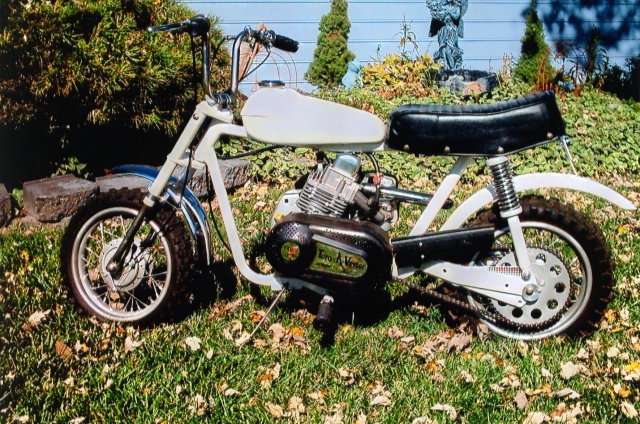 Below is a restoration project by a 13 year old. The picture was sent to me from his uncle, Keith Dumbrosky. I thought this is a good example of young kids doing something more than play on computers. A job well done.
Minibike - mostly stock 1970 Rupp Enduro
Total ground up restoration 2007
Owner – Jon Gebauer
13 years old
Sanborn, New York
Uncle – Keith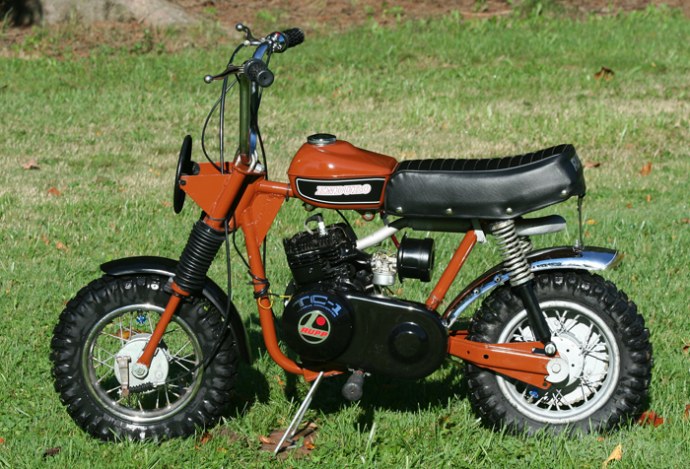 Below are pictures of the before and after restoration of Bill Owens Rupp. An excellent job I must say.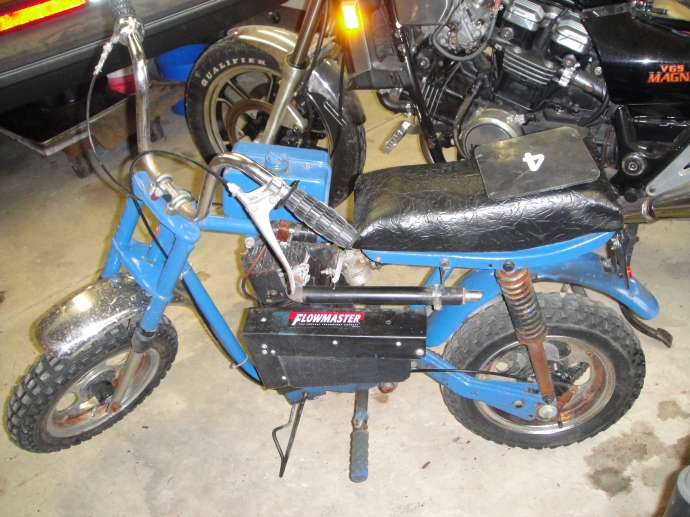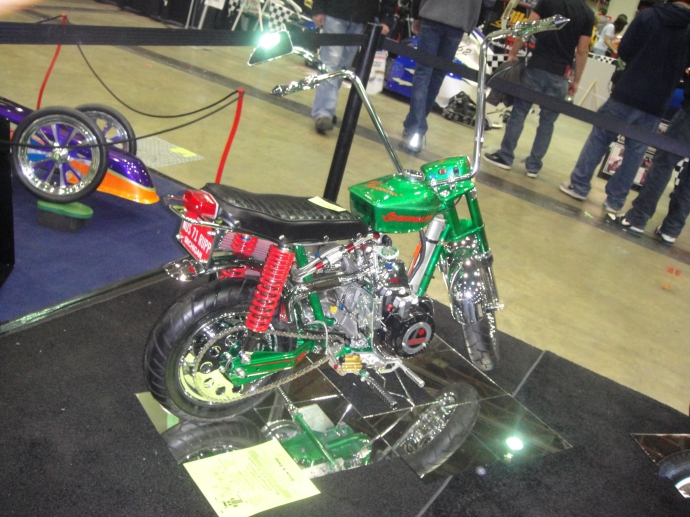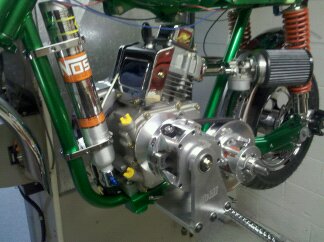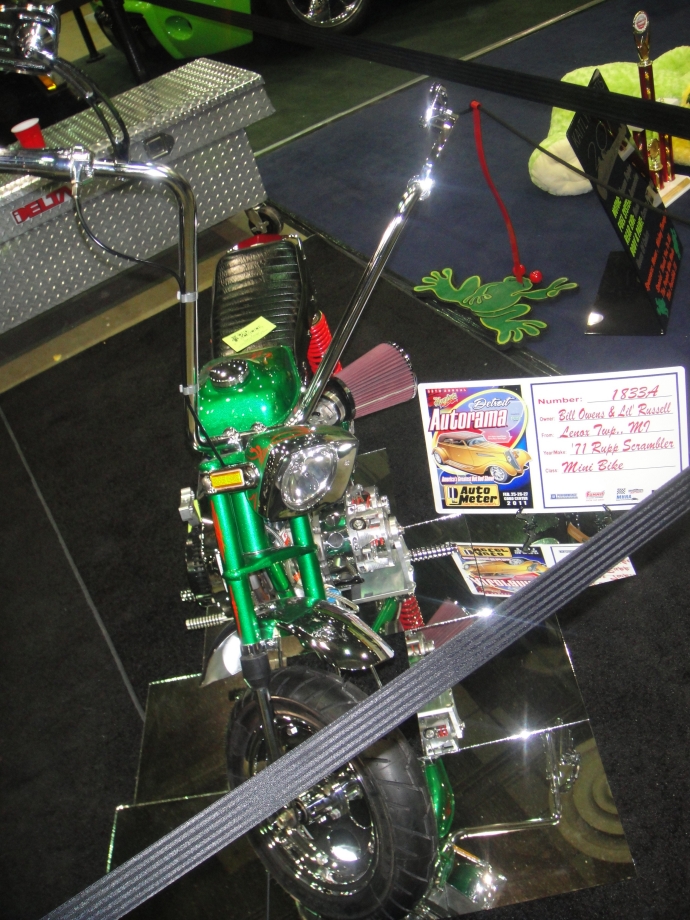 Now here is a really nice restoration of a Rupp Cub by Jim Finneran of Ma. Below is his story.
"This is my 1968 Rupp cub, which I purchased off the original owner. MY kids and I restored it together. It has the original 1969 2hp Briggs and stratton. It has a scrub brake, and 6 inch turbine wheels. This model came as a kit with or without the regular Tecumseh engine. A 1968 line up ad can be seen on the brochure page on minidoodle site. We replaced tires,chain, and clutch. The seat is NOS i purchased on ebay. I sent you a before picture a year ago, which I could send again if you needed it."