THE MYSTERY MINIBIKE

Here are some pictures that Tom sent of an unknown minibike that he has, and he would appreciate it, if someone can identify it, as he has no idea what brand it is, and that he could not find any pictures of another one. Check out the throttle twisty, it looks pretty old or could be home made. He likes the way the frame curves up to resemble a gas tank, and it raises the headstock up, and really makes it look like a chopper. Alex in the picture below, recently installed a 3 hp engine, and a seat. it runs great, and has a scrub brake, and a jackshaft. the jackshaft may have been added. If anyone knows anything about this mini please e-mail Tom at this e-mail address warpath@evansinet.com Or e-mail the information to me. This one is going to be a tough one to identify. Have a look.
Up-Date:
The mistery bike solved by Tom himself. Bonanza chopper modified. This is what Tom was talking about on the message board.
Yeah it's pretty funny, that even now that i know what it is, and have them sitting together, it's hard to picture it being the same bike...i have them in a room in my house where my computer is, and i have my hotwheel collection(i have several redlines from the 60s), and some other collectables, and i was looking at them when i noticed the bracket where the back wheel bolts on is the same, and then the footpegs, and then the brace where the headstock joins the frame. after looking closer, i could see where they cut the frame, and added the part where the seat now sits. i also noticed the "triple tree" portion of the forks was the same, but the original has suspension just like the forks on a BC1200. the mystery chopper is a rigid fork. one thing that is odd is that neither bike appears to have had the upper handlebars changed, but the new one i just got has the bars angled towards you a little more, and are about 1 inch taller....maybe a difference in production dates? not sure myself.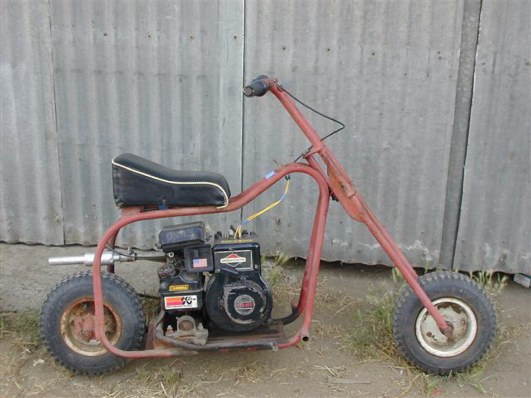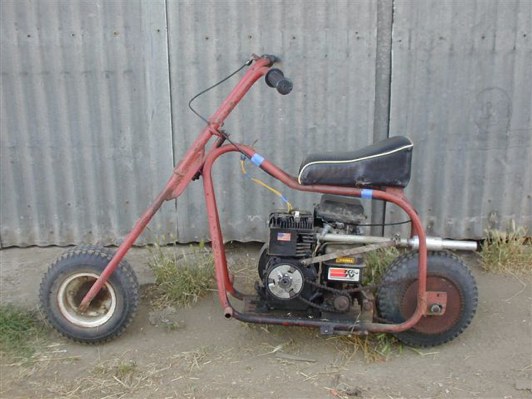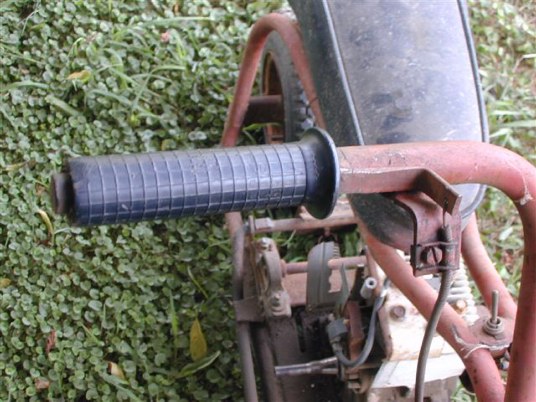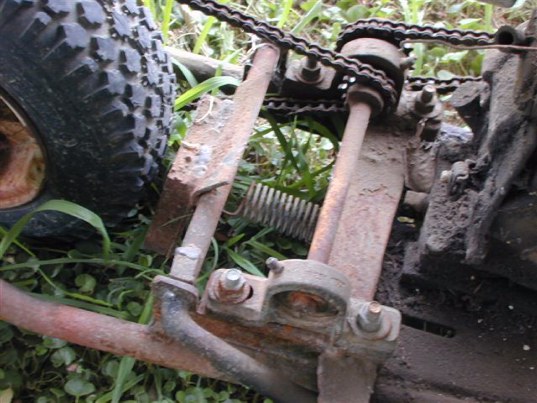 Below are the pictures of mystery bike restored. Comments from Tom.
"after getting a hold of an un-modified Bonanza chopper, and having so many good times with the Mystery chopper, i decided to leave it as a custom instead of going back to original like i had thought of doing...i recently painted it with the Duplicolor "Mirage" purple/green paint, which is kind of hard to see in pics. i added an extra wide rear tire, a front "Billet" style wheel from one of the newer style minichoppers that are being sold everywhere, got rid of the home-made throttle & and added a new chrome throttle, a stainless steel braided throttle cable, a new motorcycle style seat, Ruttman glitter grips, a chrome clutch gaurd, and re-painted everything else. this is a really dependable bike, and with the jackshaft, it has a lot of take off power. we've put a lot of miles on this one."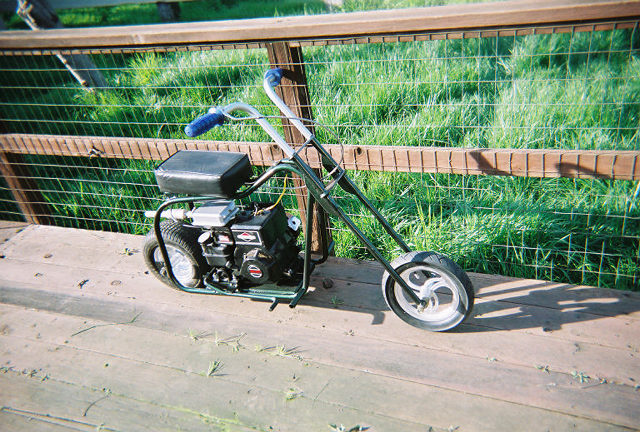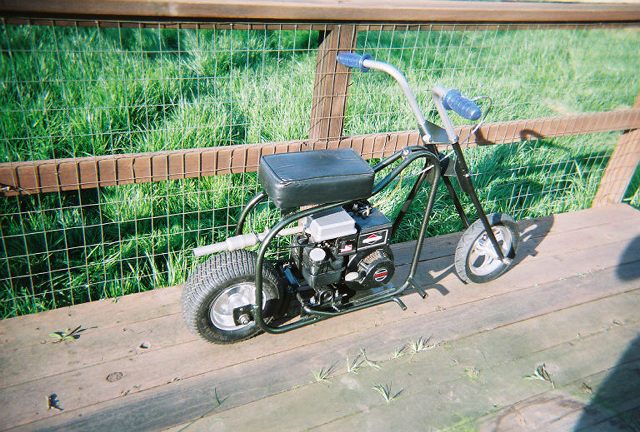 Below is the comparison between the the 2-choppers.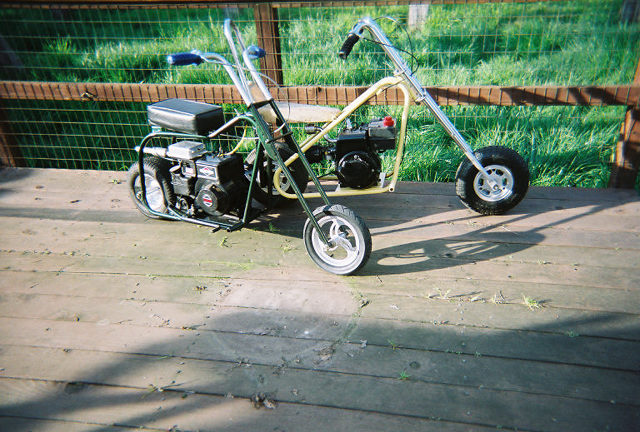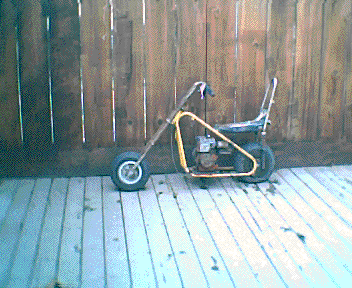 Below is the after pictures of the chopper. So here's Toms comments.
"after finding out that yellow was an available color on these, i re-painted it yellow, installed a correctTechumseh engine, new tires, repro chain gaurd, muffler, and aircleaner. i was also able to get a hold of a set of forks, and sissy bar with good chrome. all i have left to do is locate the correct gas tank, and re-cover the seat pan."