MOTO-SKEETER

Here is a 1971 Classic Moto-Ski Motoskeeter minibike,minicycle made by the Moto-Ski snowmobile co. in Quebec Canada. This bike is about the size of the Fox Spoke Wheel Minibike and is quite fast with its 2-stroke engine and has a unique trailing arm front suspension. It also is an automatic torque drive (like a rupp minibike)so no shifting needed. The engine is 80cc and the 650 stands for 6.5 horsepower and from what I am told Moto-Skeeter made a 450 which was 4.5 horsepower which is shown below. Oil and gas has to be mixed together. I almost bought one 2-months ago to rebuild but changed my mind.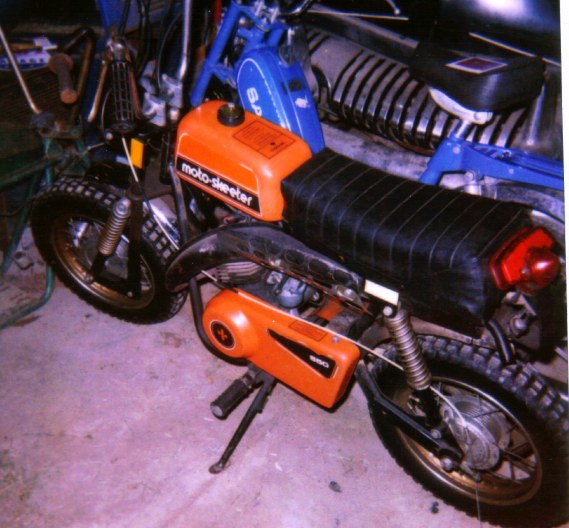 Heres another Moto-Skeeter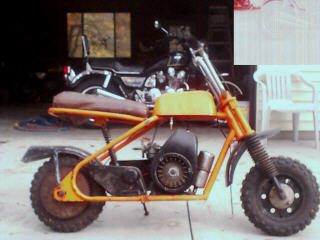 Below is another Moto Skeeter, and still has the frame tag on it dated 5/71, Has rear brake,one handle bar clamp is broke but (overtightened) they still work, good
seat although not original, Mono shock system works very well, (very advanced for it's time) Gas cap has a built in gauge with the clear plastic cover is missing and
it needs a peice of cork for float inside and it would work agian. It is missing
clutch cover, This mini has a large motor on it I am not sure what size
but Serial # is 1274R model H50-65201J it a very nice tecums, the tire on the bike are like new also and the front one says Rupp Trials on it. These are nice pictures of this minibike. Presently the owner might consider selling it. This would be a good restoration project.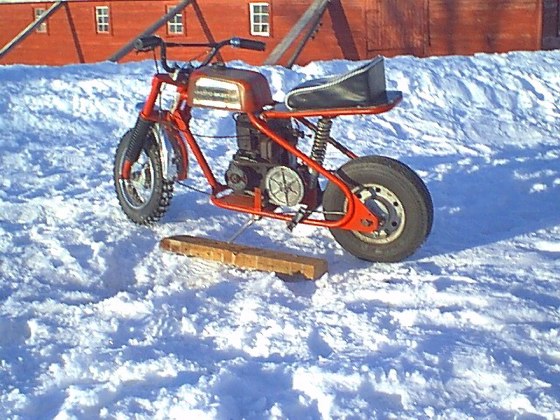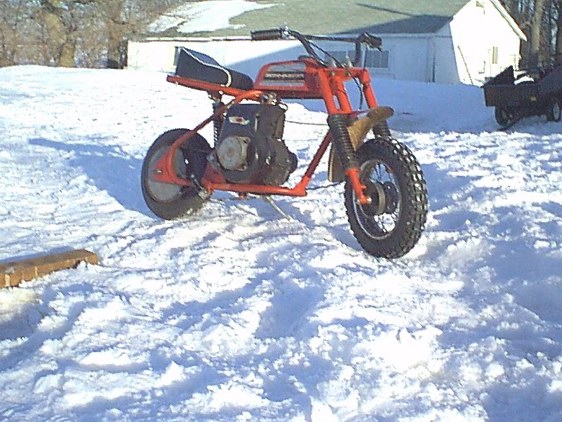 Below is pictures of the Moto-Skeeter 1971 model 450. This is in fantastic condition. It was shipped from Nova Scotia Canada to Maine USA
David Lank is the owner
Wells Maine USA.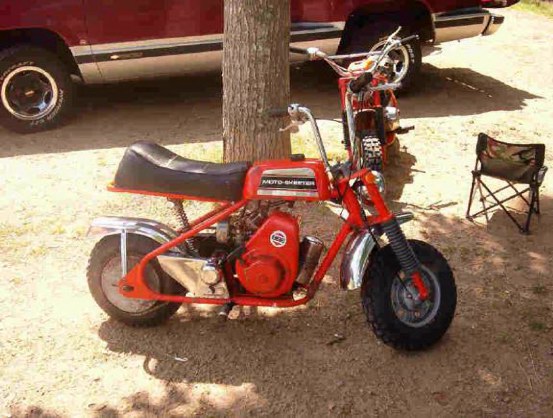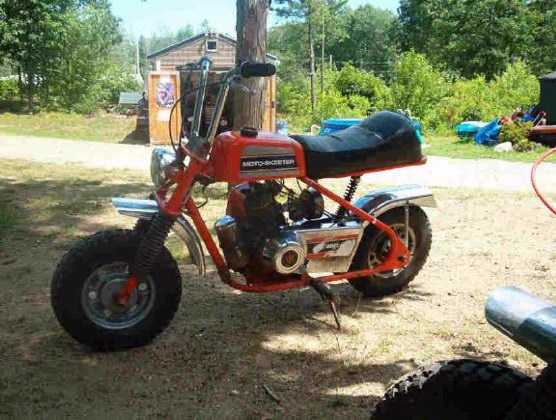 Now here is another nice 1971 Moto Skeeter model 450 from John Desbiens from Quebec Canada. What is not is not original is the rims which he painted back 14 years ago which is supposed to be gray and center crank cover he painted black which was supposed to be orange. Other than that it is all there.