1/4 MINIBIKE (LITTLE PETRO)

This is a picture I got from E-BAY Auctions. I just had to add this to my picture collection to share with everybody. This is the smallest minibike I have ever seen. I believe it is powered by a 1 h.p. engine. Note also the foot pegs are really strange, but would think that if you lean a little too much on either side you may have a accident. But it is still a cute little minibike.
Up-Date
Sent to me was more information on this minibike from S. Baker. So if you own one of these minibike you have something of value. Read on!!!!!
Hello, In your photo gallery you have a picture that you got off ebay of a 1/4 mini bike. I had one years ago. The seat and rear post is Schwinn bicycle of course, and someone has extended the handle bars as they used to curve a couple of inches above the top tripple clamp. But the interesting part of it is something that few know. These were built in the 60`s for Barnum & Bailey Circus. They were built for the clowns to ride around the three rings with during the show. Mine came with several different circus programs from mid. 60`s - 1970 that had pictures of my bike in action during the show ! As far as I know Barnum & Bailey never sold them off and there are only a hand full in public hands. Just thought I`d share......S.L.B
Below is a picture of the 1/4 mini sent to me from Steven Geier. He purchased the frame from ebay and restored it to it current condition. Pretty good job. If anyone can find any information on this mini or a Shriners pamphlet from the days when they used the minibike in the circus. Please send it in to me.
Thanks to Steven Geier, he has sent me more information on this minibike. As well he restored this minibike to the original condition. He has done a remarable job on this and I think it should be in a musuem. Included are brochures after the pictures. Please read below, an awesome story and history.
"IT'S BEEN A LONG TIME,BUT I FINALLY CORRECTLY FINISHED THIS BIKE,THANKS TO THE ORIGINAL MAKER OF THIS BIKE,JIM ODOM.THIS IS A 100% CORRECT RESTORED FORMERLY KNOWN UNDER THE TITLE ON YOUR SITE AS A 1/4 MINIBIKE.THE BIKE IS CORRECTLY CALLED A "LITTLE PETRO" MINIBIKE MADE BY ODOM MANUFACTURING IN EL MONTE placeStateCALIFORNIA IN THE EARLY TO MID-LATE 60'S.THE BIKE WAS FEATURED AS A GIVEAWAY PRIZE ON THE ART LINKLETTER AND HOWDY DOWDY SHOWS,ALSO WAS KNOWN TOBE SOLD AT SOME 7-11 STORES AND EVEN SOME PROMOTIONAL SALES AT SEARS!.THE BIKE IN THE PICTURE SPORTS AN OHLSSON & RICE 3/4 HP MOTOR.THIS MOTOR WAS USED FOR A VERY SHORT TIME,MAYBE A HALF A YEAR IN THE PRODUCTION OF THE BIKE.FOR THE REMAINDER OF THE PRODUCTION FOR SEVERAL YEARS A TAS P7 MOTOR WAS USED,A COMPANY CURRENTLY KNOWN A TANAKA.THE BIKE WEIGHS 29LBS,LENGTH,29 INCHES,HEIGHT 26 INCHES AND GOES ABOUT 10 MPH GOVERENED.BIKE HAS A PLASTIC VACUUM FORMED SEAT AND CHAIN GUARD AND SPORTS SOLID RUBBER TIRES!.AS LISTED UNDER THE 1/4 MINIBIKE TITLE,IT WAS MENTIONED THAT THE BIKE WAS MADE FOR THE BARNUM&BAILEY CIRCUS BUT THE MAKER OF THE BIKE DOES NOT RECALL THIS BEING THE CASE,ALSO,THE HANDLEBARS WERE NOT ADDED ON TO AS MENTIONED IN THIS SAME PARAGRAPH,THEY ARE THE CORRECT LENGTH.THIS BIKE WAS FEATURED ON THE COVER OF POPULAR SCIENCE AND SCIENCE AND MECHANICS MAGAZINES IN THE 60's. IN TOTAL,I SPENT ABOUT 3 YEARS RESTORING THIS BIKE TO THE PRESENT CONDITION, BUT, I MUST GIVE MOST THE CREDIT TO WONDERFUL PERSON THAT MADE IT!!,JIM ODOM."
IN ADDITION, HAVE AN ORIGINAL BROCHURE OF THE BIKE,ALSO,A COVER OF A SCIENCE AND MECHANICS AND A PAGE
FROM THIS SAME MAGAZINE AND FROM A POPULAR SCIENCE MAGAZINE SHOWING THE BIKE.ALSO,IF YOU WOULD PLEASECONSIDER THIS BIKE AS A POSSIBLE CANDIDATE FOR YOUR 2008 CALENDER,REASON BEING,JIM ODOM,THE PERSONWHO ORIGINALLY MADE THE BIKE AND LIVES IN placeStateCALIFORNIA MAY BE COMING TO THE MINIBIKE SHOW HERE IN placeStateMICHIGAN ON APRIL 29TH.IM CONSIDERING AFTER THE SHOW IN WHICH THE BIKE
WILL BE IN ON POSSIBLY JUST GIVING HIM THE BIKE AS MUCH AS THE BIKE MEANS TO ME,I KNOW IF MEANS MORE TO HIM AND IT WOULD MAKE HIS DAY TO SEE THE BIKE THAT HE MADE OVER 40 YEARS AGO IN A MINI BIKE CALENDER AND BETTERYET TO OWN ONE ONCE AGAIN!.ALL THAT HE HAS LEFT OF THE MINI BIKES HE MADE SO LONG AGO ARE A
FEW ORIGINAL BROCHURES.I WAS FIGUREING THAT GIVING HIM THE BIKE WOULD HELP HIM TO CARRY ON HIS FAMILY LEGACY.
Check ot the pictures and brochures below!! Amazing.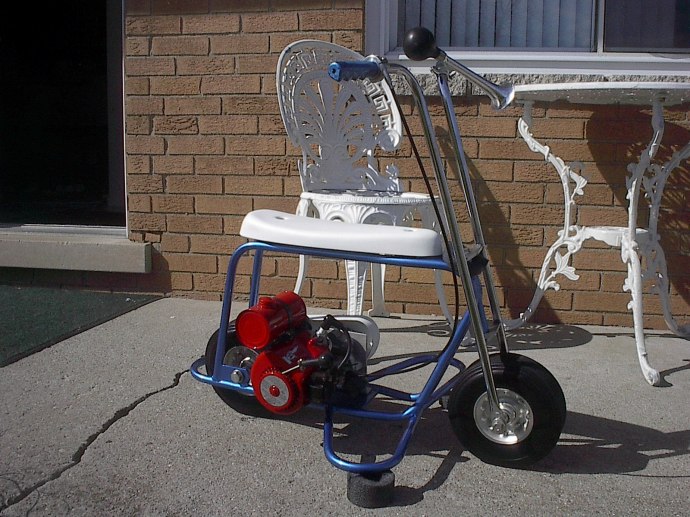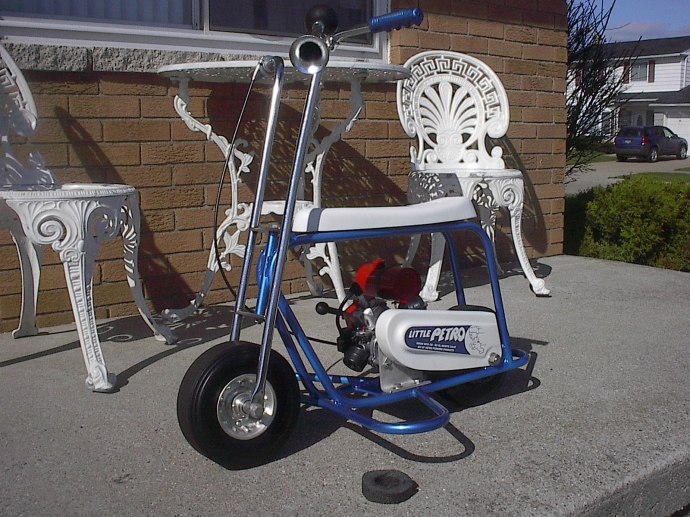 THE LITTLE PETRO TOOK 1ST PLACE,BEST OF SHOW,VIEWERS CHOICE.HAVEING JIM ODOM SHOW UP TO SEE THE BIKE,WAS A WONDERFUL EXPERIENCE,HAVEING JIM THERE REALLY MADE MY DAY!!I LET HIM KNOW I WILL BE GIVING HIM ONE OF THE LITTLE PETRO'S.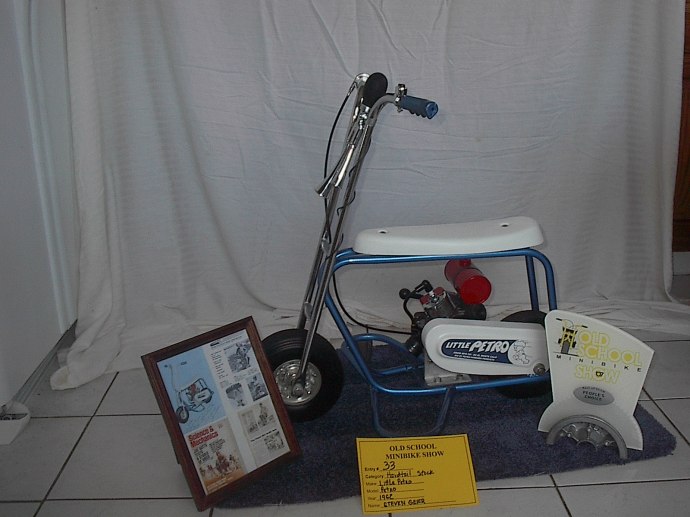 THE NEXT 2 PICTURES JIM ODOM PROUDLY POSEING WITH THE BIKE HE MADE,IF YOU COULD,PLEASE ADD ONE OF THE PICTURES OF JIM WITH THE BIKE,I KNOW THIS WOULD MAKE HIM SO HAPPY TO SEE,I FOUND OUT TODAY THAT HE IS 76,SO MANY PEOPLE WERE TAKING PICTURES OF HIM WITH THE BIKE,HE HAD A REAL PROUD LOOK ON HIS FACE!!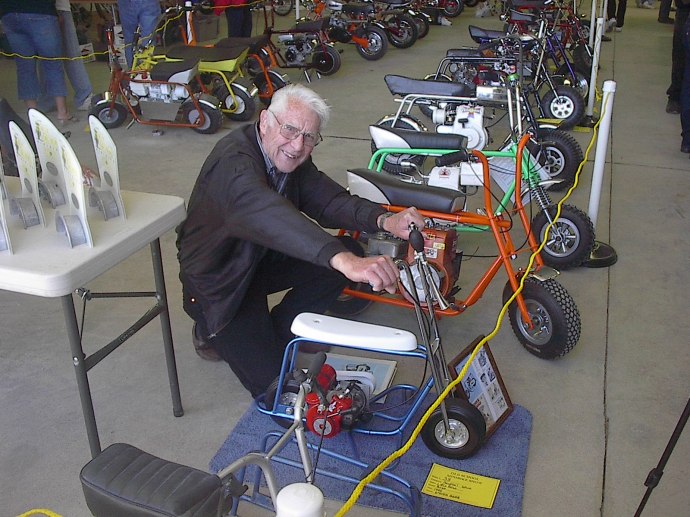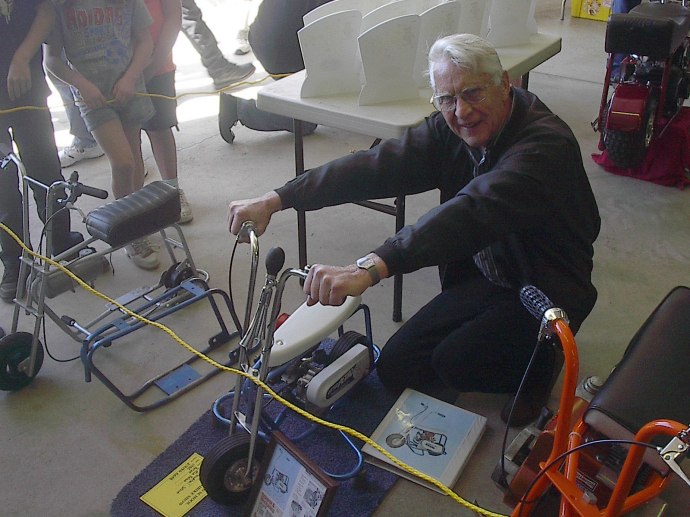 IN THE TOP AND BOTTOM PHOTO, THIS IS THE BIKE AND THE OTHER FRAME TO YET BE RESTORED,ALSO THE
FLEA,"SILVER" BIKE,THIS IS THE ONE THAT WAS DESIGNED AFTER THE LITTLE
PETRO,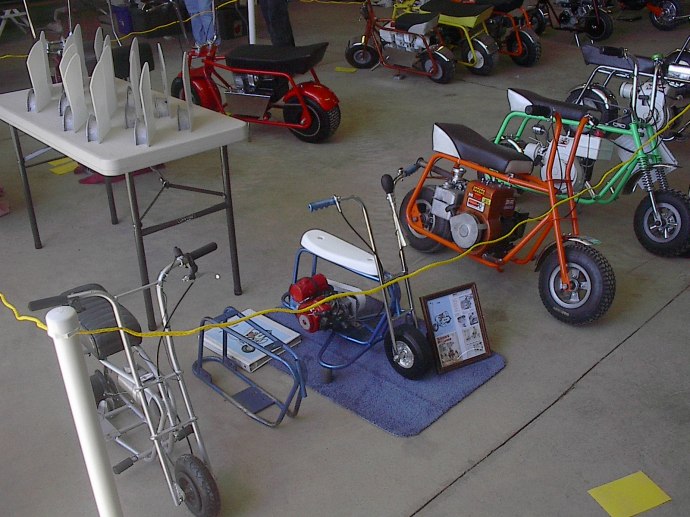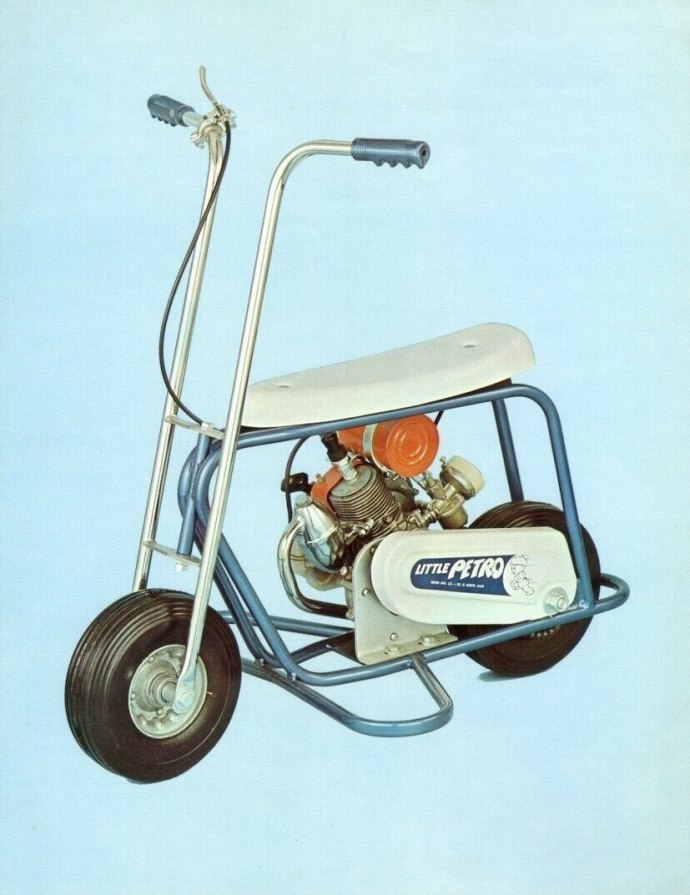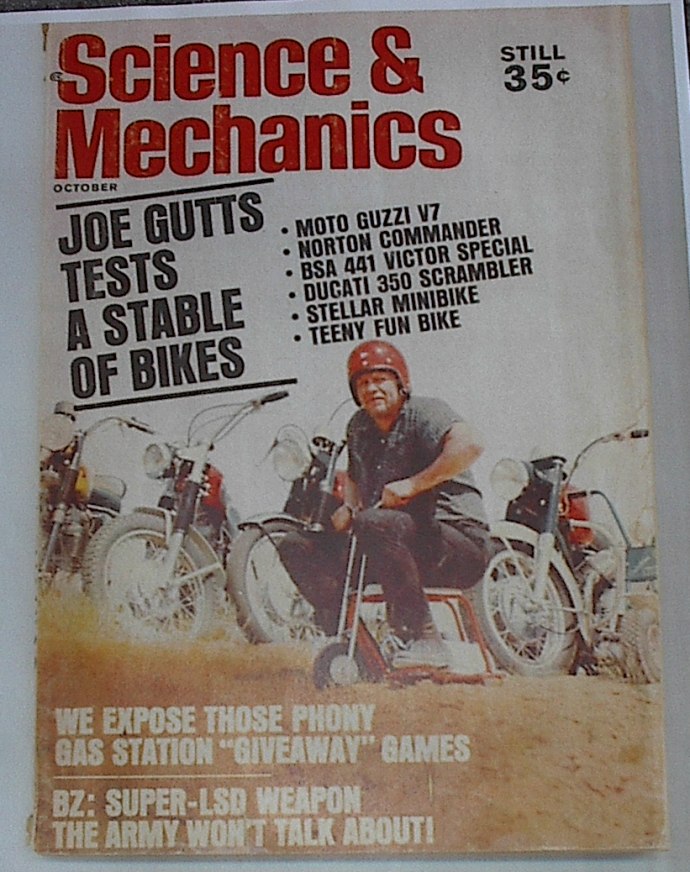 FUNNY
THOUGH TOO, BECAUSE THIS GUY KNOWN IN THE DAY AS "JOE GUTTS" FELL OFF THIS
BIKE WHEN IT FLIPPED HIM!!.WITH ALL THE BIG BIKES HE TESTED,THIS ONE GOT
REVENGE ON HIM!!.THANKYOU,SINCERELY,STEVEN.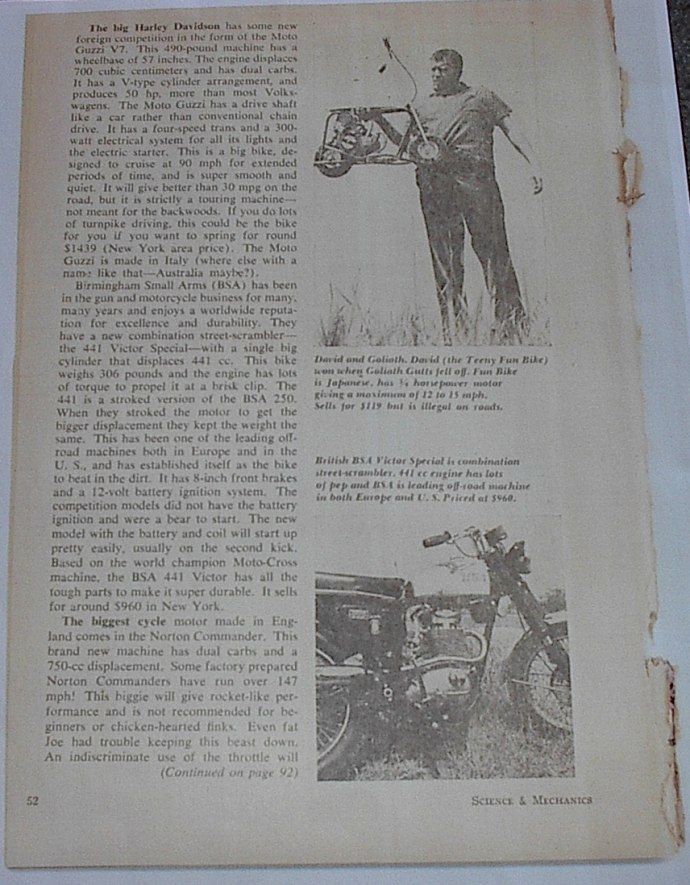 THIS IS THE BACK SIDE OF THE BROCHURE,IT SHOWS A KID AS WELL AS TEENAGERS RIDING THIS
BIKE.A SPECIAL NOTE,JIM ODOM TOLD ME THE BOY IN THE BOTTOM PICTURE ACTUALLY
HAD A WOODEN LEG AND IT HELPED HIS CONFIDENCE IN A BIG WAY WHEN HE WAS GIVEN
ONE OF THESE BIKES.JIM ODOM IS A GREAT GUY!!
Well, Steven Geier was at it again with the completion of one more complete restoration of the Little Petro minibike. The interesting story about this minibke, I was contacted by someone who was looking to sell it. Well the first person that came to mind was Steven. So I emailed him to see if he was interested. Steven was excited that he arranged to buy the minibike. I get a little kick out of this one, because I feel I saved one more old minibike. These minibikes are very rare and a true collecters item. Below you will see the skill and time that went into this project. Way to go!!!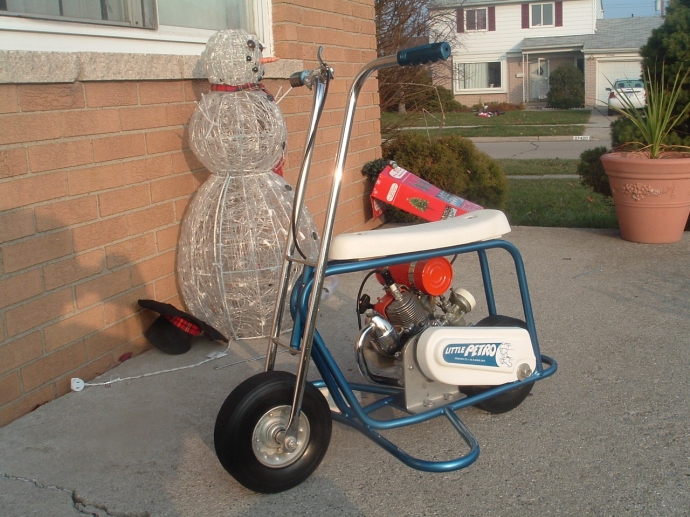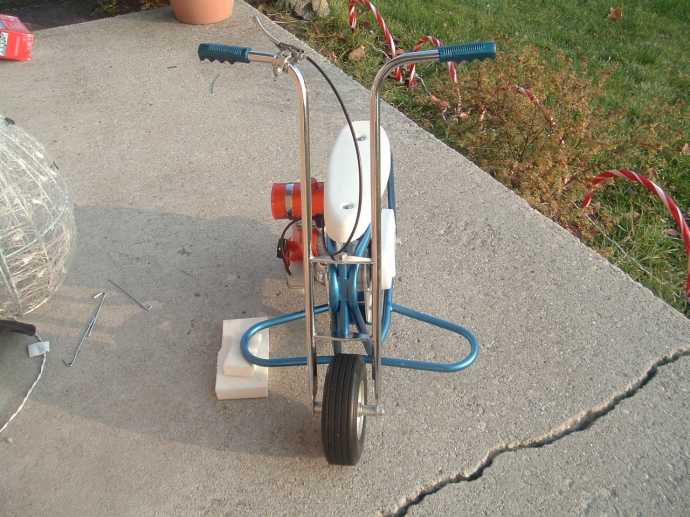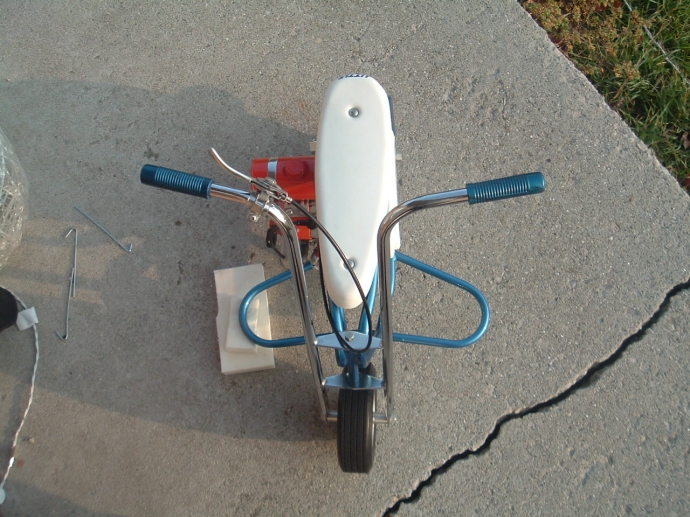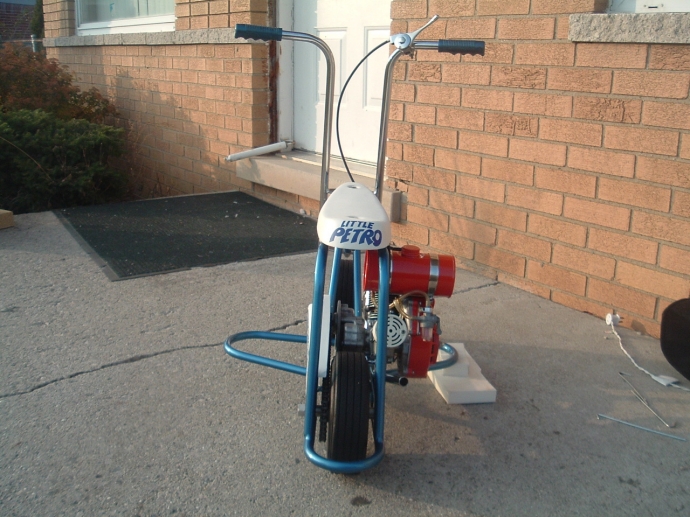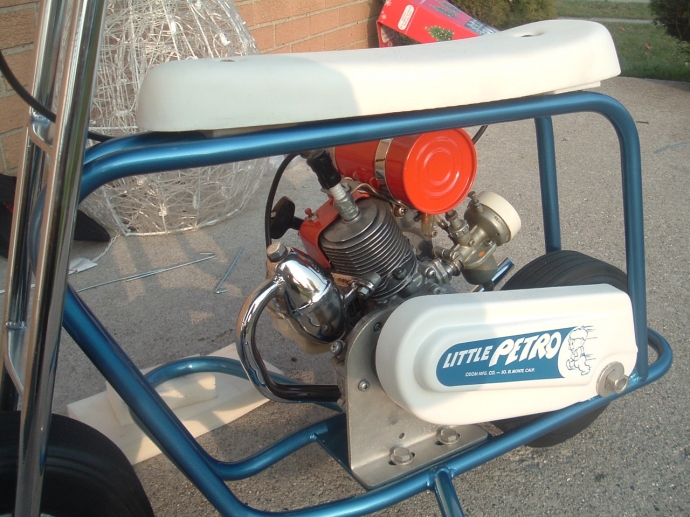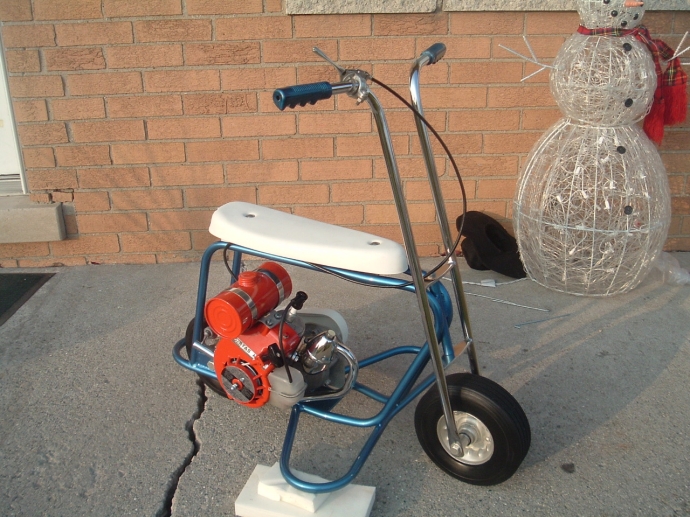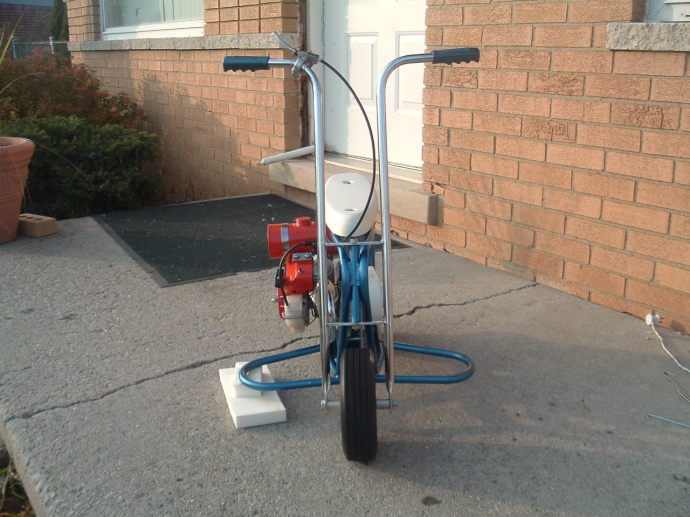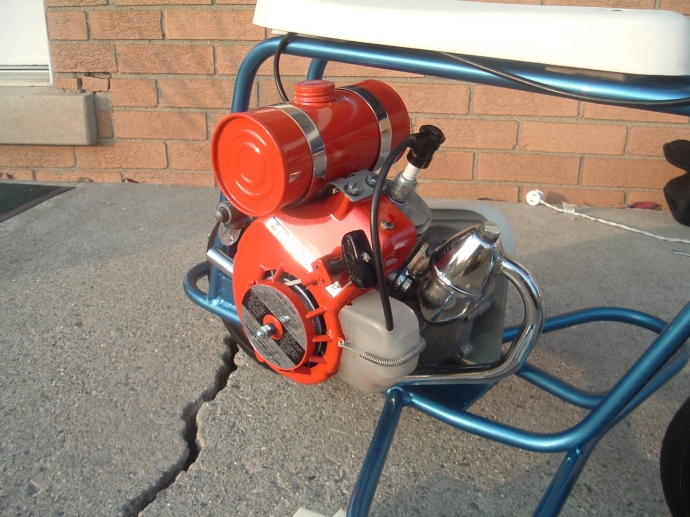 Well here is another cute Little Petro from Steven. This one has a side car. I have to give Seven credit on this one.