MTD MINIBIKE

Up-date: I just recieved a copy of the MTD Trail Flite manual or the owners guide for model #'s 361-100, 361-150, 640-200, 640-250, 640-520 and 640-550 . If you need a copy
Click Here
Below is a couple pictures that Sheldon Shippey sent to me. He bought the frame on ebay and put a 5 hp. B & S and a new torque converter on it. I think he has done a great job of putting this project together. He is currently looking for some information and make. Have a look and let me know what it is.
It is a MTD. Model and year unknown.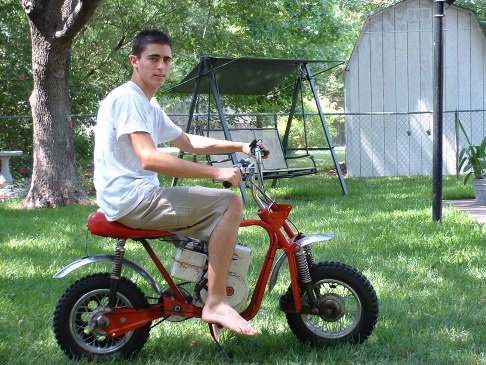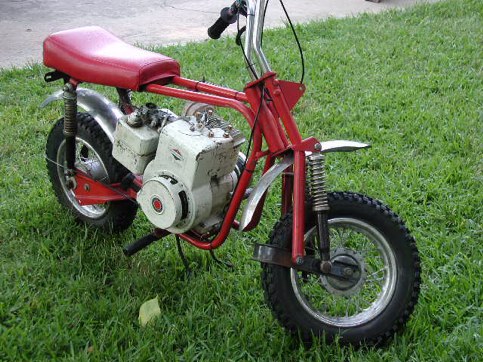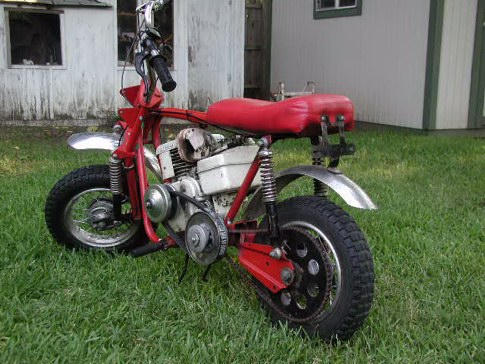 Below are pictures from Chris Beard of his restored 1968-1970 MTD Flite Minibike. He got this bike from where he works by trading a TV for it. The bike was either bought originally at Sears or Montgomery Wards in 1968-1970 and always garage kept. Chris completetly tore the whole bike apart and cleaned and scrubbbed the whole bike. Repacked the bearings in the wheels which looked like the bearing grease had never been changed.He spent a good part of the total rebuilding time shining the chrome, the chrome looked terrible with rust and dirt that was caked on all of it. The carb was rebuilt, had a cast iron sleeve put into the cylinder by a machine shop, new piston and rings, new throttle and cable, new headlight, brake cable and new tubes for the tires. Everything on the bike was original before he rebuilt it with even the stickers. He put an air cleaner and muffler from a newer lawn mower on it, but has not got around to getting those back to original yet. The guard that covers the torque convertor was spray painted in black. He took some gasoline and got it off and there was the name of the bike. The bike has never been repainted. Now I must say this is an excellent job.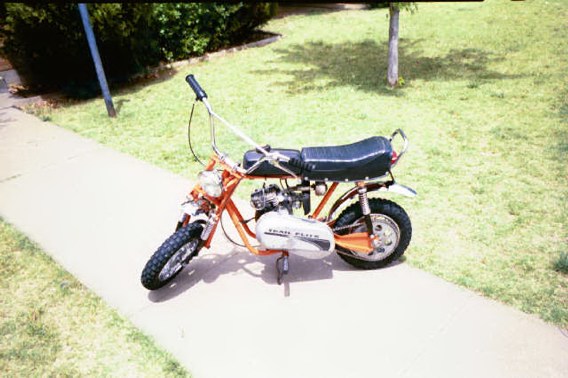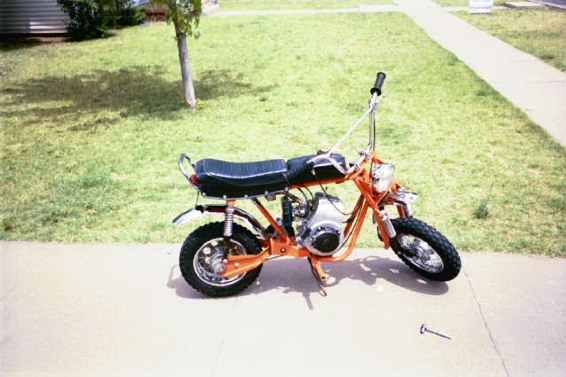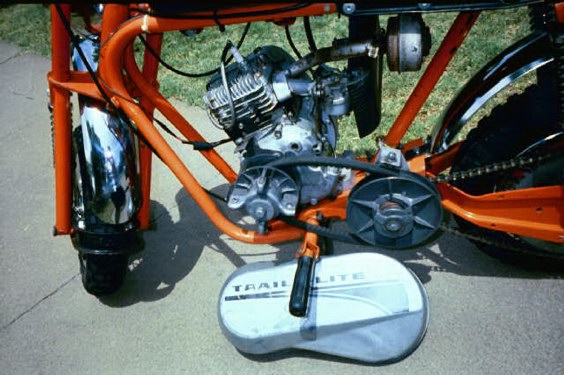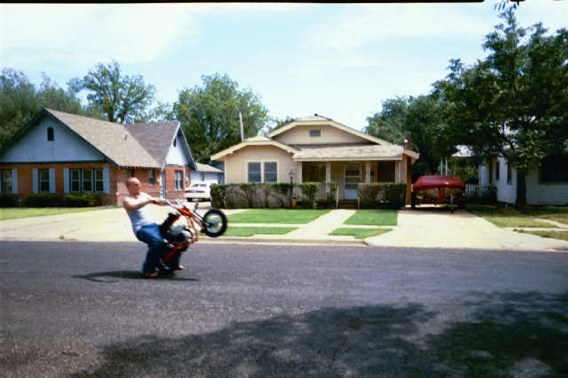 Below are picture of Jim's MTD Trail flite minibike which he restored. What he knows that is not to be original are the seat, the rims which he painted black because the chrome was unusable, and the headlight which was round, but I think the rectangular one looks cool. I built it with and for my kids, including taking a small engines class with my oldest son, and rebuilding the 5 HP Tecumseh engine.
A nice restoration project.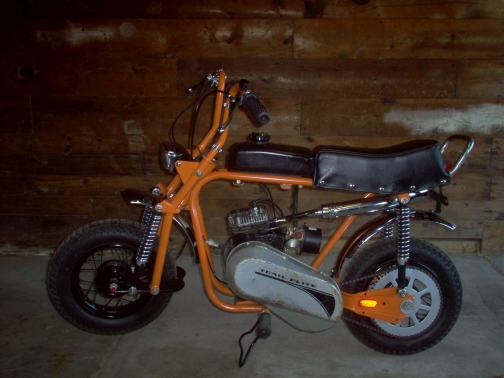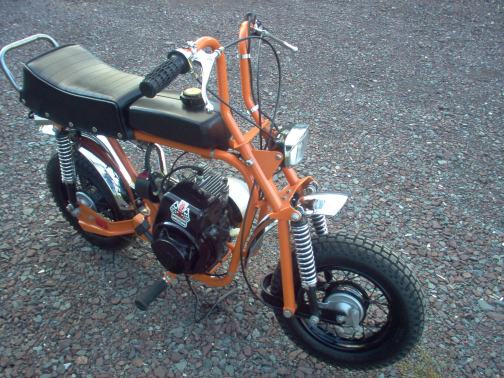 Ok, here is an interesting story by John Cox of the estate auction that he purchased this minibike. This is what he wrote.
I have a almost like new MTD minibike which I purchased from a fellow that said he had gotten it at an estate auction of the Western Auto Catalog Photographer. Supposedly this Western Auto minibike was the one he photographed for the 1968 Western Auto catalog then put away at his house for years. It has been ridden some (maybe children or grandchildren) then parked until recently. I'm not sure of the date of this but it did come from Kansas City, the home of Western Auto.
On the belt guard it says Western Flyer SS 500 Trail Blazer and there is a red oval MTD sticker on the top of the front fender.
I am trying to find a 1968 Western Auto Spring catalog to go along with my collection. I hope these pictures and information will be of help to all. Sincerely, John Cox
Does anyone know??????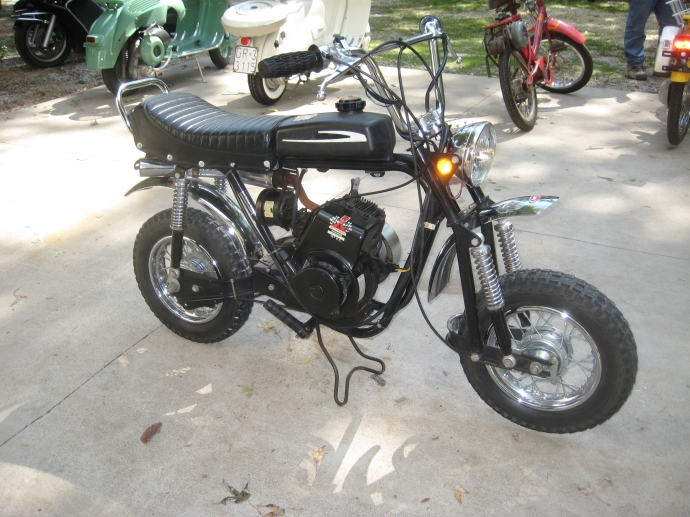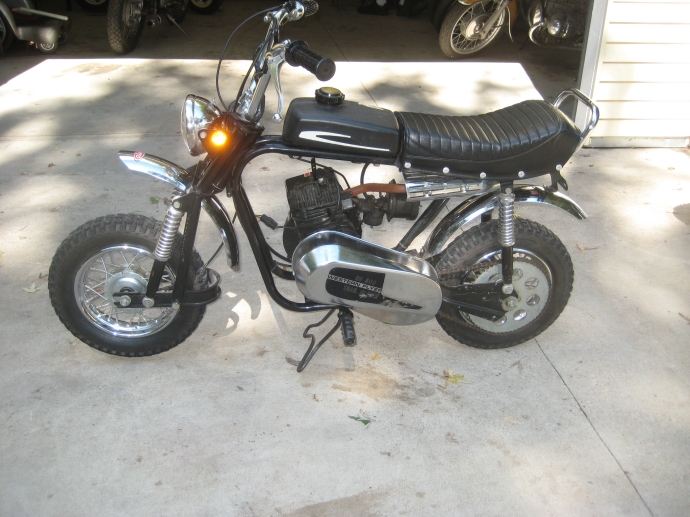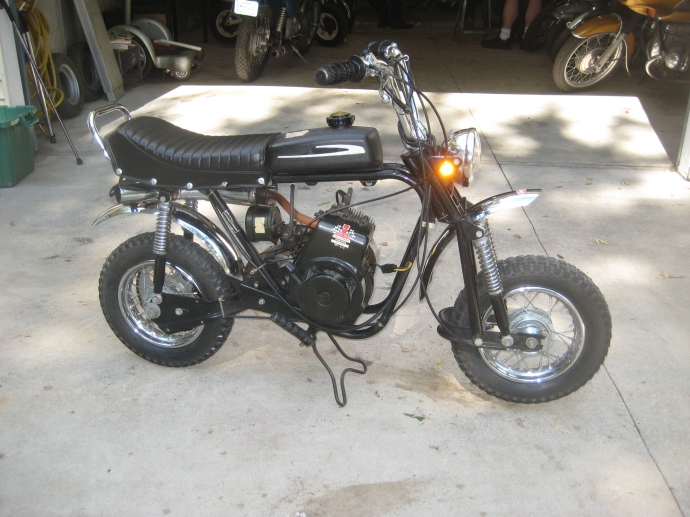 Here is another style MTD minibike but with small wheels unlike the models with spoked wheels. This is the model 640-200. The pictures were sent to me from Scott Lund. He mentions that the torque converter on it says "V Plex" and "18t6B35" and "Hagerstown Indiana" on it. Does anyone know about this brand torque converter? And where can you can buy the belt? If anyone has more information on this minibike please send it in. Well have a look.
Up-date: From Claude Frank.
You wanted to know about the V-Plex Torque Converter. I have seen it on other mini's. It is Symmetrical Clutch in reality. The Torque Converters on Rupp's have a drive clutch and a driven clutch. This offers up the variable gear ratios that are underdrive and overdrive. The V-Plex has a normal drive clutch with a fixed pulley that is not variable like the Rupp's. The driven clutch is somewhat variable to give minor changes. The ratio changes only slightly under speed. The belt is pretty much standard, I too the measurements using a piece of rope wrapped around the the two pulley's to get an idea about the length needed. Went to my local hardware store where they carry many sizes of belts. It's that easy.
New:
Click here
to see more information on the MTD-Columbia minibike.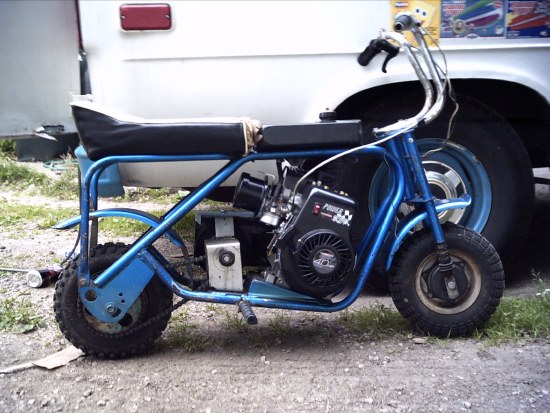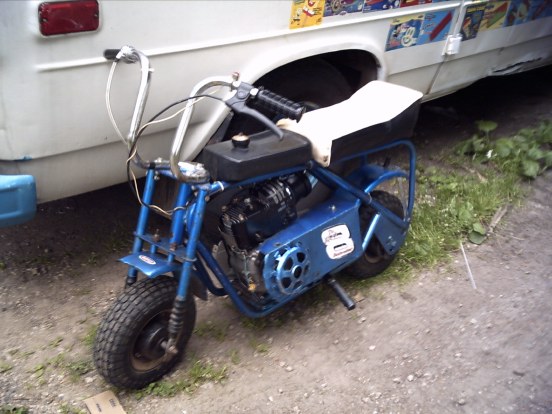 Well here is another MTD model. The pictures were sent to me by Dale. He mentions this model is the MTD Columbia. Well here is his story.
"Here are a couple shots of my MTD Columbia. I saved this gem from an early grave back in the mid 80's. A friend of mine had it set out on the street with the trash can awaiting garbage pickup the next day. I couldn't believe he was going to toss it! Was no problem to talk him out of it. It was all original and in pretty sad shape. But it did run on its 3 1/2 Briggs. I rode it for awhile as it was but it was soon evident she was in need of some serious help. The V-Plex dirve was shot. Belts rotten. This poor thing never had a bit of maintenance. I decided to get rid of that system and go to an all chain drive through the jackshaft. It really performs now and will get your attention when you open the throttle. I put a new 3 1/2 Briggs in it also with all new cables and did the brake. I had the seat redone also. Everything else is original. Tires, paint, fenders and chrome are as they were when I got the bike. Its a blast to ride and I get compliments on it all the time."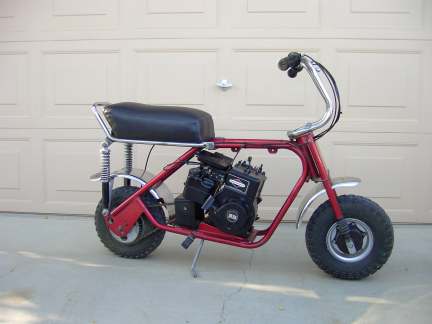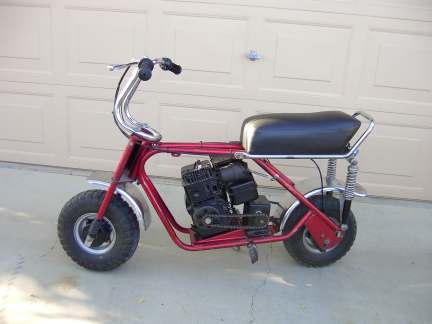 Below is a restored minibike from Dave Stewart (minidoodle member). Actually Dave did not know which bike he had before he rebuilt it. I think that is a pretty good job without any information. But by contacting me, he sure found out. So here is his story.
"This is a hybrid minibike that's evolved from a used 'skeleton'. Basically an unknown brand of production frame I purchased for more than a decade ago for a whopping $40 bucks. There were no markings whatsoever to indicate brand, model, or if Canadian or US made. It has some very intricate and impressive metal forming details in the stepped, double wedge motor & jack shaft mount as well as a rather unique handle bar set-up. It originally had a moulded plastic, frame mounted gas tank which I have since removed. Despite not having any wheels, it came with flange type pillow block bearings mounted on the rear axle supports? To me this is very unusual and leads me to believe it may have originally had a live axle set-up? It was painted a candy apple red with nothing to indicate it was ever repainted.
Anyhow, here's what I added. One sweet starting & sweet running Honda 4HP motor coupled with a Comet 20 Series torque converter. Both front and rear wheel assemblies (as well as front fender) are off a Kawasaki KV75 mintrail. Brake and throttle hand controls came off an early 70's Skidoo. New custom made seat cover and modified bicycle kickstand were added. Last but not least was my homemade, handcrafted torque converter guard which I'm so proud of. Sandblasted the frame and repainted "Grabber green" topped with a can of clear coat."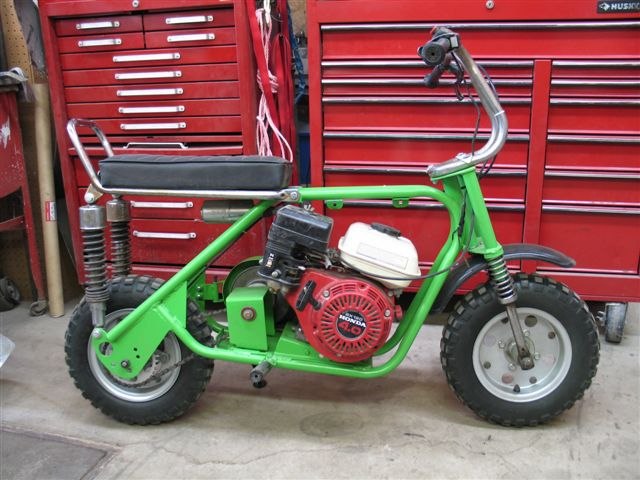 Below is another MTD small wheel minibike sent to me from Keith Hogan in MI, that looks like the Columbia 640-200. On the torque Converter cover is call the Rambler. I asume this is the model name of this mini. It all original including the paint. Have a look at this gem.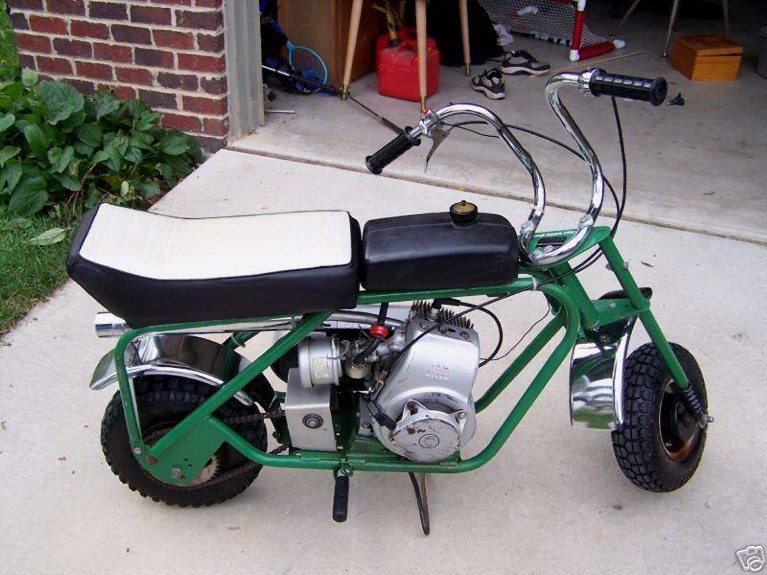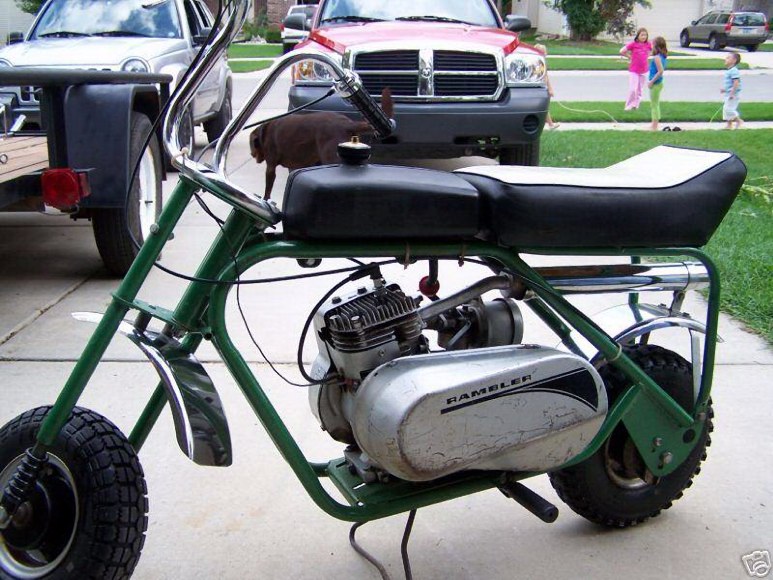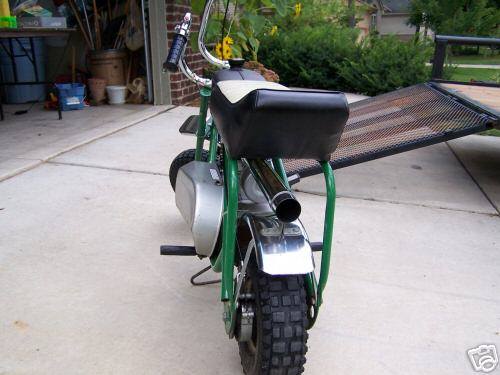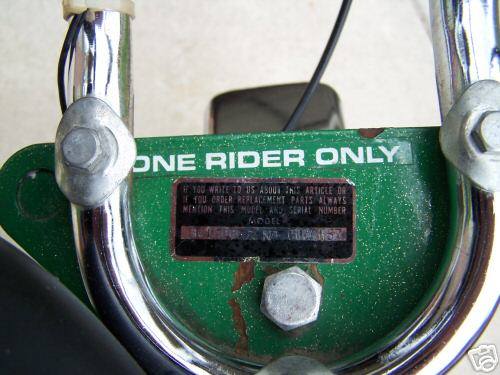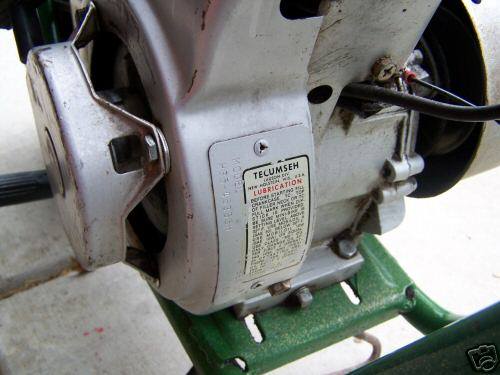 Below are pictures of the Columbia model 523-2 that is currently being restored.
Hi,I Came To Your Website In Search Of Some Info. About A Particular Minibike. I Only Found Brochure Info. That Was Helpful ,But I Noticed There Wasnt Any Photo's Posted Of The Columbia Model No.523-2 . I Want To Post Some Photo's Of My Columbia Minibike,I'm In Process Of Restoring It.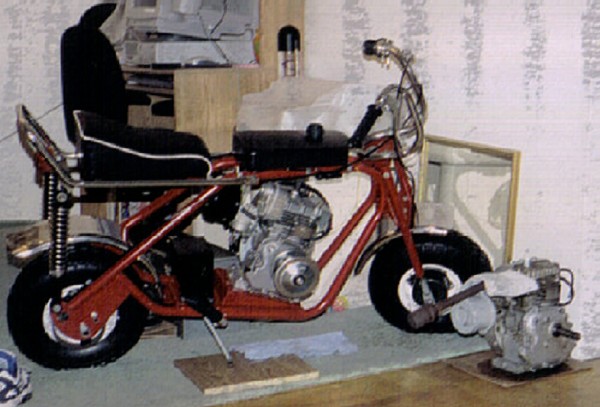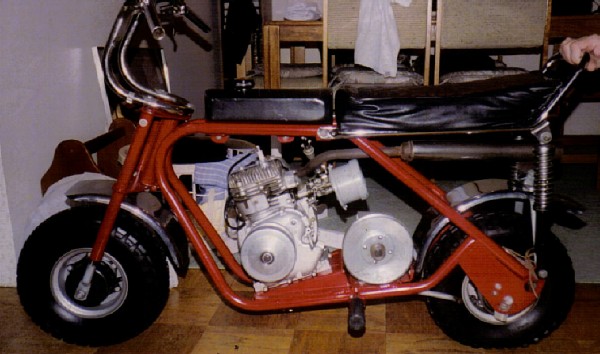 Now here is a very interesting and very rare MTD mini cycle that Mark T. has 2 of them. One will be sold on ebay. This is his story. Read On!!!
"HERE ARE SOME PHOTO'S OF THAT MTD MINI CYCLE MODEL #368-850c IT IS A 1970-1973 ENGINE IS A 5HP. 2 STROKE TECUMSEH. THEY HAVE 14in. TIRES ON IT, PULL START,HEAD LIGHTS, REAR TAIL LIGHT. YHEY HAVE ALL THE STICKERS ON THEM. I KEEP SAYING THEY, THATS BECAUSE I HAVE 2 OF THEM. IAM KEEPING 1 AND SELLING THE OTHER ON EBAY THIS WEEK. THEY BOTH RUN GREAT.THE LITTLE GIRL IN THE PHOTO'S IS 5 YEARS OLD 47in TALL,SO YOU CAN SEE HOW BIG THE BIKE IS. THIS IS A RARE BIKE I WAS TOLD. EVERYTHING IS STOCK ON THIS BIKE. ALSO I NOW IT LOOKS LIKE A DESERT FOX,BUT IT IS NOT.ALL STICKERS ON THESE BIKES SAY MTD EVERY WERE. THE METAL ONE HAS THE ADDRESS OF MTD ON IT. MADE IN OHIO. JUST WANT TO AD THAT THEY TAKE ALOT OF THE PARTS THAT RUPPS DO. THANKS AGAIN." If anyone is interested in this bike it will be selling on Ebay for $350.00.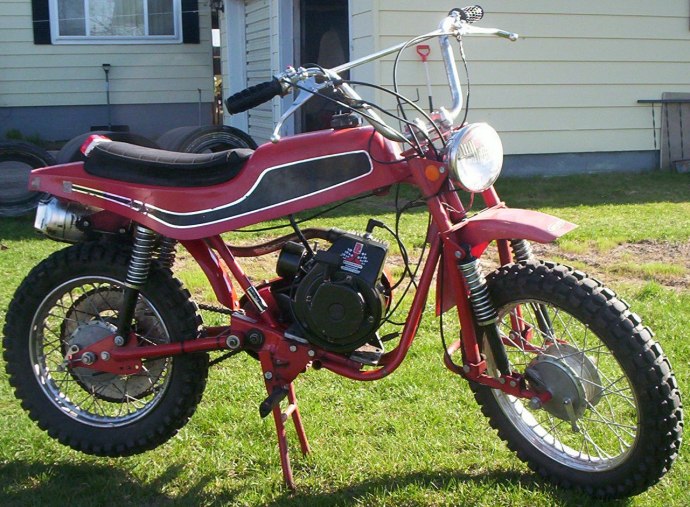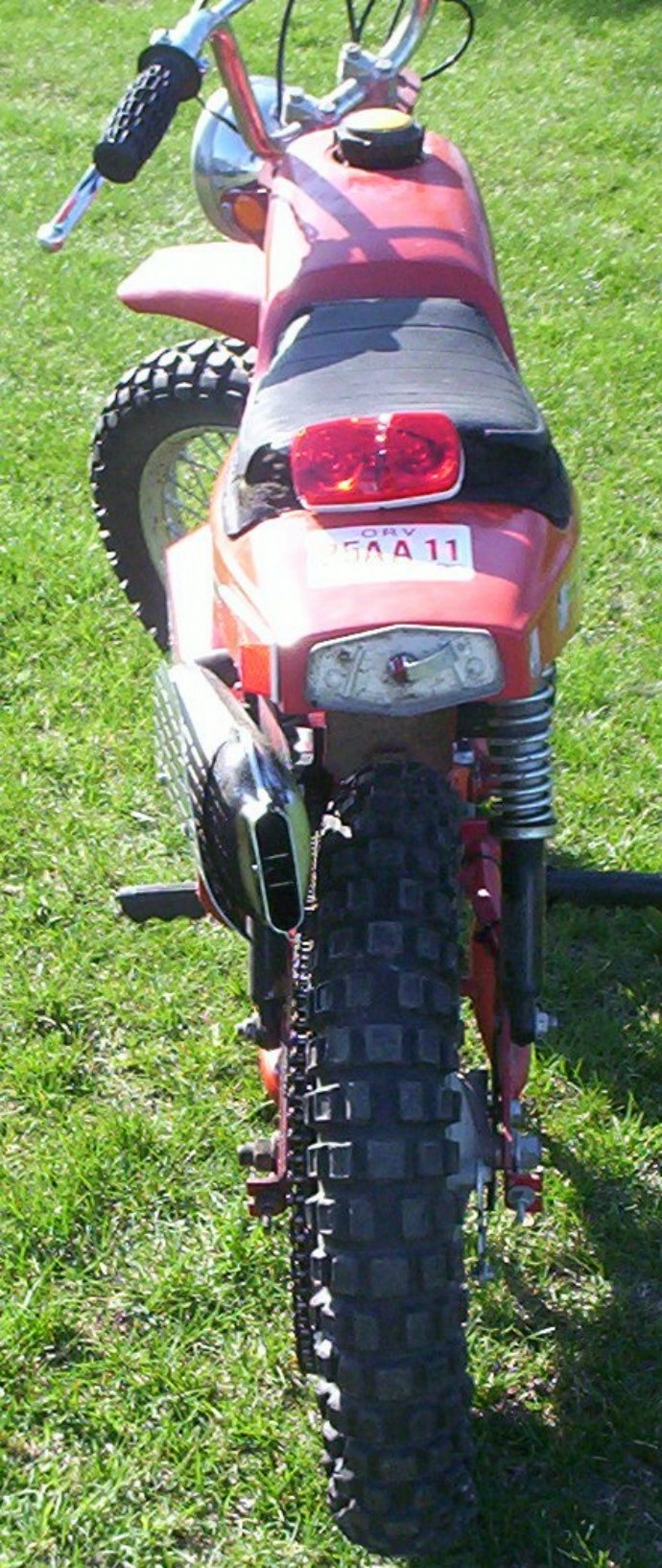 Well here is another 1969 MTD Columbia minibike sent to me by John. Below is his story.
This mini bike was found in the basement 35 to 38 years ago and it was sitting covered up. Everything is original all the way down to the handlebar grips, except for the comet torque converter clutch I had installed. When my dad and I got it, the oil was still clean. Had it for about 5 yeiars and never had a problem with it. Goes about 38 to 40 with the governor still on it. Powered by a silver Tecumseh engine, these are pretty rare, rides beautifully no rattles, never been dumped, everything is perfectly straight no scratches on the handlebars pretty much just like new. Never seen one like this, paint still shines, don't think it's ever been ridden down a dirt road or riddenen very much at all.