INVENTORY PARTS CLEARANCE

I am currently cleaning up and making room, so I am selling 2 brand new engines that I have aquired and tested out on my last custom minibike "
The Firebug
" at the 2007 Windber reunion. For many of us who are restoring or building a custom minibike, here is great little engine that I certainly recommend. Below are pictures of the item with a brief description and price.
The engines are brand new and never been used, had gas or oil in them. Prices are in USD and shipping and handling is extra. Please ask questions before ordering. No refunds on these items.
For all inquires please send an email to
minidoodle@hotmail.com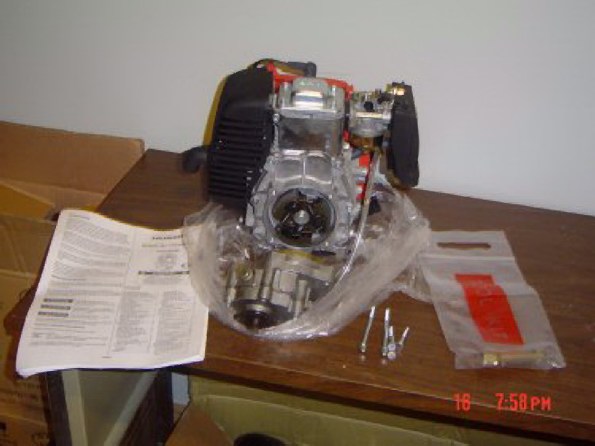 Above is the mini Honda engine clone, model GXH50 (49 cc). It is a 2.5 hp 4-stroke rated at 7000 rpm with over head valve. Included is the transmission (gear reducer) with a 25 tooth 1/4 pitch sprocket. has a Centrifuga clutch andl It comes with a on off switch. The carb is a bowl type that can be adjusted This engine is for commercial use and built for tough jobs. This mini engine has a lot of torque and will pull a person 200lbs. The muffler also has a built in spark arrester and it is EPA approved. Gas tank is not included. All parts can be bought at your Honda dealer.
Price $175.00 (Only 2- Left)
Shipping is about $50.00 USD by UPS Standard