TRAIL RAM

Below is a minibike that is being auctioned on Ebay. The frame design looks very much like the Trail Buck. The Trail Ram was manufactured by the same company as the Trail Buck but with out shocks. Check out the Trail Ram brochure by clicking "
HERE
". The picture belongs to Curtis Lisius who was the seller on ebay.
Added is pictures from Randy Lansing collection below. Check out the Trail Buck page for more information by clicking
"HERE"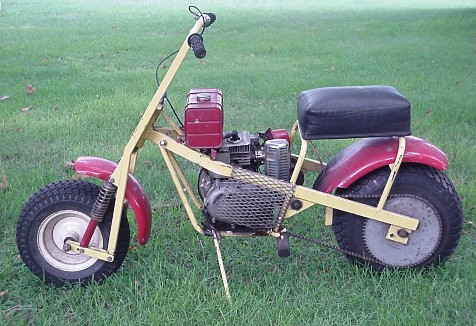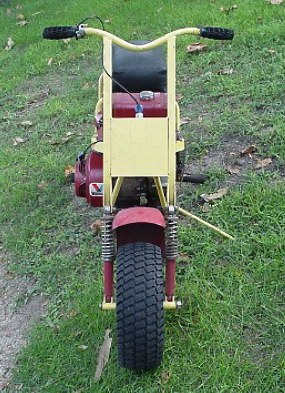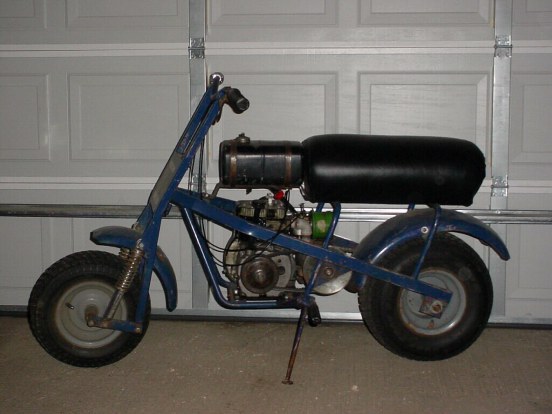 Below Is the Trail Buck & Trail Ram seen together.
Below are pictures of Dave T. Trail Ram minibike whois from Saint John N.B. Canada. He mentioned to me that he was able to identify the minibike through minidoodle web site. (Way to go). Well here is his story.
"Now on to how i got my trail ram. When I first saw the bike it was in my brother-in-laws storage shed under a bunch of stuff ,he told me his father picked it up somewhere but didn't know where. He died a few years back. he bought it for his grandson who was about two or three at the time.Now I know that he used to travel a lot in the US with a truck with a slide in camper on the back .I suspect that he came across it at a yard sale of some sort and put it in the camper and brought it home. he probably didn't pay much for it as he was quite a person for bargaining and dickering to get things on the cheap.Now my brother-in-law didn't want his son to have it,he was afraid of him getting hurt. he asked me if I would paint his truck, and he didn't have money to pay me right now, and asked me if i was interested in the bike and some wheels and tires for my van .well the rest is history. I got the bike and tires . The bike was all painted silver when I got it,so I took it apart and cleaned and painted it with some left over paint I had in the garage. I did have it running for a few minutes, the motor sounds good but the carb got messed up when I took it apart to clean and broke a peice. I looked at the carb on my snowblower and they look the same , so now I am watching out for an old carb. I always wanted a minibike as a kid and my dad wouldn't allow it , now in my forty's I now have a toy I always wanted and can't wait to use. and the fact they are rare is a pretty neat thing too."
I just wonder how many of us are in our 40's reliving our childhood dreams.